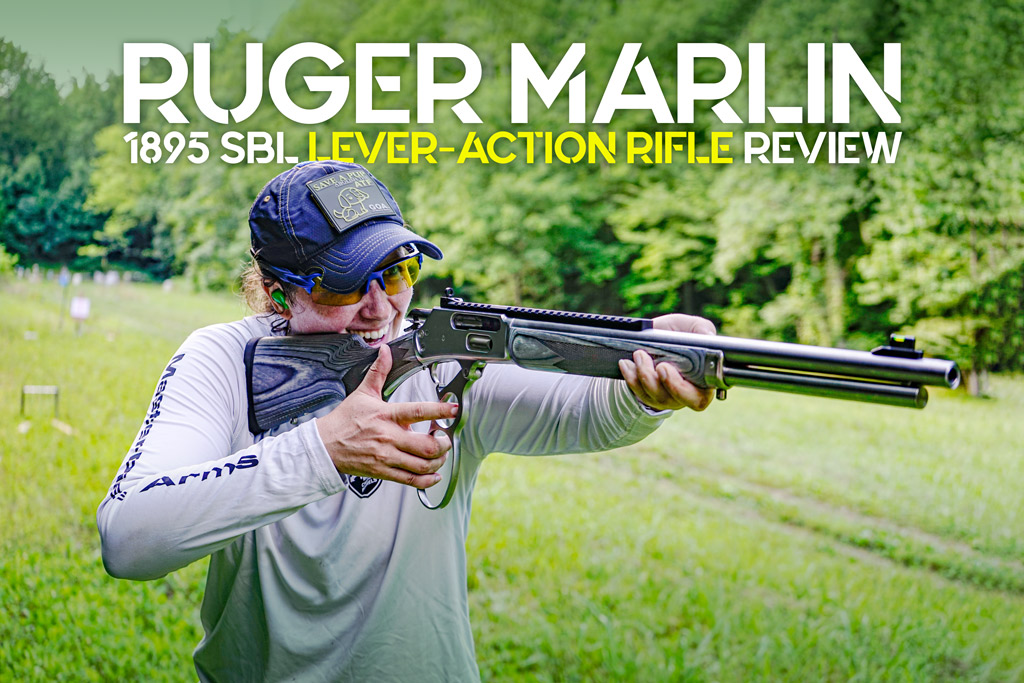 Guest Writer: Kenzie Fitzpatrick
There are many historical firearms we have come to know and love, but one of our all-time favorites is the Model 1895 lever-action rifle. Specifically, the one brought back to life as the Ruger Marlin 1895 SBL rifle. Marlin is one of the most well-known firearm manufacturers in the world. However, the history of ownership is a rocky one. 
Marlin Firearms was founded in the 1870s by John Marlin and after over a century of success. At the end of 2007, Remington acquired Marlin. Recently in 2020, after Remington filed for bankruptcy, Ruger purchased all of the Marlin Firearms assets from Remington to ensure the Marlin brand would live on.
At the very end of 2021, the Ruger-made 1895 SBL (Stainless Big Loop) Marlin rifle was unveiled and loaded with new features for hunters and shooters, while maintaining the classic design. Demand soared as the news was announced by Sturm, Ruger & Co., Inc. with limited availability of the lever-action rifle. I was able to get my hands on one in late March and I have to say, this gun is a successful relaunch of a timeless classic.
Features Of The Ruger Marlin 1895 SBL
The receiver, lever, and trigger guard of the Ruger Marlin 1895 SBL are all CNC machined from 416 stainless steel forgings. The stock and forend are made of a gray laminate, with a checkering texture to grip the gun. To say that it feels well-made would be an understatement.
The 19-inch-long barrel, chambered in 45-70 Govt is made of 410 stainless steel and is cold hammer-forged which results in ultra-precise rifling that provides exceptional accuracy and longevity. The barrel has a 1:20 right-hand twist rate. The barrel is threaded, with a match-polished, factory-installed thread protector. It has an 11/16″-24 pattern to accommodate a muzzle brake or other barrel accessories.
The 1895 has a 6+1 capacity featuring a tubular magazine with a loading gate located on the receiver. The total weight of the gun is 7.3 pounds with an overall length of 37.25 inches. The rifle is topped with a Picatinny rail. Making it compatible with most scope rings and a variety of modern optics. Finally, it is set up with an adjustable ghost ring rear right, and a high visibility tritium fiber optic front sight.
Take a look at how it compares to the Ruger Marlin 1895 Trapper in the table below.
| Rifle | Length/Barrel | Weight | Material/Stock/Muzzle | Capacity | MSRP |
| --- | --- | --- | --- | --- | --- |
| Ruger Marlin 1895 SBL | 37.25″/19″ | 7.3 Lbs | Stainless, Laminate, Threaded | 6+1 | $1,399.00 |
| Ruger Marlin 1895 Trapper | 43.25″/16.10″ | 7.1 Lbs | Stainless, Laminate, Threaded | 5+1 | $1,349.00 |
What's New For The Classic 1895 Lever-Action?
New Front Sight
Ruger upgraded the original white striped XS front sight post to a new tritium and fiber optic front sight. Personally, I use a lot of fiber optic sights in competition and I prefer green to red. The upgraded green front fiber sight makes it easy for me to transfer over to shooting this rifle. The rear sight is a fully adjustable ghost ring sight.
Proprietary Rail System
Ruger designed their version of the Marlin 1895 SBL to have a 23-slot rail to give shooters more room to add their optic of choice. This proprietary rail is designed with the ghost ring sight built onto the end of it.
New Barrel Length
While it might not seem like much, Ruger added an extra half-inch to the overall barrel length to make it 19 inches exactly. They also added 11/16×24 threads to attach a suppressor or other muzzle device to the gun. The thread protector easily screws on and off without damaging the threads and allows quick installation of a muzzle device.
Nickel-Plated Bolt
The new model 1895 SBL has a radially fluted and nickel-plated bolt. My first impression of the bolt before even oiling the gun was how smooth the action is. Lever actions can leave bruising on hands if they're stiff. Loading the next round can also be challenging with a stiff action. It is easy to work the lever on this rifle thanks to the new bolt, the polished stainless steel metal surfaces, and the radiused edges on the loop lever.
The Small Details
Ruger made a few other small detail changes on the new 1895 SBL. All serial numbers will have a special "RM" prefix. The original Marlin bullseye was black and white on the rifle stock, which is now red and white. Ruger also has a stamped "RP" proof mark on the left side of the firearms. One of my favorite details is the laser-etched Marlin Man logo on the grip of the rifle. Finally, the barrel now reads "Mayodan, NC" on the new Ruger Marlin 1895 rifles.
Add-Ons & Accessories
What's great about this rifle is you can accessorize it as little or as much as you'd like to. An essential feature of a rifle, especially one used for hunting, is the ability to attach a rifle sling to the gun. The Marlin 1895 has sling swivel studs that make it compatible with most all slings on the market today. If you're plinking on the range, this isn't a necessity, but for toting the gun around walking through the woods, a rifle sling is a must.
Many leather makers have designed stock covers that are just for looks and others with loops sewn in to hold spare ammunition. Similarly, rifle sleeves with loops to hold 45-70 cartridges can be beneficial to have. You can also leather wrap the lever loop to give your hands a softer impact when working the action.
With the updated Picatinny rail, you can mount red dots, magnifiers, scopes, and more accessories. The rail has 23 slots which give you a lot of room to mount more than one optic or accessory.
Ruger Marlin 1895 SBL Range Test
When I first picked up the Ruger Marlin 1895 SBL, all I had to shoot at was an A zone steel target at 50 yards. The gun hadn't been sighted in yet, cleaned, oiled, or anything. Even though the rifle had the stock iron sights on it, you never know if the gun is sighted in properly right out of the box. But I was ready to shoot it and thought, why not now?
I loaded up 3 rounds into the magazine tube and worked the lever. The first shot I fired hit my mark and rang the steel. I worked the lever-action again preparing for my second shot to see if it was just luck, or if this rifle really was dead on. The second shot rang steel again. As my third shot impacted the target again, my buddies and I on the range exploded with excitement on going three for three. This gun was fun to shoot and accurate at 50 yards.
45-70 Ammo
The second time at the range, I oiled the gun up properly and spent time dry firing it to get used to the trigger. I decided I didn't want to mount an optic to it just yet. I'm still enjoying using the Ghost ring rear sight and fiber front sight. Luckily, I was able to find two types of ammunition to test out in the rifle. I used Hornady 45-70 LEVERevolution 325gr FTX and Federal Fusion Rifle 45-70 Government 300gr ammunition. 
The LEVERevolution performance is attributed to the patented elastomer Flex Tip® technology of the FTX® and MonoFlex® bullets. These are safe to use in tubular magazines and shoot at a velocity of 2050 feet per second. The Fushion® ammunition is designed for deer hunting with a large expansion and highest weight retention compared to other ammo on the market. This 300-grain bullet moves at 1850 feet per second. Both ammunitions fed, fired, and ejected flawlessly. 
Is It A Good Lever-Action Rifle?
I was able to shoot at steel targets this time at 100 yards in various sizes. The felt recoil was not noticeably different between ammunition loads, and overall, was the most comfortable 45-70 rifle I've shot. The quality of this rifle is superb. It's durable, loaded with features, and easy to work the action. It's a gun that can be passed down through generations. The rifle is accurate and with a proper scope mounted, can shoot beyond 100 yards.
Pros/Cons Of The Ruger Marlin 1895 SBL
See a comparison between the current production Ruger Marlin 1895 SBL and the discontinued Remington Marlin 1895 SBL below. Note that Ruger does not honor the warranty on any Remington Marlin produced rifles.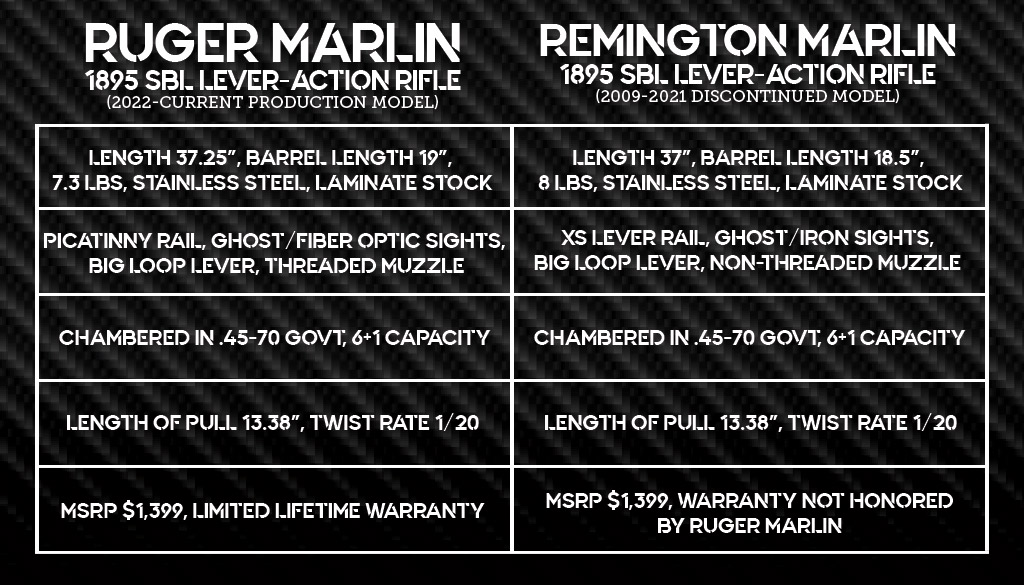 Pros
Felt Recoil
The Marling 1895 SBL has lower felt recoil than other 45-70 lever action rifles made by other manufacturers. One of the features that helps absorb recoil on this rifle is the soft rubber buttpad. I'm used to very little material on the rear of the stock which usually makes shooting these types of rifles a lot less comfortable.
Oversized Loop for use with Gloves
The Marlin 1895 is known as a trapper lever action rifle. Therefore, it only makes sense for it to have an oversized loop. Making it easy to work the lever with gloves on. You'd be surprised at how much of a difference that extra space makes when you're layered up in the cold weather.
Suppressor-Ready
Hunting and shooting with suppressors make life so much better. In hunting situations, you use your sense of hearing to listen for potential animals nearby or to listen to your hunting partner talk. It can be a real challenge to keep ear protection on in the woods. Or remember to put them on when it's time to take the shot. Hearing protection is a necessity that comes with shooting. The fact that the Marlin is suppressor-ready makes this gun that much better to hunt with and even shoot with, especially since it's a large caliber round.
Cons
Accuracy at Distance
The 45-70 round is accurate, but the bullet has a low ballistic coefficient. The slow velocity makes it a challenge to shoot accurately at longer ranges. If I were to use this rifle for hunting, I would only feel comfortable at 100 yards and in to make a clean kill shot on an animal. If you plan to use the 45-70 round for hunting 100 yards and beyond, be sure to practice shooting groups at distance and learn to dial or hold properly if you plan to use a rifle scope.
Availability and Cost
The demand for the Ruger-made Marlin rifle soared quickly and the production of these rifles couldn't keep up. Finding one at your local gun shop or online may be a challenge until the industry can catch up on manufacturing. With the demand set at what it is right now, the cost of the rifle is over MSRP, but if you're itching to own one, I think it's worth every penny.
Price VS Value
The demand for the Ruger Marlin 1895 SBL has created an increase in the cost of the gun. While Ruger suggests a retail price of $1,399 for the gun, I've seen them priced higher online and in gun stores. This iconic gun is a legendary firearm that is desired by gun collectors and gun enthusiasts alike. 
Other popular 45-70 lever action guns by Henry, Uberti, Winchester, and Taylors and Company, all vary in price and are anywhere from about $600 to close to $1700. All of these names are well-known in the firearm industry. So choosing one all comes down to features and usually what brand name you like best.
Reviewer Experience
I've spent a great deal of my life around firearms. I was raised to respect firearms and was taught as a kid how to safely shoot firearms. I've shot just about everything. From lever actions to bolt action rifles, revolvers, semi-automatic pistols, and rifles, to pump-action shotguns, and even lever-action shotguns. While the majority of my time is spent in the shooting sports world competing in everything from 3 Gun to USPSA and Steel Challenge, I also shoot for the pure joy shooting brings me.
Learning As You Go
While I'm not an antique gun collector, I do enjoy collecting firearms that are classics as well as replicas of older firearms. I've always loved lever-action rifles and side-by-side shotguns. I used to shoot a lot of Cowboy Action so I shot everything that wasn't semi-automatic. In CAS you have to learn how to quickly work the lever-action to load the next round, while at the same time not pulling the trigger too soon and having to recock the action. My solution was having a gunsmith short stroke the lever to give me a little bit of an extra competitive edge to save time. 
I shot an 1873 Uberti rifle in 38 Special using good old iron sights. On the lever and stock of the rifle, I wrapped it in leather for a more comfortable experience. It also allowed me to get a better cheek weld on the gun. I had to learn how to take the gun apart, clean it, oil it, and make sure I fed it the proper length of ammunition, or else it would double feed. My experience with this one rifle alone helped me understand lever actions better. Specifically, how important each feature is on a gun. It made me appreciate all of the details on the new Marlin. They make it fun to shoot, with a smooth action, that's easy on the shoulder.
Ruger Marlin 1895 SBL: Modern Lever-Action
The Ruger Marlin 1895 SBL rifle is one of those firearms that brings a smile to your face when you pick it up. It can be used for hunting, as a defensive firearm while out hunting or fishing, or for the simple pleasure of owning an iconic rifle. For me, it's a gun that I enjoy shooting, with a rich history from the Old West. This gun is one my dad and I share a bond over as he and I enjoy lever actions and revolvers. And who knows, I just might find myself hunting whitetail with it this fall.