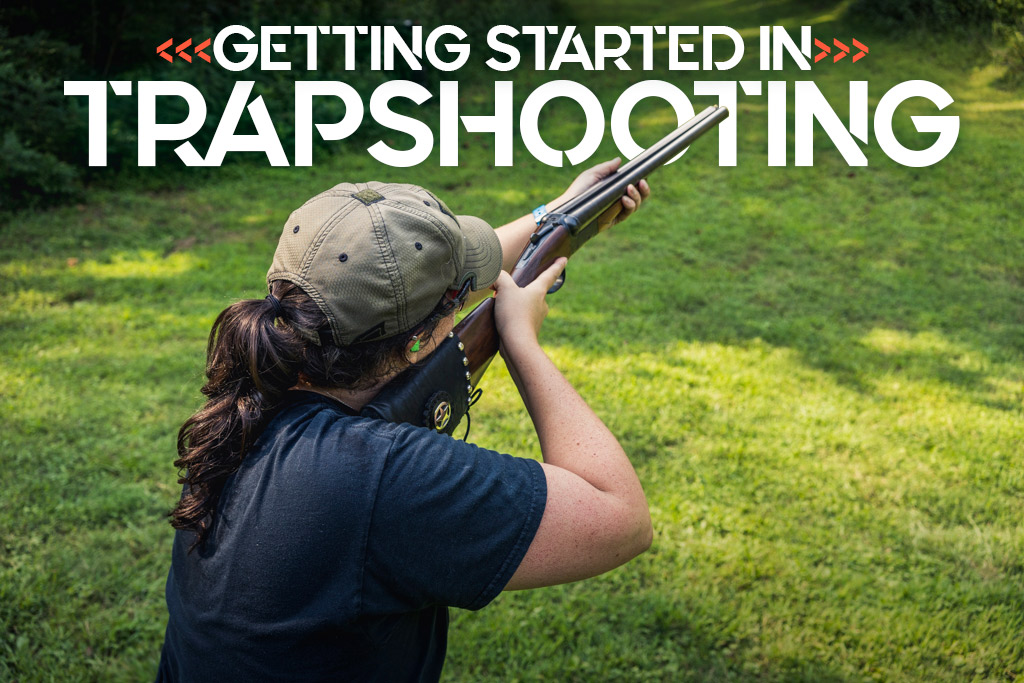 Guest Writer: Kenzie Fitzpatrick
One of the most fun shooting sports to get into is trapshooting. Like most shooting disciplines, a few organizations govern the sport, each with its own ruleset. In this article, we'll talk about the different organizations, what guns and gear you'll need, and how to get into competition trap shooting.
If you enjoy fast-paced shooting sports, trap shooting is a must. You'll find trapshooting enthusiasts of all ages and experience levels out at the range having fun. It's a sport that people from all walks of life can participate in without having to invest a lot of money.
Trapshooting is popular because the barrier to entry is low. It is not gear-intensive, and you can participate in events all over the United States. For purposes of this blog, we are focusing on the Amateur Trapshooting Association organizations and rules. Let's get started by explaining exactly what makes this sport so much fun.
What Is Trapshooting?
Trapshooting is replicating the flight path of a bird fleeing a hunter with clay targets. These targets are 4 ¼ inches in diameter and fly through the sky at a speed of 42 mph. The goal is to hit as many targets as possible out of each round from each trap.
After the shooter announces they are ready with the call of "Pull!" the clay target is released. The shooter is required to fire at the clay target once it is released. For scoring purposes, a direct, or partial hit on the target counts. Once a target has been hit, it is considered dead and counts towards the shooter's final score.
The standardization (by ATA rules) is that all targets must be thrown no less than 48 yards, no more than 52 yards, should be between 8 and 12 feet high, and 10 yards from the trap. Shooters are required to be 16 yards away from the trap house at a minimum.
Trap Shooting Organizations
The National 4-H Shooting Sports Program is where youth from all across the United States of America learn marksmanship, how to safely and responsibly handle firearms, and the principles of hunting and archery. There are programs all across the country so the best place to start is to search for a local 4H Shooting sports club. This specific program is only open to children ages 8 to 18.
Because the 4-H Shooting program is run at a local level, you will see variances in rules, but there are many core rules followed by all clubs. Some of these main rules are the age requirement to shoot in certain groups, the allowed firearm calibers in divisions, sportsmanship clauses, all guns are required to be cased until instructed to open, all guns should be unloaded with the action open (or flagged), eye and ear protection are mandatory, and safety violations result in disqualification.
The Scholastic Clay Target Program (SCTP) is another fantastic program that focuses on youth development through team-based shooting sports. Many athletes are introduced to shooting sports in the local 4-H programs and then "graduate" to the more competition-focused SCTP.
The SCTP is the official youth feeder program for Team USA, giving the opportunity for young athletes to chase Olympic dreams in International (Bunker) Trap and International Skeet. Several 2020 Olympic shooting athletes have a connection to the SCTP, including Women's Trap silver medalist, Kayle Browning, and Mixed Team Trap bronze medalist, Madelyn Bernau.
Currently, the SCTP has over 21,000 athletes/coaches across the country participating in the program, encompassing 47 states. Certified coaches lead SCTP teams in a youth sport that offers a truly level playing field, where there is no such thing as being benched.
The Amateur Trapshooting Association (ATA) is the largest clay target shooting organization in the world. They govern the sport's rules and regulations. There are more than 900 gun clubs affiliated with the ATA so start a search to find one near you. The headquarters in Sparta, IL is home to the Grand American World Trapshooting Championships held annually each August.
USA Shooting is the non-profit that is the National Governing Body for the sport of shooting. While this covers all shooting sports at an Olympic level, the shotgun sports include Men's Trap, Women's Trap, Mixed Team Trap, and Women's and Men's Skeet. Their rulesets are broken down per gun and include rules for trap, double trap, and automatic trap.
These two associations have a full rule book that they update often and make available online. The National Sporting Clays Association (NSCA) is a division of the National Skeet Shooting Association (NSSC). Both of these organizations are the world's largest sporting clays and skeet shooting organizations, respectively. They organize the National Sporting Clays Championship and the World Skeet Championships. 
While these are not trapshooting organizations, they do involve moving aerial clay targets you shoot with a shotgun. Sporting clays simulate the hunting of ducks, pheasants, rabbits, and upland birds. There are courses all across the nation and no two are alike (similar to golf). Skeet shooting is where clays move sideways and can cross over each other, while trap shooting is where aerial targets move away from you.
Choosing Your Shotgun
Legal shotguns are any with a 12 gauge or smaller (16, 20, 28 gauge) chamber. No shotguns capable of loading more than one gauge of shells at a time are allowed (one 12 gauge and one 20 gauge). While under/over shotguns are the most popular for trapshooting, you can enjoy yourself and try your hand at trapshooting with just about any style shotgun you currently have.
Over/Under
Over/Under shotguns make great trapshooting guns for many reasons. One of the biggest advantages is the ability to shoot two rounds in almost the exact same spot because the barrels are stacked rather than side by side. The other benefit is that after shooting the first round, the gun is already recoiling upward so it creates a natural path to shoot the second round.
O/U shotguns are shorter than pump actions or semi-autos of the same barrel length and have a slender forend that can help in instinctive pointing (which is what you want in shotguns). These guns can also be better balanced and easier to swing because the gun is not weighed down by any additional parts up front under the forend.
It's much easier to show that your gun is empty with the open action, take any unused or spent shells out, and check if there is any blockage in your barrels. One of the most unique advantages of an O/U is that you can have two different chokes set up – one for an open pattern and a second for a tighter pattern. On some guns, you can even select which barrel to shoot out of first.
Side By Side
A side-by-side shotgun is unique in that the front sight sits between the barrels. This can be advantageous as it can give a shooter a wider peripheral to use both barrels as a natural point of aim. Some side-by-side shotguns have double triggers. Similar to the O/U shotgun, you can set up two different chokes in your barrels and only pull the trigger of the one with the shotgun pattern you want to use.
Single Barrel
There are single-barrel shotguns solely manufactured for trapshooting. These can be slightly heavier and longer in barrel length, which can be beneficial to lessen felt recoil and deliver tighter shot patterns. The single-barrel shotgun is designed as a break action shotgun which helps people see if the gun is unloaded.
Unsingle Barrel
If you've never shot trap, you may not have heard of the unsingle barrel shotgun. An unsingle is the bottom barrel with a high rib, preferred most by top trap shooters because it has the straight recoil of a bottom barrel. Similar to the single barrel, it will have a capacity of just one round and will break open so you can see if the action is clear.
Sem-Automatic & Pump Action
Semi-automatic and pump-action shotguns are not as popular among trap shooters. However, they are able to get the job done well. For semi-automatic shotguns, consider what barrel length will serve you well in trapshooting. A semi-automatic shotgun will also be the most difficult to show empty and clear.
A brightly colored chamber flag is highly recommended for these guns. Pump actions should be easy to work with smooth actions. They can be locked back and flagged to show the gun is empty more easily than semi-autos.
What About Ammo & Accessories?
Ammo usage is pretty straightforward. The ATA defines legal shotgun shell usage as follows:  "Ammo cannot contain nickel, copper-coated shot, tracer loads, or black powder." Loads with a velocity greater than 1290 FPS (Feet Per Second) are not permitted. Loads with a maximum shot charge of 1 1/8 ounces, or 1325 FPS with a maximum shot charge of 1 ounce, or 1350 FPS with a maximum shot charge of 7/8 ounces or less are also not permitted.
No velocities beyond the listed maximum for individual shotshell are permitted. In addition, no load containing more than 1 1/8 ounces or any shot larger than Number 7 1/2 can be used. Shot charges are maximum and no charge may exceed the charge amount by more than 3%. Steel shot in Number 7 will be acceptable as long as velocity criteria are the same as for lead shotshells.
Eye and ear protection are a given, but sometimes ear muffs can become dislodged when you have a good cheek weld on a shotgun. Consider getting in-ear ear protection.
A shooting vest is almost a necessity in trap shooting. A good vest with multiple pockets will allow you to store shells, choke tubes, and more. Some vests will include shoulder padding to help with recoil and have pouches in the back for your spent shells.
Registering For A Trap Shooting Match
One of the first steps in registering for a shoot is getting classified or "handicapped." Typically, a shoot official will review your averages and handicap yardage to assign a classification to you. Don't forget to register in a special category if you fall into any of the categories mentioned below.
Next, you'll choose a squad or be assigned a squad to shoot in. One of the helpful websites trapshooting uses is presquad.com if it's a larger competition to squad shooters in advance.
The last thing you'll do is pay for the shoot, also known as cashiering.
Trapshooting Categories
Just like other shooting competitions, you can shoot in special categories and compete against people similar to you. The following categories may be offered at a match near you:
Sub-junior – Shooters not yet 15 years old

Junior – Shooters not yet 18 years old

Junior Gold – Shooters not yet 23 years old

Lady I – All-female shooters up to age 55

Lady II – All-female shooters age 55 and over

Sub-Veteran – Shooters 55 to 65 years of age

Veteran – Shooters 65-69 years of age

Senior Veteran – Shooters 70 years of age and older
In terms of safety, arrive at the competition with your gun in a case, and once removed from the case, open the action and/or flag it. 
Trapshooting Competitions
There are three forms of trapshooting competitions: Singles, Handicap, and Doubles. 
Singles: Shot from the 16-yard line, the front line on a trap field. Most ATA singles are 100 target events, with "championship" events at larger shoots running 200 targets. Shooters are assigned to a 5-person squad, which rotates through each of the five posts on each trap field – five shots each post, for each round of 25.
Handicap: Shot like singles, but at varying yardage distances. Most beginning shooters start at the 20-yard line. They hope to work their way back to the 27-yard line (based on performance in prior events). Ladies and sub-juniors start at the 19-yard line. Most registered shoots feature "yardage groups" for purposes of trophies and other awards. Additionally, shooters should always shoot in squads of similar yardage, typically allowing no more than two yards between shooters in a squad. This enhances safety and avoids unnecessary distractions.
Doubles: Features two targets thrown simultaneously at the same angle each time. Like singles, doubles are shot from the 16-yard line. Most registered doubles events throw 100 targets (50 pairs).
Understanding Scoring
No matter if a shotgun round chips a piece of the clay target off or shatters it, it is considered a scoring point. The goal, of course, is to hit every clay target launched. What is so unique about competitive shotgun shooting is you're not aiming a shotgun, you're pointing it. Your eye on the stock acts as a rear sight on a shotgun.
What you're trying to achieve is pointing and moving the shotgun in the same range of motion as the clay aerial and fire the shot while never stopping the gun (also known as follow-through). However, becoming too focused on the front sight or trying to line up your front sight and the clay perfectly can create bad habits.
Busting Clays
Many people enjoy trapshooting as a hobby similar to golf or bowling. It's time on the range typically with friends or family, with a little bit of a competitive vibe to it. Because there isn't a ton of movement nor gear involved, it's easy for people of all ages to enjoy.
Find a local club near you that hosts trapshooting competitions and go out and watch! Ask questions and learn more about the sport. Don't be afraid to borrow a gun first to see if you enjoy trapshooting before investing in your own.