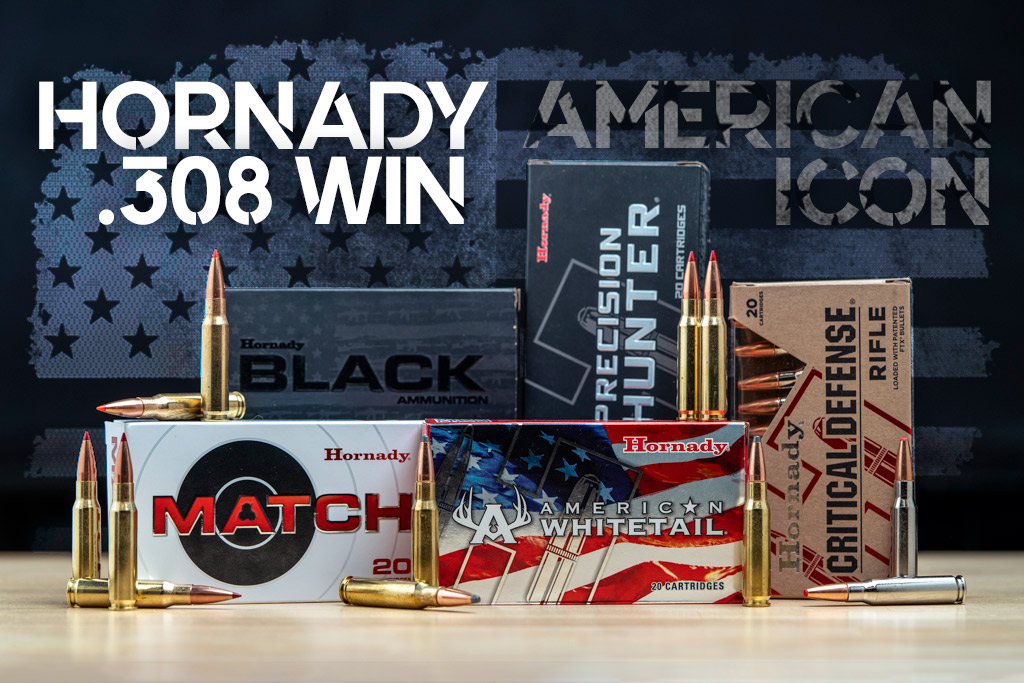 In 1949, the Hornady Manufacturing Company began producing innovative, reliable projectiles for gun owners the world over. They didn't stop there. Over the next few decades, the name "Hornady" became synonymous with dependability and accuracy. The rise of Hornady coincided with the creation of what is arguably the most popular projectile in production, the .308 Winchester. 
With the legacy of these two American icons so closely intertwined, it should come as no surprise that Hornady produces some of the best .308 ammo on the planet. Thousands of hunters and competitive shooters have unwavering loyalty to Hornady .308 projectiles, and for good reason too. Spoiler alert. Hornady .308 cartridges live up to the company name and then some.
Hornady produces over 20 different variations of the .308 cartridge. Impressive, to say the least. While I like to have options as much as the next shooter, the sheer number of choices can make it challenging to decide which cartridge is ideal for your intended application. With that in mind, we've created this comprehensive guide to the Hornady .308 lineup. Let's take a look:
Hornady 308 Product Line
The Hornady .308 product line includes many different ammo variations, such as:
American White Tail

Custom/Lite/International

Precision Hunter

Superformance

Critical Defense

Hornady BLACK

Superformance Match
For the sake of time, we will focus on only one or two variants per use case. The best of the best, if you will. Whether you need a Hornady .308 cartridge for hunting, target shooting, or defense purposes, there are plenty of options. Our ballistic data examples below are taken from a 24″ test barrel. 
.308 Ammo For Hunting
By far the best all-around deer hunting cartridge is the Hornady .308 Win 150 grain InterLock SP American Whitetail. We know the name is a mouthful. However, it takes plenty of adjectives to describe such a legendary variant of .308 ammo. 
The American Whitetail's 150-grain projectile is equipped with an exposed lead tip to deliver excellent expansion on impact. It features Hornady's patented InterLock ring, which is a raised ring within the jacket. This feature ensures that the jacket and core stay connected when the projectile strikes your target. It also works great for reloading.
The American Whitetail has a listed muzzle velocity of 2,820 fps and a muzzle energy of 2,659 ft/lbs. At 300 yards, this Hornady .308 projectile is still traveling in excess of 2,000 fps. In short, it puts meat on the table with plenty of power to down even the biggest deer. Trophy bucks are on notice.
If you are looking to take on dangerous game, the Hornady .308 Custom International line is a great option. The largest .308 variant in this line is a massive 220-grain InterLock projectile. This projectile is designed to deliver optimal performance within 100 meters. It produces over 3,500 joules of energy at the muzzle. 
| Caliber | Bullet Type | Bullet Weight | Velocity (Muzzle) | Energy (Muzzle) | 100 Yards (Velocity/Energy) |  200 Yards (Velocity/Energy) |  300 Yards (Velocity/Energy) |
| --- | --- | --- | --- | --- | --- | --- | --- |
| .308 Win | SP Interlock | 150gr | 2,820 FPS | 2,649 FT LBS | 2,553 FPS/2,170 FT LBS | 2,301 FPS/1,763 FT LBS | 2,063 FPS/1,418 FT LBS |
 .308 Ammo For Defense
The rise of AR weapons platform variations such as the AR-10 prompted major ammo manufacturers to begin producing .308 ammo for defense applications. As one of the premier ammo manufacturers in the world, Hornady once again sought to outdo the competition by creating a 155-grain Critical Defense round. 
The Hornady .308 Critical Defense round includes the unique FTX tip, which is made of spongy polymer. The Flex Tip improves bullet ballistics and prevents the nose cavity from clogging when it impacts clothing. The Flex Tip also ensures a consistent expansion, even at low velocities. It's a great option to protect your castle. 
Hornady .308 Critical Defense cartridges have a nickel-plated case. These cases feed more consistently in semi-automatic, magazine-fed weapons. The nickel-plated case is also corrosion-resistant. 
The Critical Defense has a listed muzzle velocity of 2,785 fps. It has a muzzle energy of 2,669 ft-lbs. The Critical Defense is designed to achieve a flat trajectory at 100 yards. Due in large part to the Flex Tip, Critical Defense .308 ammo maintains a good muzzle velocity and manageable trajectory at distances of 300 yards. 
| Caliber | Bullet Type | Bullet Weight | Velocity (Muzzle) | Energy (Muzzle) | 100 Yards (Velocity/Energy) |  200 Yards (Velocity/Energy) |  300 Yards (Velocity/Energy) |
| --- | --- | --- | --- | --- | --- | --- | --- |
| .308 Win | FTX | 155gr | 2,785 FPS | 2,669 FT LBS | 2,499 FPS/2,150 FT LBS | 2,231 FPS/1,713 FT LBS | 1,980 FPS/1,349 FT LBS |
.308 Ammo For Match Applications 
The Hornady .308 Win 168 grain ELD Match Superformance cartridge represents the pinnacle of competition performance projectiles. Let's be honest. Accuracy matters. These projectiles are the go-to choice for countless competitive shooters, as well as military and law enforcement marksmen. 
The .308 variant of the ELD Match Superformance line has a listed muzzle velocity of 2,840 fps and a muzzle energy of 3,008 ft-lbs. These projectiles have a flat trajectory at 200 yards. They impressively maintain a velocity of over 2,000 fps out to 500 yards. Not bad at all. 
If you are on the hunt for a target shooting cartridge that is versatile and a bit more affordable than the Superformance, the 155-grain A-MAX Hornady BLACK is an excellent option. According to Hornady, this .308 ammo can function with direct impingement, suppressed, bolt, gas piston, mid-length, pistol, or carbine platforms. 
The A-MAX Hornady BLACK has a muzzle velocity of 2,850 fps and muzzle energy of 2,795 ft-lbs. Like the Superformance, these projectiles have a level trajectory at 200 yards. However, they do not maintain quite as much velocity at the 500-yard mark. They travel at approximately 1,887fps at these distances. 
| Caliber | Bullet Type | Bullet Weight | Velocity (Muzzle) | Energy (Muzzle) | 100 Yards (Velocity/Energy) |  200 Yards (Velocity/Energy) |  300 Yards (Velocity/Energy) |
| --- | --- | --- | --- | --- | --- | --- | --- |
| .308 Win | ELD Match | 168gr | 2,840 FPS | 3,008 FT LBS | 2,686 FPS/2,650 FT LBS | 2,497 FPS/2,326 FT LBS | 2,335 FPS/2,033 FT LBS |
Historical Significance Of .308 Ammo
As an aspiring history aficionado, I can't help but briefly discuss the history of the .308 cartridge. It is common knowledge that Winchester created .308 ammo. Some seasoned gun owners can even tell you that it was created in the 1950s. 
However, few people know exactly why there was a need for the .308 in the first place. It was designed with the intention to replace the .30-06 Springfield. I mean, the .30-06 projectile is a fantastic hunting cartridge, right? It most certainly is, but it is not without its flaws.
The biggest shortcoming of the .30-06 is that it is a long-action cartridge. This design feature means that the .30-06 did not perform optimally with semi-automatic or automatic weapons. This was important, as they were becoming increasingly prevalent in the late 1940 and early 1950s. You can thank Browning for that.
Winchester created .308 ammo to offer similar performance to the .30-06, but in a short-action cartridge. The .308 projectile did not quite match the capabilities of the .30-06, but it came extremely close. The rest is history. 
In-Stock Hornady 308 Ammo
Hornady remains one of the most trusted names in the manufacturing community. If you own a weapon chambered in .308 and need a reliable ammo lineup that has a cartridge for every occasion, you can't go wrong with Hornady. From Interlock, to XTP bullets, their award-winning designs are popular with gun owners. Widener's has a great selection of in-stock Hornady 308 ammo. Check out our current stock of Hornady .308 ammunition here.
Are you a modern sporting rifle hunter? Hornady makes a line for that as well. Be sure to check out the best .308 Hornady Black ammo also on the blog.