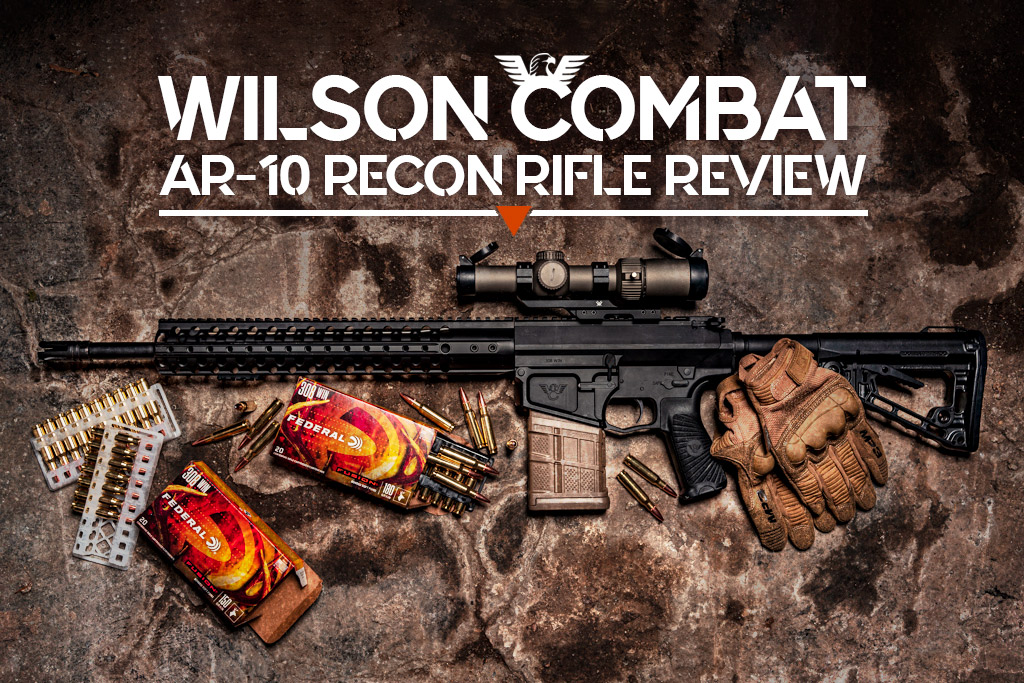 Guest Writer: Kenzie Fitzpatrick
In this article, I'll be reviewing one of the original Wilson Combat .308 AR-10 Recon rifles. Wilson Combat first announced its AR-10 design to the world in November of 2014. The Wilson Combat AR-10 has gone through several upgrades to the design since its initial announcement. However, this design remains one of the best available on the market. Let's take a look at why.
While many people prefer a .308 in bolt action, the Wilson Combat AR-10 semi-automatic gas gun rifle is an excellent .308 option for hunting, competition shooting, or recreational use at the range. If you're in the market for a .308 and are used to the AR platform, this is one to consider. The build quality is evident from the moment you pick it up.
About Wilson Combat
Wilson Combat got started in 1977 and is a manufacturer of 1911 handguns, tactical long guns, and accessories. They also offer custom work and finishes to firearms. Wilson Combat is American-made, located in Berryville, Arkansas. They service all levels of local and state law enforcement and all military branches.
When Wilson Combat released the new ARs, they moved everything in-house and manufactured billet receivers. As a tribute to the founder, Bill Wilson, they have named these BILLet-AR receivers. Their goal was to create a more lightweight rifle but maintain the accuracy and reliability of a semi-automatic AR. 
Wilson Combat AR-10: Design & Features
As far as AR-10 rifles go, I wouldn't call the .308 rifle lightweight, but there is a noticeable difference between this rifle and similar bolt actions of today. The .308 Winchester is one of the most popular hunting calibers and has impressive long-range ballistics. Not only was it WC's intention of building a quality hunting rifle, but they also wanted to build a tactical AR-10 military, law enforcement, and civilians could use for home defense or as a truck gun.
When Wilson first released these guns to the public, they offered them in 14.7", 16", 18", and 20" barrels. The goal was to serve various markets and provide a gun that could be used in many different scenarios without changing much more than the barrel. Now they have five different models, all with specific uses in mind.
One aspect of these rifles Wilson Combat advertises is its premium bolt carrier assembly. I have to say, it's as impressive as their description makes it out to be. The action on this rifle is the smoothest I've ever felt on any AR-15 or AR-10. The bolt carrier assembly, charging handle, and trigger function flawlessly together for a stock rifle and make for a fun time at the range.
Current Wilson Combat AR-10 Models
As I mentioned, WC currently has five models in their AR-10 lineup. They vary in purpose from competition to hunting and everything in between. They include many custom features, including precision-machined match grade barrels, and branded accessories from companies like Magpul. If accuracy and precision are your game, they've got you covered.
| WC AR-10 Model | Barrel Length | Overall Length | Weight | Gas System | MSRP |
| --- | --- | --- | --- | --- | --- |
| Recon Ranger | 16″ Fluted/Threaded | 34.75″ | 8 Lbs 1.6 Oz | Intermediate | $3,285 |
| Super Sniper | 18″-20″ Fluted/Threaded | 35″-37″ | 8 Lbs 5 Oz | Rifle Length | $3,235 |
| Tactical Hunter |  18″ Fluted/Threaded | 35″ | 7 Lbs 12.8 Oz |  Rifle Length | $3,335 |
| Ranger | 16″ Round/Threaded | 34.75″ | 7 Lbs 12 Oz | Intermediate | $3,285 |
| Ultralight Ranger | 16″ Round/Threaded | 35″ | 7 Lbs 5.3 Oz | Intermediate | $3,400 |
Wilson Combat AR-10 Recon Tactical Review
The smallest Recon Tactical AR-10 chambered in .308 is 7.7 pounds with the 14.7" barrel and pinned muzzle device. The other Recon AR-10 .308 rifles are made with 16″, 18″, and 20″ fluted or standard barrels for those looking for a more precise rifle at distance for hunting or competing. While heavier, the total weight is still portable and manageable.
While not much has changed between the model we have and the Recon Tactical model, we'll cover the features of the Recon Tactical and share our range testing experience with the gun we have. The Recon Tactical is equipped with a 16" fluted match-grade, medium-weight, stainless steel barrel, designed for accuracy and to sustain high rates of fire.
Features List
Intermediate Length Gas System with Lo-Profile Gas Block

5/8"x24 Threaded Muzzle with Q-Comp

Wilson Combat/BCM Starburst Gunfighter Grip

Wilson/Rogers Super-Stoc®

Wilson Combat TTU (Tactical Trigger Unit) M2, 4#

Weight Empty: 8 lbs 1.6 oz
AR-10 Compatibility
For any AR or rifle you own, it's essential to know what magazines it accepts and the ammunition it runs. For this .308 semi-automatic AR-10 receiver, Wilson Combat designed it to accept commonly available metal or polymer "SR-25" pattern magazines. I tested brass and steel cased ammunition, and the gun efficiently functioned both. With the price tag on this gun, you'd hope it wouldn't be too picky.
Since the Recon Tactical is an AR-10, the compatible accessories and upgrades are endless. Out of the box, this AR is ready to roll and doesn't need any tweaking or upgrades, but it's always good to have the option of upgrading parts that you like on your gun. The fit of a rifle is never a one-size-fits-all, which is why so many manufacturers make aftermarket accessories for ARs. The flattop upper is a Picatinny rail compatible with most Picatinny rail scope mounts and rings. The grip is interchangeable as well as the stock. If you wanted to upgrade the trigger, you could do that.
Handguard Accessories 
Most AR-15s and AR-10s come standard with a free-floating M-Lok handguard, while others use KeyMod™. It seems Wilson Combat changed the handguard design of their .308 rifles. Our model rifle has a T.R.I.M. (Tactical Rail Interface, Modular) rail designed by Wilson Combat and has fewer aftermarket compatible accessories. The overall functionality of the handguard and durability are what you'd expect from an AR. 
What is unique about this handguard design is it is compatible with most low-profile gas blocks, has dual integral push-button sling attachment points, and only weighs one pound. The downside is that the attachment points on the sides and bottom of the handguard require Wilson Combat's TRIM direct mount Picatinny rail to add aftermarket compatible accessories. Since then, the Recon Tactical now comes standard with an M-LOK® rail.
Range Test
I took the Wilson Combat AR-10 .308 rifle to the range to do some testing. My intended use for this AR was more of a duty rifle than distance for shooting under 100 yards, using a red dot. While the model gun we have is less tactical because of its longer barrel, the premise is to get a feel for what a tactically built rifle out of the box would feel like. I did also treat it like how an AR would be used in the gas gun division in the Precision Rifle Series, minus having a scope mounted to it.
I used two types of ammunition to test-fire the gun. The first was PMC Bronze 147 grain, FMJ-BT .308 Winchester, with a muzzle velocity of 2,780 FPS. The second was Wolf Polyformance 145 grain FMJ, steel case with a muzzle velocity of 2,750 FPS. There wasn't much difference in the ammunition, but the action was smooth, loading steel case and brass ammunition and no feeding issues.
Range Performance
The quality of machining of this rifle is noticeable. The price tag does match the value of the materials used in this particular build. The gun recoils a little more than a similar barrel length AR-15, with little difference in the felt recoil between .308 and 5.56. The action is quick and returns faster than I can pull the trigger. The gun didn't overheat when shooting a few dozen rounds through it and was easy to double-tap targets with.
The heavier the gun, the better suited for PRS or NRL competitions. While this gun is not as heavy as other custom-built .308 long-range rifles, it doesn't mean it's not competitive. While this model gun wouldn't be the ideal one to use in a long-range competition, The Super Sniper™ model with a 20″ fluted barrel already suppressor-ready would be what I would recommend. Wilson Combat doesn't skimp when it comes to performance, and this rifle is a tack driver. If you feed it good ammunition, you can compete all day using this AR-10.
Wilson Combat AR-10: Pros & Cons
Pros
A variety of options to choose the exact model AR-10 for your specific needs

Compatible with aftermarket AR-10 parts

Can be built to meet California compliant specifications
Cons
The base model is over $3,000

It's not lightweight
Reviewer Experience
I've been a competitive shooter for a few years now and have a lot of experience with AR-15s. Some of my favorite style matches are Outlaw Matches and CQB matches because both have no specific ruleset that must be followed. The CQB matches I've shot have simple divisions: Rifle, PCC, Rimfire, Heavy. 
They all are essentially a "run what you got" in terms of accessories. You can use a scope or a red dot, bipod, flashlight/laser, or iron sights even. Competing in the Heavy division is a ton of fun. People shoot .308s and AK-47s to get them out of their safes for a day and run them.
Real-Life Testing
There is no better test of guns or gear than a shooting competition. Shooters can be required to shoot from different positions, including prone, standing, sitting, and can be forced to shoot at different angles for tight shots. Ballistics change if you turn your gun sideways, and your shot can be off of your point of aim if you don't have a proper cheek weld or have the gun shouldered tightly. 
You also need a gun that can withstand extreme heat or cold, shoot accurately in windy conditions (especially for long-range), and shoot in the rain. While I haven't had the opportunity to shoot the Wilson Combat .308 AR-10 in competition, I would use this rifle in a heartbeat in the CQB Heavy division after test firing it as if I were at a competition. It's a very forgiving rifle if you don't have a solid grip, cheek weld, or tight stock placement in your shoulder. There were no feeding issues either, which can happen if you're not holding a rifle correctly.
I dabble in NRL22 competitions, and while I shoot in the Open division with a bolt action rifle, I would prefer to shoot in the gas gun division if I were to shoot PRS or NRL. The reason I shoot NRL22 is to work on fundamentals and positional work that I can tie over into my 3 Gun competitions when I'm shooting a 5.56 AR-15. The Wilson Combat .308 AR-10 would be a gun I would not just trust to perform well, but one I would enjoy shooting in the gas gun division. With a few slight upgrades to customize the gun for me, this would be a great gun to shoot.
Price vs. Value
If you're familiar with Wilson Combat, you already know that their guns are a premium, but worth the quality. The base price on the Recon Tactical, for example, is $3,285, which can be pricey for recreational shooters that just enjoy shooting now and then. But for serious competitors or hunters, I feel the price is right for the value offered. The build quality, performance, and accuracy are as advertised, if not better. 
When budgeting for a rifle (or any gun), always remember to include a budget for the iron sights, scope, or red dot optic you plan to mount on the gun. The biggest mistake I see shooters make is investing in a quality rifle and not in a quality scope, or vice versa. You cannot have performance without the rifle and scope being of at least the same quality, so always include a budget for the optic.
Wilson Combat AR-10: Worth The Investment?
Wilson Combat has long been a trusted name in the industry. Their rifles are commonly seen on the awards podium at shooting competitions. It's a serious gun, for serious shooters and has well-earned respect among competitors. They also have a best-in-industry 100% customer satisfaction pledge on their firearms. The .308 AR-10 rifle by Wilson Combat is a quality rifle that will perform, shoot accurately, and is pleasurable to shoot.