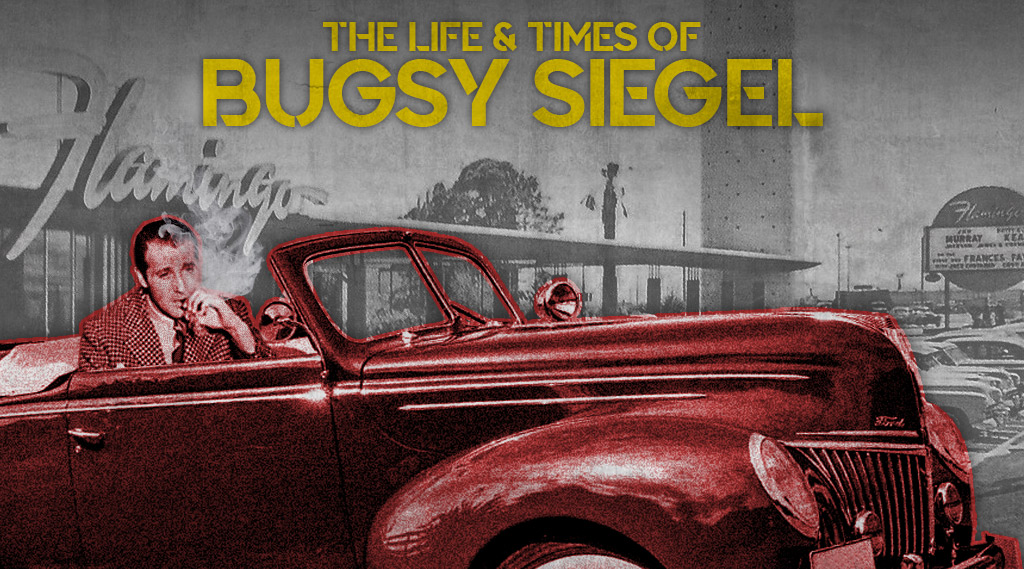 Bugsy Siegel was born Benjamin Siegel on Feb. 28, 1906, in Williamsburg, Brooklyn. His parents were Jewish immigrants. They settled in New York City around the turn of the century, later moving to Manhattan's Lower East Side. In that breeding ground for crime Benjamin discovered his passion for street life.
The moody Siegel had a violent temper that could erupt at any time. Because of this, his friends remarked that he was "crazy as a bedbug." From that point on friends called him "Bugsy." He hated the nickname but it stuck throughout his short life.
In 1918, Siegel became friends with another hoodlum, Meyer Lansky, and his life of crime was up and running.
The Bugs And Meyer Mob
Siegel and Lansky soon formed a gang and called it the Bugs and Meyer Mob. Lansky served as the brains of the outfit, while Siegel provided the brawn. Siegel was the youngest member of the gang. The neighborhood knew the crew as vilda chaye. That's Yiddish for "wild animal."
By the early 1920s, the Bugs and Meyer Mob was in full operation. Lansky had experience with automobiles and mechanics. Soon, the gang started stealing cars. They also dealt in protection, truck hijacking, gambling, and, eventually, murder.
Doing Lucky Luciano's Dirty Work
Charles "Lucky" Luciano was the chief lieutenant for crime boss Joe Masseria in the 1920s, but by 1931 he had become upset by the bloody gang war between Masseria and rival boss Salvatore Maranzano. Fearing the loss of business and the unwanted publicity, Luciano lured Masseria to a Coney Island restaurant where Siegel and three accomplices gunned him down. Siegel was also a suspect in the murder of Maranzano some six months later.
Siegel supposedly favored a .38 Colt Detective Special, which actor Warren Beatty displayed on several occasions as he portrayed Siegel in the 1991 film Bugsy.  He also pulled out a Colt Model 1903 Pocket Hammerless chambered in 32 ACP as he contemplated suicide later in the movie. A prolific killer, Siegel's was reputed to have even used a sawed-off shotgun as part of his arsenal.
Murder, Inc.
The Bugs and Meyer Mob was a predecessor to Murder, Inc., a loose coalition of Jewish and Italian gangsters based out of a 24-hour coffee shop and candy store called Midnight Roses in Brownsville, Brooklyn. Members of the group were involved in all kinds of illicit activities—prostitution, gambling, loan sharking, bootlegging, and labor racketeering. But their infamy came from their role as the New York syndicate's "execution squad." Members of the group were always on standby to take on an assignment once the directive was handed down.
The ruling class of organized crime on the East Coast included Luciano,  Louis Buchalter, Albert Anastasia, Dutch Schultz, and, of course, Siegel and Lansky. This so-called "Syndicate" agreed to settle disputes in a "business-like" manner. So, whenever differences needed to be resolved, they summoned Murder, Inc. to provide a resolution.
After the Syndicate issued a murder contract, someone who knew the target would identify him as the killer. The killer would then plan and carry out the execution. The group used a variety of weapons (Thompson machine guns were often the weapon of choice), but a simple ice pick or rope would commonly be used to create a lasting impression.
Bugsy Siegel Heads West
In 1937, Bugsy Siegel took his bootlegging and gambling rackets to California. He kept up an extravagant lifestyle in Beverly Hills, thanks to his lucrative gambling, bootlegging, narcotics, and bookmaking rackets. It was here that he began to mix in with various Hollywood moguls and starlets.
Hollywood's upper echelon welcomed Siegel to town. He became friends with some of its biggest stars: Clark Gable, Cary Grant, and Gary Cooper, to name a few. He also associated with studio executives such as Jack Warner and Louis B. Mayer. Up-and-coming actors like Frank Sinatra and Tony Curtis reportedly admired him.
While in Hollywood, Siegel came up with a plan for extorting the movie studios by taking over the unions and staging strikes to force the studios to pay him off to get them working again. He also borrowed over $400,000 from several celebrities in his first year in Hollywood, none of which he ever paid back.
In the late 1930s, Siegel began dating Virginia Hill.  Hill was an actress but is best known for her relationship with Siegel. The quick-tempered and irrational pair made for a stormy relationship. Virginia Hill had been one of the top molls of the underworld before she met Siegel, and her continuing connections to them allowed the bosses to keep tabs on what Siegel was doing.
Their turbulent relationship eventually took them to Las Vegas.
Leaving Las Vegas
In 1945, Bugsy Siegel and Virginia Hill arrived in Las Vegas to fulfill his dream of building a gambling mecca in the Nevada desert. Construction soon began on the Flamingo Hotel and Casino under Siegel's supervision.
Funded by the eastern syndicate, the project carried at $1.5 million budget. It wasn't long before the construction costs had climbed to more than $6 million though. When Meyer Lansky, who was now a leading member of the syndicate, found out that Siegel's theft and mismanagement caused most of the overruns, he was furious and felt betrayed by his boyhood friend.
Siegel returned to Beverly Hills and was living at Virginia Hill's rented home. Then, on the evening of June 20, 1947, a sniper armed with a .30-caliber military carbine rested the barrel on latticework outside the living room. The sniper fired nine steel-jacketed slugs through a window.
The shots hit Siegel four times–twice in the head and twice in the torso–as he sat on a sofa reading a copy of the Los Angeles Times.
While Lansky denied any involvement in the hit, there is little doubt that the syndicate ordered Siegel's murder. No one knows for sure who pulled the trigger, and the debate has gone on for the last 72 years. But one thing everyone agrees on is that the death scene in that Beverly Hills living room was gruesome.
Bugsy Siegel's Legacy
Benjamin Siegel will always be remembered as the brains behind the Flamingo Hotel and Casino, even though today's Flamingo bears little resemblance to the one he built. But his real legacy is of a brutal, unpredictable thug who created an underworld empire from bootlegging, gambling, and assassinations. 
If there is such a thing as poetic justice, it was manifested in the way he died—violently and ruthlessly.