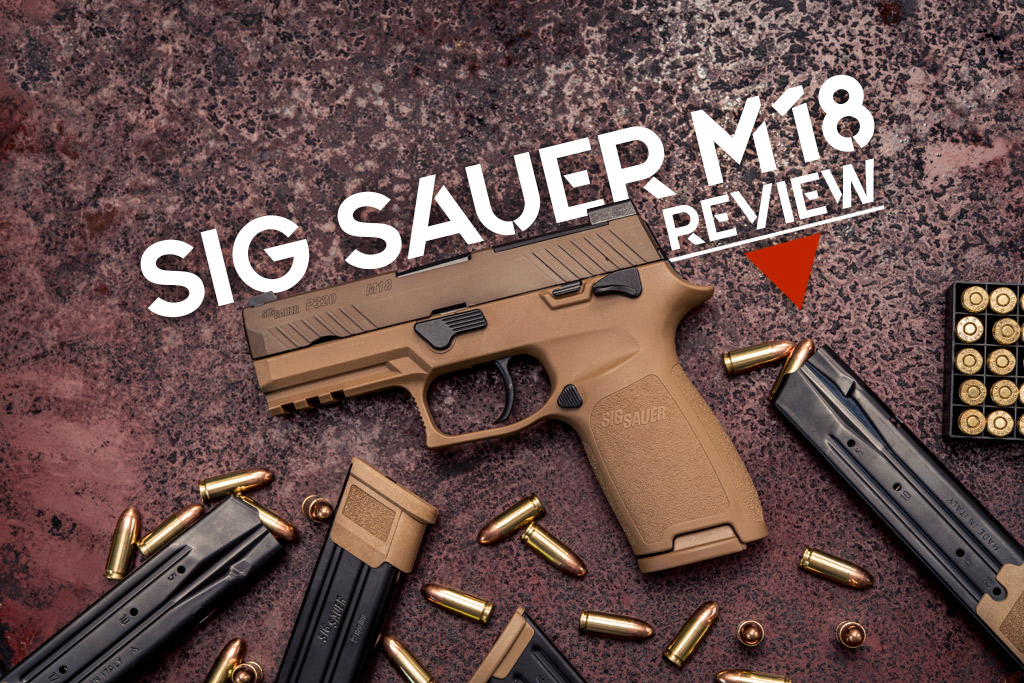 Author: Jacob Long
"FREEDOM!" was the blue-faced battle cry of the Sig P320 creators led by designer Adrian Thomele. Or at least, that's how I like to envision them, painted up like extras in Braveheart sitting around a boardroom table. Their cry was not necessarily a call to freedom from tyranny, but rather freedom of utilization in handgun design. The Sig Sauer M18 is something of a triumph in that regard, as its modularity ushered in a new era in military combat pistols.
Sig Sauer's P320 was their battle plan for addressing the Modular Handgun System (MHS) needs of the U.S. Military. That modular concept evolved, to become the M18 and M17 models, respectively. The battle for the ultimate MHS would pit their handgun designs against the likes of every heavy-hitter in the industry. After a lengthy campaign, the U.S. Military named Sig Sauer the victor and award them the contract to create the next generation of standard-issue sidearms.
Modular Handgun Systems
What exactly is a Modular Handgun System? It's a series of separate parts that allow a firearm to be customized to meet mission-specific requirements. For Sig, that modularity hinges around their fire control unit. The P320's serialized fire control unit, technically "the firearm" (according to BATFE rules), can be placed into any compatible grip module and topped with any slide barrel assembly regardless of caliber and be field stripped without any tools. As you can imagine, that modularity lends itself to almost endless custom load-out options for military operations.
The U.S. Military needed more than an upgraded M9. When they announced the XM17 Modular Handgun System Competition in 2011, it was to find a handgun system that addressed a very specific list of needs as outlined in the "Modular Handgun System Request for Proposal" or "XM17 Procurement." This daunting list required not only a more effective, reliable, and accurate weapon than the M9, but that it must be truly modular, allowing for different fire control options, pistol grips, and magazine options.
This new handgun would define adaptability or "Modularity" with modifications allowing it to fit easily into various hand sizes, with various targeting enablers utilizing Picatinny rails, and compatibility with tactical lights, lasers, and suppressors. It had to provide an entire trigger and firing mechanism, a core, that could be removed and dropped into various frames, so the gun could be adapted to various shooting situations. This weapon would provide an adaptability and versatility that was unprecedented in the history of firearms.
Sig Sauer M18 Overview
If you're in the U.S. Military, chances are the handgun you'll be issued is the Sig Sauer M18. It's a striker-fired pistol with a carry-sized form factor chambered for use with 9mm ammo. It includes three different sizes of the polymer grip module, small, medium, and large. These different grip module sizes all share the same carry-sized frame, but feature hand grips with different widths and circumferences to accommodate different hand sizes. You'll also likely receive two 17-round magazines, one 21-round magazine, a gun cable lock, and a bore cleaning brush.
If you are a civilian, you can purchase a Sig Sauer P320-M18 which is the civilian version of the Military sidearm. What's the difference? For starters, the civilian version says "Sig Sauer P320-M18" on the slide, while the military version is stamped "Sig Sauer M18." The civilian model also has an "M" prefix in front of the serial number, while the military version has a "TC." The civilian version also does not include the three different sizes of the polymer grip module. It comes standard with the medium-sized grip module installed. If you need a different-sized grip module, you can purchase them directly from the Sig Sauer website.
There are several P320-M18 purchase options, including state compliant, and depending on which you purchase, you'll receive a combination of 1-3 magazines along with the standard accessories.
Sig Sauer M18 Specs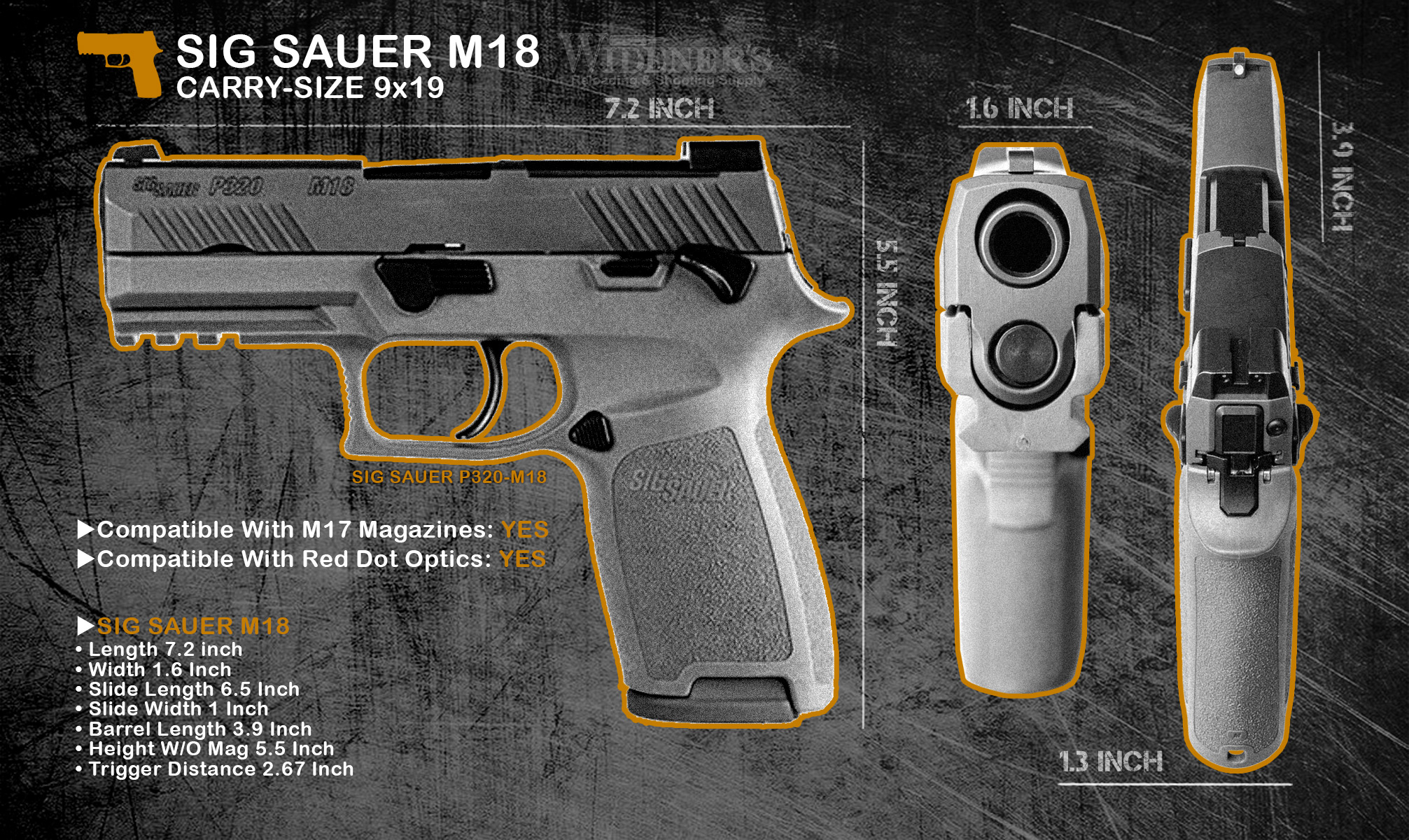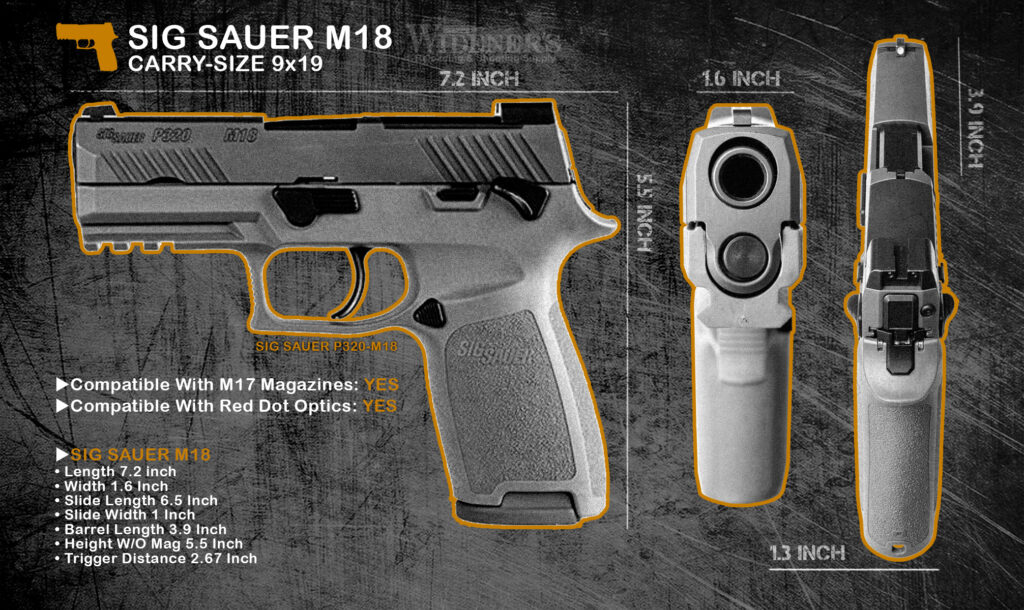 The Sig Sauer M18 has a 3.9″ carbon steel barrel and a 6.5″ slide. The slide features rear and front serrations, a topside loaded chamber indicator, and is coated in a coyote PVD finish. For iron sights, there's a three-dot sight system with Siglite night technology embedded. The slide is optic-ready with a native DeltaPoint Pro optic footprint and removable rear plate.
For those who prefer a handgun with manual safety, the M18 has an ambidextrous one. It does have an automatic striker pin safety lock, which has been a point of controversy in the past. I'll address this and other safety issues later in the article so we can move on. Disassembly of the Sig Sauer M18 is easy, thanks in part to the large right-handed takedown lever. As an added safety feature, you don't need to pull the trigger to complete disassembly.
On the frame, there's an ambidextrous slide catch lever, a reversible mag release button, and a curved trigger. The grip module is an FDE-colored polymer with moderate texturing for the palm and fingers. The polymer on the rest of the frame is smooth, with the exception of the serrations on the front of the trigger guard. The frame also features an accessory rail for mounting lights or lasers below the dust cover.
Sig Sauer M17 vs. M18
Sig Sauer's M17 is a full-size handgun, while the M18 is designated as the carry size. Both are purpose-built Sig P320 models created to meet the requirements of the U.S. Army. The M17 has a longer barrel (4.7″) than the M18 (3.9″). Without question, the M18 is a better option for concealed carry.
Both guns share the same standard frame, however, the M17 has a grip module with a full-sized slide, and the M18 has a grip module with a compact slide. They also share the same fire control unit, which means other than the difference in sight radius, swapping between them is almost seamless. Based on the number of firearms ordered by the military, the M18 appears to be the most popular choice for the branches of service. The civilian market also echoes this sentiment.
| Sig Sauer M18 | Specs | Sig Sauer M17 | Specs |
| --- | --- | --- | --- |
| Caliber | 9x19mm | Caliber | 9x19mm |
| Barrel Length | 3.9″ | Barrel Length | 4.7″ |
| Overall Length | 7.2″ | Overall Length | 8″ |
| Slide Length | 6.5″ | Slide Length | 7.3″ |
| Width Overall | 1.6″ | Width Overall | 1.6″ |
| Height W/O Mag | 5.5″ | Height W/O Mag | 5.5″ |
| Weight Unloaded | 28.1 oz / 1.75 lbs | Weight Unloaded | 29.6 oz / 1.85 lbs |
| Avg Trigger Pull | 4.5 lbs | Avg Trigger Pull | 4.5 lbs |
| Standard Capacity | 17+1 | Standard Capacity | 17+1 |
| Sights | White Dot/Night | Sights | White Dot/Night |
| Finish | Coyote PVD | Finish | Coyote PVD |
| MSRP | $649 | MSRP | $649 |
Sig Sauer M18 vs. Glock 19

The Glock 19 is slightly longer, while the Sig M18 is thicker and weighs more. There's more felt recoil with the Sig, however, its trigger is smoother than the factory Glock. Both have magazine capacities that run the gamut, from 10 to 30 plus rounds. There's good aftermarket accessory support for the Sig, but even more so for the Glock. You can mount optics, lasers, and flashlights on either option. As well as swap out front and rear sights to suit your needs.
The Sig has a manual safety, but the Glock does not. You can field strip both guns without needing tools. You do need to pull the Glock's trigger to dissemble, whereas on the Sig you do not. If you want to swap your frame out, the Modular Handgun System of the Sig does not require a trip to the FFL. With the Glock, you do, as its frame is serialized. The Glock generally runs about $50 cheaper than the Sig, which leaves you with more money for ammo.
| Sig Sauer M18 | Specs | Glock 19 | Specs |
| --- | --- | --- | --- |
| Caliber | 9x19mm | Caliber | 9x19mm |
| Barrel Length | 3.9″ | Barrel Length | 4.02″ |
| Overall Length | 7.2″ | Overall Length | 7.28″ |
| Slide Length | 6.5″ | Slide Length | 6.85″ |
| Width Overall | 1.6″ | Width Overall | 1.34″ |
| Height W/O Mag | 5.5″ | Height W/O Mag | 5.04″ |
| Weight Unloaded | 28.1 oz / 1.75 lbs | Weight Unloaded | 23.63 oz / 1.47 lbs |
| Avg Trigger Pull | 4.5 lbs | Avg Trigger Pull | 5.5 lbs |
| Standard Capacity | 17+1 | Standard Capacity | 15+1 |
| Sights | White Dot/Night | Sights | White Dot |
| Finish | Coyote PVD | Finish | Black nDLC |
| MSRP | $649 | MSRP | $599 |
Sig Sauer M18 Ergonomics
I found the medium-size grip module of the Sig Sauer M18 to be a little small for my large hands. The thickness and moderate texture allow for a good purchase and don't get in the way when drawing from a holster. I've heard some complaints about the manual safety being very stiff, and the one on the review gun was as well. I clicked it back and forth at least a hundred times and still found that getting it to release one-handed was a chore. I suspect this is something that will be improved in a future model.
When I shoot the gun right-handed, my left thumb naturally comes to rest on top of the gun's takedown lever. I'm not really a fan of that, as it puts it dangerously close to a pinch point on the slide as it's moving. Shooting the gun left-handed (it's fun, try it) eliminates that issue, but again, there's really nowhere to brace your thumb, other than on the non-textured frame of the gun. For now, my solution is to ride the bottom of the takedown lever with my thumb, bracing by pushing up against the side of the grip module.
There are some after-market solutions that address the thumb positioning issue. I remain unconvinced (so far) that any of these offerings improve the reliability of the gun. Improving basic functionality is one thing, however, making a weapon less reliable is a step in the wrong direction. The Wilson Combat grip modules already seem to be addressing the issue by adding checkering, and texture around the takedown lever. Hopefully, Sig will do the same in a next-gen grip module.
Getting Triggered
The 2.67″ trigger distance feels a bit short for me. In fact, I'd prefer to run the large-size grip module so that my index fingertip rests naturally on the curve of the trigger. The great thing about a Modular Handgun System is if you don't like the ergonomics of something, you can just swap it out. You don't need to buy another serialized lower through your FFL. Find the grip module that works for you and attach it, it's that easy.
Out of the box, the trigger on the review gun we purchased was gritty (even after a clean and lube). After 100 rounds it began to feel a little bit smoother, and after 300 rounds, the gritty feeling was mostly gone. I suspect it will continue to smooth out as it sends more rounds down range. Overall, it feels like any other curved P320 trigger. The break is clean, and the reset is tactile. Out on the range, you get used to the trigger pull quickly, and it never feels like it's slowing you down.
That Tang'
As others have pointed out, the bore axis of the Sig Sauer M18 sits higher than its closest polymer competitors. Call it an engineering decision if you must, but the placement of the grip's tang forces your hand lower on the pistol's frame. A high bore axis with a low grip generally means more felt recoil in the hand. Sig's engineers opted for a smooth trigger, and heavy dual recoil spring rod to offset the felt recoil. Does it work? Yep, pretty well too. Even when you're shooting the +P hot stuff, the recoil is well-controlled and very manageable.
Optically Impaired?
While some bemoan the Leupold DeltaPoint Pro optic footprint of the M17/18, it should be noted that it was a request made by the U.S. Military. Sig's own ROMEO1PRO optic shares the same footprint, as do about a dozen other red dot optics including the Eotech EFLX. The footprint does limit the gun's native compatibility with many of the market's popular optics, but there's always a workaround. Several companies, including Trijicon have released mounts with integrated rear sights, increasing compatibility and making the optic installation process easier. There's a good chance someone makes a mount to adapt the optic you'd like to use on your Sig M18 pistol.
I do think it's worth pointing out that mounting an optic on the native footprint of the M18 is a process. It's not as straightforward as attaching an optic to a Glock MOS. You'll need to unload and dissemble the firearm. You'll need a punch to assist in disassembly, and a 3/32 Allen wrench to remove the plate and rear sight from the slide. From there, you can access the holes on the top of the slide to line up the optic for mounting. Mounting an optic on the native footprint of the M18 slide replaces your rear sight. If you'd like to have a rear sight and an optic, you'll need to install a 3rd party mounting plate with integrated rear sights.
Concealed Carry Dynamics
The Sig Sauer M18 is intended to be worn in condition-one carry, fully loaded, with a round in the chamber and the safety engaged. Does that make it an ideal handgun for concealed carry? It depends. Even though Sig refers to it as "Carry" size, it is a larger and heavier handgun than anything in the P365 or P938 lineups. Considering that the P365 can accept 15-round magazines, and still be more concealable, it puts the M18 in a tight spot. Still, if you need the extra capacity, don't mind the weight, and love adding accessories, it's a very solid platform for everyday carry.
Compared to carrying a Glock 19, the Sig Sauer M18 is wider and slightly heavier. Having carried both handguns, I do feel that the Glock 19 is a little bit easier to conceal. This is due in part to its grip shape, and lack of thickness. That isn't to say that the Sig Sauer M18 isn't comfortable to wear, it is, after carrying it for a week, I have no real complaints. There's nothing that sticks out or pokes you. As long as you wear it in a quality IWB holster, there's very little movement or need for readjustment.
The Big Stick
What about concealed carry with the 21-round magazine? The 21-round magazine sticks out about an inch below the base of the gun's mag well. Depending on your frame and attire, it is possible to conceal it, however, it is more of a challenge than carrying the standard magazine. In the appendix position, turning to the left, or right, quickly causes the butt of the longer magazine to print through clothing. Carrying at the 3 o'clock position on the hip and leaning forward does the same. In the kidney position from 4-5 o'clock, the butt of the magazine also prints when leaning forward, or bending over.
Magazine Capacity & Compatability
Sig Sauer offers 10, 17, 12, and 30-round magazines for the M18 via their website. Depending on which SKU of the gun you purchase, it should come with a combination of 1-3 of those options in the box. There was some early confusion as to whether the existing 15-round P320 magazines fit the M18, they don't unless you swap the standard grip module out for a compact P320 one. There are 3rd party companies who make 15-round magazines that fit the standard M18 grip module, so look there if you're in the market. The full-size M17 shares the same magazines as the M18, so if you have, or plan on getting both guns, magazine compatibility isn't an issue.
Ballistic Testing
I set up a ballistic chronograph at the range to test two popular training ammo loads. I shot ten rounds of PMC Bronze 9mm FMJ 115gr and ten rounds of PMC Bronze 9mm FMJ 124gr through the M18. The recorded data from the chronograph was captured at a distance of about 10′ with a calibrated unit. No surprises here, the M18 loves FMJ ammo. There were no issues with feeding, firing, or ejecting rounds with either training option.
I also chronographed two popular self-defense ammo loads. I shot ten rounds of Speer Gold Dot 9mm JHP 124gr and ten rounds of  Speer Gold Dot 9mm JHP 124gr +P  through the M18. Known for reliability and mechanical accuracy, the M18 performed as advertised while cycling the self-defense ammo. I had no issues with feeding, firing, or ejecting rounds with either self-defense option. I also didn't notice much a of difference in felt recoil between the standard and the +P loads.
While at the range, I also ran 100 rounds of the (dirty, FMJ 115gr) steel-case stuff through the M18. I chronographed the first magazine out of curiosity and found it to be on par with the more-expensive FMJ brass ammo. I loaded two of the 17-round magazines, and two of the 21-round magazines with the steel-case, and worked through my usual set of range drills. Again, I had no issues with feeding, firing, cycling, or ejecting the cheap stuff from the gun or magazines. If there's a 9mm cartridge out there that this gun doesn't like, I haven't found it yet.
Is The Sig Sauer M18 Safe?
When it was introduced, there were numerous reports of the Sig Sauer P320 having a drop safety issue. Despite passing several industry-standard drop tests, some owners found that the handgun discharged when dropped at a specific angle. Sig Sauer voluntarily offered a mechanical disconnector upgrade program to gun owners to resolve the issue, as well as offering reimbursement to those requiring repairs. If you'd like a detailed explanation of the cause of the mechanical failure, check out this video.
By the time the P320-M18 hit the civilian market, the mechanical disconnector upgrade was already a factory-installed feature. However, there are older Sig Sauer P320s, including military contract overrun M18s which do not have the upgrade installed and can have safety issues. If you're buying a new Sig Sauer M18 handgun from a reputable dealer, you shouldn't have anything to worry about. The factory warranty covers any defect in material, workmanship, and mechanical functions.
Planning on buying a used P320 or M18? Be sure to ask the seller if the safety upgrades have been installed. If you have safety concerns you can reach out to Sig customer service with the serial number, or have a licensed gunsmith inspect the handgun for you.
Buyer's Guide
As a Modular Handgun System, the Sig Sauer M18 makes a lot of sense. If you want to swap the grip frame for something customized to your hand, it only takes a couple of minutes. There is also a litany of purpose-driven slides for the handgun, that allow you to set it up in a variety of configurations. It's one gun, with one serialized fire control unit, that can be uniquely customized for whatever the situation calls for.
It's not without its faults. As mentioned, it does feel like a first-generation product. However, the level of customization it offers makes it an obvious choice for military units, police departments, and EDC-savvy civilian gun owners. You can purchase a base fire control unit through your FFL, order accessories, and build out your dream gun on the reliable Sig P320 platform. Swapping parts out for a range day, or extended concealed carry is a breeze.
Years from now, will we be looking back at the M18 the same way we look at the Beretta M9? There's an argument to be made that this service pistol has already eclipsed its predecessor. It's a big world out there with an endless amount of environmental and combat scenarios for it to prove itself in. Time will tell how well it performs. In the meantime, it's a great modular option for you to have your own adventures with, it gets a recommended rating from this reviewer.