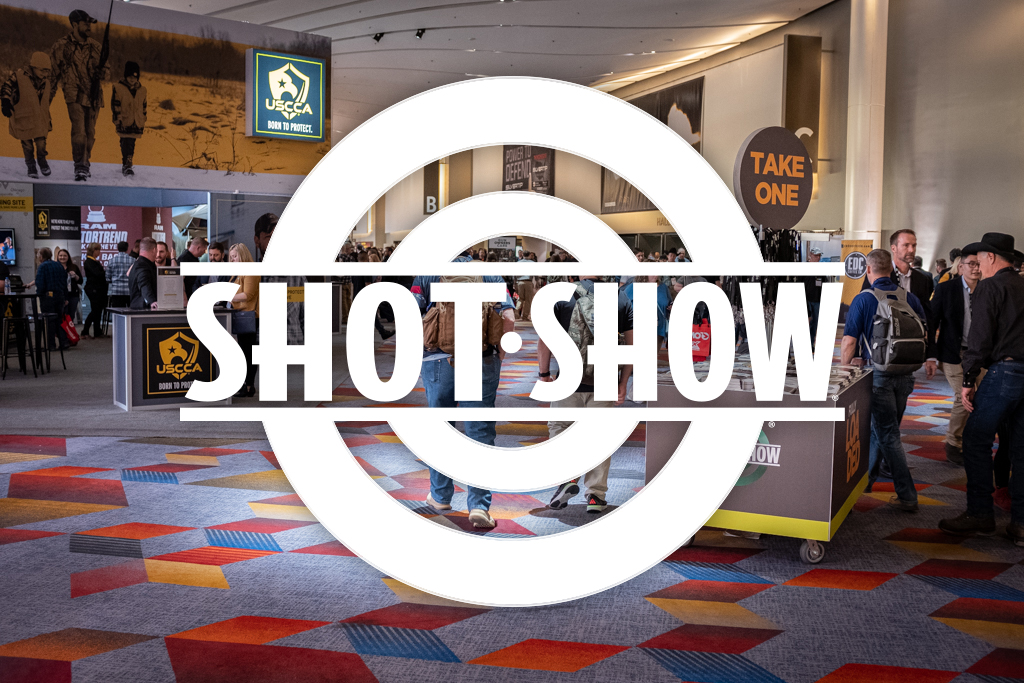 Author: Jacob Long
Widener's SHOT Show 2020 Report
It's that time of year again. (NSSF) SHOT Show 2020 is in full swing at the Sands Expo Center in Las Vegas, NV and Widener's is bringing you all the action from the show floor. The gun industry is buzzing with new announcements, products, and breaking news. With more than 1,600 exhibitors there's a lot to see and review in every category of the firearms industry. We'll break up our report by product category for easy navigation Let's dive in below and take a look at some of the hottest new items at SHOT Show 2020.
Product Category Index:
Shooting Accessories
The shooting accessories category seems to get larger every year. With so many fun gadgets, inventions and accessories to look at you can lose yourself in the maze of booths. The shooting industry loves innovation and there was no shortage of it on display at SHOT Show 2020. We did our best to find accessories to show you that embrace the "Kaizen" principles of continuous improvement. Take a look at what we found below.
Magpul Booth:
Two new 50-round drum mags from Magpul emerged at the big show, the Pmag D-50 GL9 and the Pmag D-50 EV9. If your large-size Glock or PCC is extra hungry, pair it with the rugged Pmag D-50 GL9 to add more 9mm lead to your sled for plinking or competition. It should be noted that Magpul says the D-50 GL9 is not compatible with Glock handguns.
Scorpio fan? The new Pmag D-50 EV9 is exclusively designed for 9mm CZ-Scorpion EV0 3 pattern weapons. Pricing on the new USA made drum mags is TBA, but expect them to be in the $120 price range.
The Magpul Bipod Sling Stud QD is one of the more interesting products brought to the market by Magpul in recent years. Built to Mil-Spec from anodized T-6 aluminum and injection-molded polymer, this rugged bipod weighs in at just over 11oz. It's low-profile folds forward tightly against the handguard of your rifle and deploys quickly when needed with push-button adjustments. The QD adapter allows it to quickly mount, or be removed by twisting the knurled locking knob. You can pick up the Magpul Bipod Sling Stud QD for $129.
Blue Force Gear Booth:
The new horizontal Ten-Speed pouch and new stackable Ten-Speed pouch from Blue Force Gear offers users unconventional options for carrying additional ammo. The horizontal Ten-Speed pouch gives users a forward carry position mag that can easily be grabbed for action.
The stackable Ten-Speed pouch allows users to add a row of 1-3 MOLLE attachable magazine holders. Once attached, you can begin stacking addition magazines, for pistol, or rifle on top of the row of stackable pouches. You can also attach accessory items to the stackable pouches including communications gear, GPS, first aid, and more.
Both pouches are made from rugged military-grade elastic, have industrial stitching and laser cuts for a high-quality, durable finish. The pouches work with a variety of popular magazine styles and offer MOLLE mount style attachments. Pickup the horizontal Ten-Speed pouch online for $30, the stackable Ten-Speed pouch retails for $35.
AR-500 Booth:
Leading up to SHOT Show 2020, the rumor and innuendo about AR500 Armor involved a new helmet they were working on. The rumors were true. The new AR500 Militia Helmet is a level IIIA compliant ballistic helmet, weighing in at 3 Lbs with large pads attached. The ballistic helmet protects against small arms fire in pistol calibers including 5.7x28mm green and blue tip rounds. AR500 will be adding additional options including an NVG mount, side rails, quick-adjust dial lock suspension, and a rifle up armor upgrade kit. Priced at only $299, expect this critical piece of gear to be a hot item in 2020.
Peltor Booth:
Can you hear me now? Stream music, take phone calls and protect your ears at the range with Bluetooth enabled Tactical 500 earmuffs from Peltor. The Tactical 500 electronic hearing protection earmuffs offer clear voice tracking, background noise reduction, and dynamic suppression time. They are optimized to react to shooting experiences based on the firearm and environment and have a noise reduction rating of 26. MSRP on the Tactical 500 earmuffs is $169.
SHOT Show 2020: Ammunition
The "roaring twenties" is shaping up to be the decade of increased ammo options for the civilian market. New and exciting offerings from Federal, Speer, Winchester, Hornady and more will be available on the market very soon. Widener's always has the best deals on bulk ammo and we offer same-day shipping on most orders. Check out some of the new offerings you'll be sending downrange this year below.
Federal Ammo Booth:
Federal said they were going to bring it in 2020, and they delivered on that promise. The new PUNCH Defensive Ammo line brings HST-like ballistic performance with consumer-friendly pricing. The bullets feature a skived jacket with soft lead core for expansion and nickel-plated brass casings with sealed primer for reliability.
The new PUNCH ammo line is packaged in boxes of 20 and comes in .380 ACP, .38 Special, 9mm, .40 S&W and .45 ACP.
Speaking of HST, the legendary Federal lineup gets a few new additions in 2020. The new 9mm 124gr HST +P is now available in 20-round boxes for the civilian market, this was a much-requested round that was formerly only in the LEO catalog. Also added to the civilian lineup are the .45 ACP 230gr HST +P and .357 Sig 125gr HST rounds.
The new Federal Force X2 Personal Defense 12 gauge shotgun ammo was also featured at the booth. This 00 buckshot created a buzz by including copper-plated pellets that are slotted and split upon impact. This fragmenting buckshot minimizes the risk for potential over- penetration while increasing the number of wound channels. Federal also notes that the recoil is more manageable, making this an ideal self-defense round for followup shots.
Speer Ammo Booth:
Just in time for Space Force? Speer announced a new hollow-point round for 57 platform weapons. The Gold Dot 5.7x28mm cartridge is a defensive round in their personal protection line using the Uni-Cor bonding method. This 40gr HP bullet features a jacket that is bonded to the core one atom at a time, producing an accurate and reliable cartridge. It will be available in 50 round boxes for civilians and space cadets alike.
Not a traditional pistol shooter? No problem! Speer introduced its Gold Dot Rifle Personal Protection line at SHOT Show 2020. You can now enjoy the Gold Dot experience in rifles chambered in .223 Rem, 300 Blackout and .308 Win. The rounds are designed for maximum efficiency usage in barrels shorter than 16″ meaning the SBR pistol crowd has a new ally. Pricing varies by caliber
Hornady Ammo Booth:
Hornady increased its subsonic ammo line with new products for both the handgun and rifle categories. The new 9mm 147gr XTP looks to be a great option for suppressed pistols, as does the .40 S&W 180gr XTP and .45 ACP 230gr XTP options. Know anyone shooting .450 Bushmaster suppressed? We don't either, but Hornady informed us that it's 395gr Sub-X subsonic round with Flex Tip in .450 Bushmaster will be on the market very soon.
The Hornady line of Outfitter ammunition in nickel-plated cases is easily some of the best looking ammo at SHOT Show. This corrosion-resistant line is perfect for hunters or avid outdoorsmen who require watertight, rugged ammo for extreme environments. The 300 Rem Ultra Mag 180gr GMX and 338 Win Mag 225gr GMX rounds should be options popular for backcountry explorers.
Hornady's popular Frontier line also expands with the addition of new cartridges and packaging options. The .223 Rem 55gr FMJ and 55gr HP Match are now available in 50-count boxes. 5.56 Nato 55gr FMJ (XM193) and Nato 55gr HP Match get bumped up to 50-count boxes as well. Increasing the Frontier box count makes loading three 30-round AR mags for your chest rig a lot easier with the purchase of only two boxes.
Winchester Ammo Booth:
Guess who's supplying 9mm ammo to the U.S. Army again? Yep, Winchester is packing 9mm M1152 115gr FMJ for Uncle Sam, but you can pick it up on the civilian market under the Active Duty line. Available in boxes of 100, you can grab a few to train with at the range with your mil-surplus M9 Beretta.
New arrival from Winchester for the 350 Legend line, the Super Suppressed 265gr open tip bullet. The new straight-walled suppressed cartridge is engineered for noise reduction, with high velocity and low recoil. Will it thump? You bet it will, with a velocity of 1060 FPS, the extra grain weight does little to stifle performance. Grab your can, this new round is a perfect addition for hunters or sports shooters who enjoy the benefits of shooting suppressed.
Sig Sauer Ammo Booth:
New year, new caliber! Sig Sauer announced the new .277 Sig Fury cartridge ahead of SHOT Show 2020. The .277 Sig Fury is marketed as hybrid case ammunition, with a steel base and brass case connected by a locking washer. Sig claims the new cartridge has 6-9 feet less drop at 1,000 yards VS the popular 6.5 Creedmoor round. Two cartridges have been announced, the Elite Match Grade 135gr and Elite Hunter Tipped 140gr. So far, only the new Sig Cross rifle has an option chambered in .277 Sig Fury. That's likely to change very soon with more options becoming available on the market.
Optics & Sights
We live in a time when you can purchase a water-proof red dot that runs for 10,000 hours for less than the price of your monthly car insurance. What's wrong with that? Absolutely nothing. That being said, you do pay for what you get and in the world of optics, there are few, rare exceptions. Quality outlasts quantity, but quantity provides options. We'll do our best to bring you a mix of both in the optics we looked at during SHOT Show 2020.
Vortex Booth:
Vortex unveiled the Razor HD Gen III 1-10×24 scope in the weeks before SHOT Show and I finally got to check it out. It's impressive, to say the least. This 1-10×24 carries the motto "everything is in range," and indeed it is if you can see it while looking through this rifle scope. The rugged construction and professional-grade finish match up well with the XR anti-reflective coating and clarity of the optical glass. A variety of reticle options are available, the center ring features adjustable 11-level illumination. Make no mistake, this is a top-tier first focal plane optic targeting serious shooters. MSRP is $2899 and includes the VIP Vortex warranty.
Sig Sauer Booth:
The interesting BDX 2.0 system from Sig Sauer features a simplified to use scope and rangefinder combo. This upgraded version uses Bluetooth technology to get users on target with speed and accuracy. Sig claims that using the BDX system is as easy as connecting the dots. Using the available smartphone app, BDX users can select a variety of reticles, caliber options, and adjust ballistic drop compensation to pair with targeting distances out to 500 yards. MSRP for the Sierra BDX rifle scopes begins a $519, while the Kilo BDX rangefinder pricing begins at $259.
Trijicon Booth:
The great minds over at Trijicon announced the Ascent tactical rifle scope line just before SHOT Show and we got a chance to check it out. Both the 1-4×24 and 3-12×40 riflescope models are ruggedly built out of aircraft-grade aluminum and feel like they can take a beating. They feature multi-coated anti-reflective glass, zero optical distortion, and edge-to-edge clarity. This entry-level lineup is sure to be a best seller with the 1-4×24 model coming in at $650 and the 3-12×40 model at $699.
The new Trijicon Credo illuminated riflescope line is split between tactical and hunting riflescope options. In the tactical category, the 1-4×24 riflescope offers versatile and accurate precision with true 1X magnification with an MSRP of $999. If you need a little more range on the hunt, check out the HX 1-6×24 hunting rifle scope. This 30mm tube hunting category riflescope is a perfect option for hunting boar, whitetail or varmints with an MSRP of $1,200. A variety of illuminated reticle options is available for both the Credo tactical and hunting riflescope lineup.
Trijicon MRO HD:
It's here! The new Trijicon MRO HD is the first MRO designed to be used with a magnifier. Can you use it without a magnifier? Absolutely, the sight picture, dot, and reticle are crisp and clear. Adding the magnifier does nothing to degrade the visual performance when in use, the reticle remains crisp and there is no noticeable vignetting.
The new optic has selectable reticle options, a 2 MOA dot only, or a 2 MOA dot with a 68 MOA circular reticle. 8 brightness settings are available for each reticle option for a total of 16, including NV options. Pricing for the new Trijicon MRO HD is $919, expect to see it bundled with the MRO HD 3X Magnifier (with mount) for around $1,399.
Aimpoint Booth:
Known for their rugged designs, Aimpoint continues to provide users with high-quality optic solutions with the new CompM5b. The traditionally covered Aimpoint turret adjustment caps have been replaced with exposed locking turrets. These turrets are calibrated for use as ballistic drop and wind compensation dials.
The sight turrets are also interchangeable, allowing users to match the caliber of their weapon to the optic. It's compatible with standard Aimpoint magnifiers, has a 2 MOA dot, takes an AAA 1.5V battery, and has a 1-year battery life at a brightness setting of 8. MSRP on the Aimpoint CompM5b is $913.
SHOT Show 2020: Firearms
How do you describe SHOT Show? Guns, guns everywhere. Everywhere you look, everywhere you turn, on every shelf, stand, and display, you'll find guns. In a word, it's glorious. But you have to stay vigilante. At any moment, a rolling cart filled with booth swag or a motorized scooter could take out your ankles. We did our best to avoid shin injuries and bring you the best new items announced in each firearms category. We present to you, the SHOT Show haiku:
Journey through the Sands.

Rolling carts strike my ankles.

The guns welcome me."
Handguns
Glock Booth:
If you think the new Glock 44 looks a lot like the Glock 19, you're right. It has almost identical dimensions, with half the weight, and the same Gen 5 Glock design. The new Glock 44 is the first Glock chambered in .22LR, and they claim it works well with a wide variety of rimfire ammunition. The magazines have a 10-round capacity and include a load assist thumb tab. The gun has a 4″ Glock Marksman barrel, adjustable rear sight, and is compatible with standard backstraps. MSRP on the new low-recoil Glock 44 is $430.
Smith & Wesson Booth:
If you thought Smith & Wesson couldn't improve on the M&P 380 Shield EZ you were wrong. Now it comes in 9mm. The new M&P 9EZ Shield is a 9mm version of the popular EZ semi-auto handgun. It features the same easy to rack slide with rear serrations, and easy to load thumb-tabbed magazines. This 8+1 capacity pistol has a 3.6″ barrel, accessory rail, and makes a great option for new gun owners for home defense or concealed carry. MSRP on the new 9EZ Shield is $479.
Ruger Booth:
A bit of a surprise when announced, the Ruger 57 pistol, chambered in 5.7x28mm was on display at the Ruger booth. Some may call it a niche caliber gun, but Ruger put some serious engineering into the design of this blowback-operated pistol. The Ruger 57 is hammer-fired, weighs less than 1.5 lbs and uses standard 20-round magazines. It features a 4.8″ barrel, ambidextrous safety, and is red dot optic and rail-mounted light ready. At a price point that's almost half of the closest competitor, the Ruger 57 with an MSRP of $799 is worth a second look.
A request that's been a long time coming, the Ruger Lite Rack LCP II in .22LR is finally here. Built around the popular LCP gun frame, the Lite Rack LCP II is a low-recoil pistol designed for concealed carry. This rimfire chambered semi-auto has front and rear slide serrations and a light recoil spring for easy slide manipulation. The gun has a manual safety, capacity is 10+1, and the trigger has a short, crisp single action with a quick reset. MSRP on the Ruger Lite Rack LCP II is $349.
Sig Sauer Booth:
Sig announced the new P320 RXP, an optic ready version of the popular P320 series. Four new models: XFull Size, XCompact, Full Size and Compact will include the Sig Romeo1Pro optic. The Sig Romeo1Pro is a 6 MOA red dot sight, with 12 brightness levels and 20,000-hour battery life. The RXP striker-fired pistols feature suppressor height sights with additional options available per model and will ship with 2 magazines. A 17-round magazine for the XFull Size, Full Size, and a 15-round magazine for the XCompact, Compact size. Pricing is TBA.
SCCY Booth:
Something interesting from SCCY. The new 10+1 capacity, striker-fired DVG-1 pistol chambered in 9mm. Featuring an improved 5.5 Lb flat style trigger, the crisp break and quick reset feel like they belong on a much more expensive subcompact gun. You can pick up the optic ready DVG-1RD model with a factory-installed CTS-1500 3.5 MOA red dot from Crimson Trace. SCCY is going after a wider audience with the DVG-1 and DVG-1RD. The new design, improved trigger, and optic options prove they've been actively listening to customers. With an MSRP of $389 with the red dot included, SCCY may find the mass appeal they've been looking for.
Revolvers
Colt Booth:
The legend is back? Well, maybe. Colt reintroduced the Python at SHOT Show 2020. Or at the very least, they released a new gun that looks a lot like the classic Colt Python. It certainly looks and feels like the original, but Colt says the internals have been upgraded to meet modern performance standards. They've increased the amount of steel in the frame above the cylinder by 30%, and removed unnecessary internal parts used in the original for more reliable performance. You can pick up a stainless-steel version of the new Colt Python with either a 4.25″ or 6″ barrel. It holds 6 rounds and is chambered in .357 Magnum, expect to see it on the market priced at $1,499.
Ruger Booth:
The Ruger Super GP100 is finally available in 9mm for the first time. It's the same size as the previous Super GP100 .357 model, with the exception of the shorter 8-shot cylinder. Ruger says this adjustment was made to reduce mass, improve striker accuracy, and increase rotational speed. The barrel is extended in length to 6″ and it appears to extend into the cylinder. This extra barrel length provides more rifling to keep the bullet from losing velocity on exit. The new model has the same excellent GP100 quality, with a smooth DA/SA trigger, cold hammer-forged 6″ barrel, and new satin stainless finish. The Ruger Super GP100 in 9mm has an MSRP of $1,549.
Taurus Booth:
Guess who's back, back again? Taurus has reintroduced the 942 revolver line with two updated models. You can pick up this rimfire classic with a 2″ or 3″ barrel option, chambered in your choice of .22LR (Model 942) or .22 WMR (Model 942M). These updated wheel guns retain their DA/SA configuration, with new finishes, including anodized colors, and stainless steel or aluminum frame options. For those curious, these pistols are from the new Taurus plant located in Bainbridge, GA. These 8-shot capacity revolvers will be hitting the market soon with an MSRP of around $360.
Rifles
Sig Sauer Booth:
Going in a completely different direction from 2019, Sig Sauer announced the Cross rifle, a precision bolt-action hunting rifle. The Cross will be available in a variety of chamberings including .308 and the new .277 Fury cartridge from Sig. The rifle features a 2-stage match trigger, a folding precision stock, and a one-piece aluminum receiver. The overall weight comes in at just under 6.5 lbs and includes the option of a 16″ or 18″ barrel. The Cross is built in the USA with an MSRP starting at $1,699.
CMMG Booth:
The all-new CMMG 5.7 AR conversion barrel kit continues the trend of 5.7x28mm chambered weapon options for 2020. CMMG has three barrel length options for the drop-in kit, 5″, 8″ and a standard 16″ rifle barrel. The complete upper kit uses a patented radial delayed blowback system that handles the high-performance cartridge. 5.7x28mm drop-in kits are compatible with all standard AR-15/M16 lowers.
Complete pistol and rifle systems chambered in 5.7x28mm are also available from CMMG. Several barrel length and stock options are available in the Banshee series based on the CMMG 100, 200, and 300 series rifle platform. Builders can also purchase just the 5.7x28mm barrel and BCG kit from CMMG for assembling their own custom pistol or rifle.
The drop-in kits include a BCG and charging handle. Each upper kit ships with at least one dedicated 40-round magazine that fits any standard AR lower receiver. Upper kits ship to your doorstep in free states, complete 5.7×28 guns are available to be shipped to your FFL. The 5″ complete upper kit is $799, the 8″ complete upper kit is $774.95, and the 16″ is $924.95 at the time of writing.
Kalashnikov USA Booth:
Hold your breath. The long-awaited, USA made, Kalashnikov AK-47 will finally be available to purchase in the form of the model KR-103. Kalashnikov USA had the new model on display at SHOT Show 2020, and it looked good. If you were blindfolded and handed an Arsenal SAM7R and a KR-103, I don't think you'd be able to tell the difference. Kalashnikov USA says the KR-103 is compatible with all standard AK47/AKM furniture and accessories. It has an MSRP of $999.
Savage Booth:
The Savage Precision Series expands with the introduction of the Axis II Precision rifle. This budget-friendly rifle has all the features of the Precision Series without the cost. It features a 22″ carbon steel barrel, adjustable AccuTrigger, and a Modular Driven Technologies chassis with M-Lok compatibility. It's available in several popular calibers including 6.5 Creedmoor, .308, and .223 Rem. The suggested MSRP for the Axis II is $949.
Rimfire
Savage Booth:
The Savage Minimalist Series also made its debut at the big show, providing an affordable plinking platform with premium options. The modern design of the Minimalist series looks great, it feels good in the hand and the action of the bolt is surprisingly smooth for its price point. The 93 Minimalist and 93R17 Minimalist models are offered in both 22 WMR and 17 HMR, while the standard Mark II Minimalist model is offered in .22 LR. The series features an 18″ carbon steel barrel (with threaded options), ergonomic laminate stock, and adjustable AccuTrigger. The pricing? MSRP on all models is only $359. Not bad at all.
Bergara Booth:
Announced late last year, the B-14 22LR rifle is a rimfire version of the popular REM700 centerfire rifles made by Bergara. Some have called it a training rifle, others seem to think its more of a marksman's plinker. I'd say it's somewhere in-between the two. The single-stack magazine is… kind of funky. It's the size of a standard rifle mag, but only the front edge has functionality for loading your plinking ammo into. That being said, the build quality of the rifle is outstanding. If you shoot NRL22 or PRS 22 matches, you'll be seeing these in competition, guaranteed. You can pick up the B-14 for around the MSRP of $1,150.
Volquartsen Booth:
It's a company with a funny name, that makes serious rimfire pistols, rifles, and accessories. The Volquartsen Summit 17 WSM rifle gives their straight-pull bolt action rifle lineup a new member. Summit fans can now choose from .22LR, .17 Mach, or .17 WSM and add their favorite Volquartsen accessories. The Summit 17 WSM features a 1/2×28 suppressor-ready threaded barrel, a 1.75 crisp trigger pull, and a variety of stock options including Magpul Hunter-X. MSRP starts at $1,375.
Shotguns
Mossberg Booth:
The 940 JM Pro Competition Autoloader shotgun turned some heads with father-daughter duo Jerry and Lena Miculek promoting it at the Mossberg booth. This signature series 12-gauge shotgun features a 24″ barrel, and a new gas system that allows the gun to cycle up to 1,500 rounds before needing cleaning. It has a 9+1 capacity, a port designed for quad loading, and a HIVIX TriComp sighting system. If you are in the market for a slick, competition-ready shotgun, you can pick up the Mossberg 940 JM Pro for around $1,015.
Savage Booth:
Despite having a name like a "B" action movie, the Renegauge 12-gauge shotgun from Savage is a serious contender for the semi-auto market. It's Savage's first attempt at adding a semi-auto to the 12-gauge line and so far, the reviews are positive. This dual-valve gas-operated gun allows users can to feed target loads to magnum loads without needing adjustment of the gas system. 24″-28″ barrel lengths are available, as are adjustable chokes. Savage designed the beveled port for rapid loading and the action bar as a single chrome-plated piece. MSRP on the Renegauge starts at $1,449.
Black Aces Tactical Booth:
Looking for new lever-action 12-gauge in 2020? The Pro Series L lever shotgun from Black Aces Tactical may be exactly what you are looking for. Available in both silver and black, the Pro Series L gives users the option of standard stock, or a bird's head short grip. It's chambered for 2-3/4″ and 3″ shells, has a 6+1 capacity, aluminum receiver, and bolt-connected advance lever. You can pick up the black Pro Series L option for $399, or the silver with natural walnut furniture for $469.
SHOT Show 2020: Reloading
With all the glitz and glamor of new guns and ammo at SHOT Show the reloading category can sometimes get overlooked. That's a shame because it's a category that continues to improve and innovate. Manufacturers like Dillon, Lee Precision and Hornady have displays with full lines of reloading presses, accessories and dies. If you want to take your passion for the hobby to the next level, reloading your own ammo is where it's at.
Hornady Reloading Booth:
Hornady had the new backlit touch-screen Auto Charge Pro powder dispenser on display. The screen is responsive and well made, it should hold up to years of use next to your favorite reloading press. The Auto Charge Pro is accurate to within 0.1 grain and has customizable flow speeds for various powder types. It's a minimalist-modern design with a small footprint that makes a great powder measurement option for reloaders.
Also new on the show floor is the Hornady Precision Measurement Station. The most consistent cartridges are built with the most consistent components, the Hornady Precision Measurement Station allows reloaders to do just that. With five headspace bushings and seven bullet containment comparators, reloaders have everything they need to measure bullet casings accurately. Weighing 8 Lbs with adjustable rubber leveling feet, the Hornady Precision Measurement Station makes a great addition to your reloading bench.
Lyman Precision Reloading Booth:
The future is now over at the Lyman Products booth with the new Mark 7 Evolution press on display.  Lyman advertises the Mark 7 as a 10-stage manual loading press for sports and competitive shooters ready to expand their capabilities. It features the ability to add on tons of options including a hi-resolution touch screen monitor, sensors, and auto-drives that increase reloading production up to 3,500 rounds an hour. Yes, you read that correctly. Built around a CNC machined aluminum and steel frame, the press design supports reloading for calibers from .380 ACP to .30-06.
Dillon Reloading Booth:
If you haven't seen the complete Dillon XL750 Reloader set up in person, I'll warn you now, you'll want to take it home. This high-speed progressive reloading machine has more options than the Cadillac dealership and comes in a vibrant electric blue. It handles handgun calibers from .32 ACP to 500 S&W, as well as, rimfire and popular centerfire rifle cartridges. The optional electric case feeder is a feat of engineering, the up/downstroke primer system is solid and the roller handle operation is silky smooth. The best part? Dillian makes the XL750 right here in the USA.