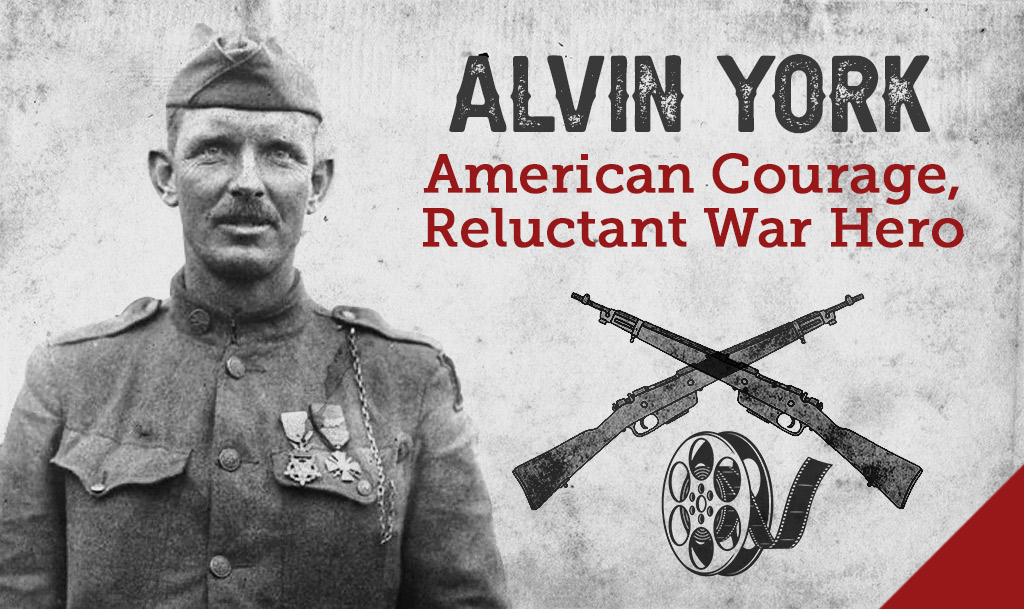 After Alvin York died in Nashville, Tennessee on September 2, 1964, at the age of 76, President Lyndon Johnson recognized him as a "symbol of American courage and sacrifice." Adding that Sergeant York "epitomized the gallantry of American fighting men and their sacrifices in behalf of freedom."
"A higher power than man power guided and watched over me and told me what to do." -Alvin York
But who was this humble war hero? A man who displayed "valor above and beyond the call of duty" over a century ago during World War I? Whose deep religious faith caused him to seek exemption as a conscientious objector. How did a rural Tennessee farm boy become one of the most decorated soldiers of the Great War?
Continue reading about Alvin York's rather unique story:
Early Life On The Farm
Alvin York was the third of eleven children born to a farmer/ blacksmith and a full-time mother. When his father died in 1911, 24-year-old Alvin took over the farm and supplemented the family's income by working in railroad construction and later as a logger.
His neighbors remembered the young man as a hard worker with a talent for shooting accurately. He was also rumored to be a violent alcoholic and gambler with a penchant for barroom brawling. His fighting led to several arrests and a county-wide reputation as a nuisance who the law believed would not likely amount to much. 
Alvin York Sees The Light
Despite his hell-raising tendencies, York managed to make it to church most Sundays, even occasionally leading the hymn singing. With encouragement from his mother and pastor—and prompted by the death of his best friend in a barroom brawl—York converted to a fundamentalist sect called the Church of Christ in Christian Unity in 1914. The church did not allow drinking, swearing, or violence, which included a moral restriction on war.
The conversion changed his life in two important ways: Alvin quit drinking, gambling, and fighting, and, through his membership in the church, he met Gracie Williams, the girl who would eventually become his wife.
When York received his draft notice after the United States entered the war in 1917, he sought conscientious objector status. However, his application was denied because the Church of Christ in Christian Unity was not recognized as a legitimate Christian sect at either the state or local level. He reported for training at Camp Gordon, Georgia, a few months before turning thirty.
Onward Christian Soldier
York's years of hunting in rural Tennessee had turned him into an expert marksman, so it's no surprise that those skills made him a prized recruit in basic training. But after basic training, Private York continued to be acutely troubled by the conflict between his religious beliefs and his military training. 
Seeking advice from his company commander, York was referred to his battalion commander General George E. Buxton, a devout New England Christian. Buxton spent hours with the confused young man, quoting Biblical passages including: "He that hath no sword, let him sell his cloak and buy one" (Luke 22:36) and Jesus' words: "For my kingdom is not of this world, but if my kingdom were of this world, then would my servants fight" (John 18:36)." 
After the conversations, Buxton gave him a 10-day pass to go home and do some soul-searching. During his time in the Tennessee hills, York became convinced the Germans were trying to take over the world, and his participation would help to make peace "the only way the Germans would understand."
The Making Of A Hero
On October 8, 1918, Corporal Alvin York and his regiment were assigned to capture Hill 223 during the Meuse-Argonne Offensive in France. As the attack began, the unit invaded and captured a German medical personnel assembly area.
While they were accepting the surrender of the medical personnel, a German MG 08 machine gun opened fire from the top of a nearby hill. Dropping into a squat position, York gave himself a clear view of the Germans. Ultimately preventing them from getting the MG 08s low enough to hit him.
As the machine gun crew members raised their heads to find him, York eliminated them with deadly accurate rifle fire. After York destroyed the machine gun nest, several German soldiers launched a bayonet attack against him from a trench. As the Germans charged, York used an M1911 .45 ACP sidearm to kill or wound each one of the attackers. 
Moving up the hill to a position where he could look down into the German trench, York poured unrelenting and accurate rifle fire against the trench's occupants. Obeying a command from their German lieutenant, the overwhelmed German soldiers dropped their weapons, raised their hands, and surrendered. After the engagement, York and a few men marched the German prisoners—all 132 of them–back to the American lines.
York was promoted to sergeant and awarded the Distinguished Service Cross. This was later upgraded to the Medal of Honor after further investigation. York also received the Croix de Guerre, the Medaille Militaire, and the Legion of Honor by the French. Marshal Ferdinand Foch, the French General of the Armies, told Sgt. York, "What you did was the greatest thing accomplished by any soldier of all the armies of Europe."
Sergeant York's Rifle?
After the war, Alvin York returned to the quiet life he knew before the war. He turned down many lucrative offers—product endorsements, appearances, and newspaper articles. Allowing his name to be used only for various civic and charitable causes. He married his pre-war sweetheart, Gracie, and they raised six sons and two daughters.
He was part of Company G of the 328th Infantry, 82nd Division. York established himself as the best shot in his unit. He was very comfortable firing the U.S. Model 1903 (.30-06) Springfield rifle. But when the 82nd Division deployed to France, the Model 1917 Enfield rifle was issued to them instead. 
Some historians believe he used the Enfield simply because it had been issued to his regiment. Others, including his son Andrew, think that Alvin used the M1903. Andrew once noted that "Daddy didn't much cotton (the) peep sights" on the M1917. He was convinced his father had traded for a Springfield rifle and carried it into battle on that historic day. 
Alvin's family was so certain that he used the Springfield that his statue at the state capital in Nashville, Tenn., shows him holding an M1903. While the truth will probably never be revealed, it makes little difference. Sgt. Alvin C. York's actions on October 8, 1918, are some of the most celebrated of World War I and the only proof needed to show he was a true American hero.
Alvin York On The Big Screen
In 1941, more than twenty years after the Great War ended, Hollywood came calling. A film adaptation of York's war journal was put together with Howard Hawks directing. The film would go on to give lead actor Gary Cooper, an academy award for his portrayal of Alvin York. As well as, giving audiences one of the most memorable battle scenes in the history of cinema.
York himself wasn't a fan of the idea of turning his life into a movie. However, he finally relented the rights in exchange for financing the creation of an interdenominational Bible school. Sergeant York the film debuted right in the middle of World War II. It received acclaim and awards. The American Film Institute ranked it 57th out of its 100 most inspirational American films.