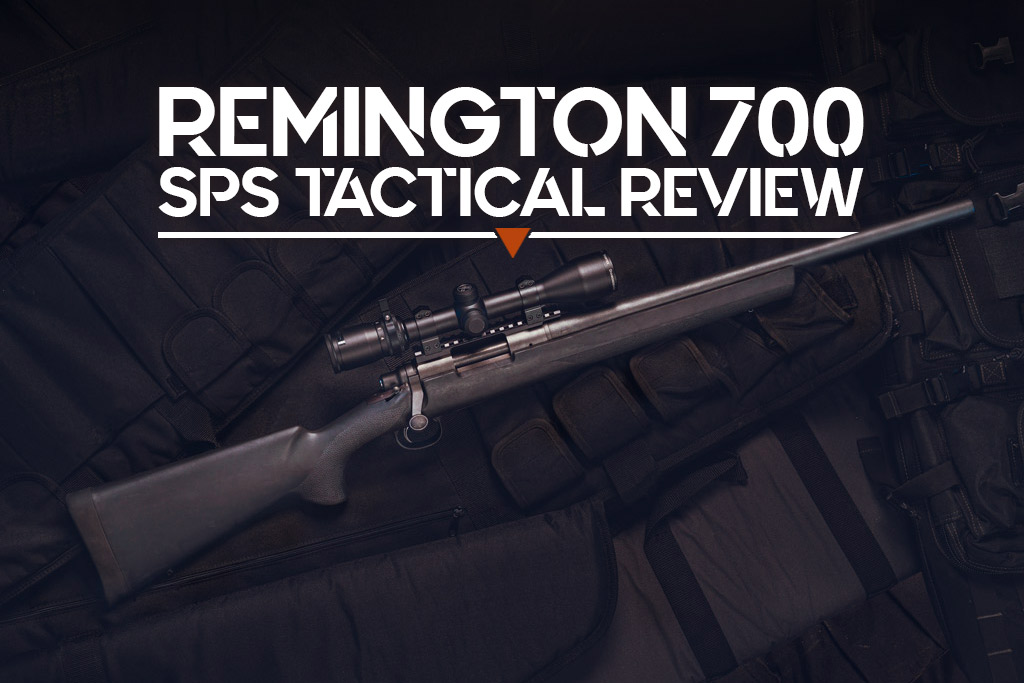 Guest Writer: Kenzie Fitzpatrick
The Remington 700 SPS Tactical model is the perfect big game hunting rifle. It's also fun to shoot at the range. Remington has been a household name for years and the Model 700 and Model 870 are two of the best-selling firearms of all time. Once you shoot one, you'll understand why.
RemArms is still dedicated to designing and producing new Remington firearms that customers have come to know and love. With over 20 versions of the Model 700, a variety of cartridges it can be chambered in, and different size barrel lengths offered, there are hundreds of different Model 700s available today.
Remington 700 SPS Tactical Overview
The Remington Model 700 SPS (Special Purpose Synthetic) Tactical rifle is a bolt action rifle outfitted with a 20" heavy-contour tactical-style barrel. The heavy barrel is exactly what you want in an accurate hunting rifle. However, if you're looking for something more for recreation without all the weight, this rifle is probably not the one. The short barrel length (compared to the 24″ Model 783) makes it viable for close-range tactical situations, hence the name. However, it's a versatile rifle, capable of handling a variety of tasks.
The stock is ergonomically designed and made of black synthetic material with Hogue® over moldings. The texture allows for a proper cheek weld on the gun and is more comfortable than its wood or metal counterparts. The SPS Tactical model has dual-point pillar bedding in its stock to improve accuracy. 
Pillar bedding is the insertion of non-compressible "pillars" that are rigidly bedded in the stock that takes out any issues from the metal being fitted into wood or other materials. The end of the stock is outfitted with a SuperCell® recoil pad that claims a 54% reduction in felt recoil over standard pads. Although I don't have a way of measuring that claim, I can say the recoil is well managed, making the rifle enjoyable to shoot.
Rings Of Steel
You might have heard of the famous "three rings of steel" design that Model 700s are famous for. If you don't know what this is, Remington designed this rifle with "three rings of steel" surrounding the case head – the bolt face, barrel, and receiver. The bolt face completely encapsulates the cartridge head. 
The bolt face then tucks into the action end of the barrel to make sure the bolt and barrel are aligned correctly. Finally, the barrel threads into the action. These "three rings" make a solid design which helps make this rifle so accurate right out of the box.
Handling The Remington Model 700
The Model 700 SPS Tactical has a semi-beavertail fore-end that makes gripping the gun easy. It also adds more stability when the rifle is laid on a rest or shooting bag. The barrel features a satin black oxide metal finish and the rifle is outfitted with an X-Mark Pro® externally adjustable trigger. The factory trigger has a little bit of slack, but it's comparable to other stock trigger options.
The stock feels good, and the (weatherproof) Hogue rubber grip gives you a feeling of confidence when you shoulder it. It feels like a modern rifle, which isn't a bad thing, but it lacks some of the charm classic wooden furniture provides. The short action of the bolt and 20″ barrel make the rifle easy to maneuver and acquire targets quickly.
One of my personal favorite features of this gun is the hinged floorplate magazine. This magazine makes loading and unloading the rifle a breeze. The hinge opens by pressing down on the release button inside the trigger guard and to close it, you simply push it back into place until it clicks.
Next to the hinge release is the bolt release. When you pull back the bolt to the rear, hold down the bolt release button as you pull the bolt backward until it slides completely out of the action. To put the bolt back into the gun, you just slide it in without having to hold down the button again.
Features & Mounted Optics
The Tactical model is drilled and tapped to add a rail or scope rings for mounting optics to the rifle. With a rail, it's easy to set up the riflescope to the correct eye relief for you. Mounting optics on the rail is quick and painless. The rifle is also set up with two sling mounting points. One towards the end of the fore-end and the other under the stock near the recoil pad.
These mounting points require sling swivels with studs that insert through the holes on the gun. Behind the bolt knob is an external safety with a texturized grip that makes it easy to toggle on "fire" or on "safe." The only downside to this rifle for hunting is it is not suppressor ready. One such model that is threaded for a suppressor or muzzle brake with 5/8″-24 TPI threading is the Model 783 Heavy Barrel. 
Model 700 SPS Tactical Features List
Chambered in 308 Win and 300 AAC Blk

Available in either 20" or 16 ½" barrel chambered in 308 Win

Magazine capacity is 4 308 Win or 5 300 AAC Blk

Carbon steel barrel

Matt blue barrel finish

13 ⅜" length of pull

1 ½" drop (comb)

1 ¼" drop (heel)

Twist rate of 10 in 308 Win/7 in 300 AAC Blk
Remington 700 SPS Tactical: Range Test
I primarily hunt deer with .308 rifles as they're the perfect size cartridge to take down deer humanely. This rifle is one of the most comfortable large-caliber rifles I've shot in my life. The biggest draw to me was the recoil pad. I shoot a lot of shotguns as well. The first thing I do to most shotguns I buy is to change out the recoil pad. The felt recoil was a lot less compared to most other .308 Win rifles on the market today.
I tested out a few cartridges to really put this rifle to the test. The first was PMC Bronze 147 grain, FMJ-BT .308 Winchester with a muzzle velocity of 2,780 FPS. The second was Wolf Polyformance 145 grain FMJ, steel case with a muzzle velocity of 2,750 FPS. There wasn't much difference in the ammunition used as far as recoil, accuracy (out to 100 yards), or feeding. The action was smooth loading both steel case and brass ammunition and had no feeding issues.
With match-grade ammo like Hornady Black, things start to really tighten up. The 150gr rounds are not only ideal for hunting but produce groups as tight as a fist from the Model 700's barrel. With a muzzle velocity of 2,820 FPS, the Interlock bullets hit targets hard out of a 20″ barrel. You won't be disappointed with the sub MOA accuracy, or performance of high-quality ammo out of the Remington 700 SPS Tactical.
Remington 700 SPS Tactical: Pros & Cons
Pros
Affordable accurate rifle priced around $800

Recoil is manageable and has much less felt recoil with the SuperCell® recoil pad

Runs any kind of .308 Win ammunition

Easy to mount any size scope

Easy to remove the bolt and clean the gun
Cons
Heavy rifle for youth or long-distance hiking to hunt

Not all barrels are compatible with suppressors or muzzle brakes

The length of pull is not adjustable

No standard bipod attachment points (stud only)
Reviewer's Experience
In recent years, I've been fortunate to go to range day at SHOT Show, and attend dozens of similar events, to test fire hundreds of guns. I've shot bolt action rifles chambered from .22 LR to .338 Lapua. All that to say, I have experience with many manufacturers' rifles in a wide variety of calibers.
To understand how a specific firearm functions and performs, I first spend time learning the controls. I like to dryfire the gun, feel the trigger press, and work the action. If there's time, I even disassemble the gun to inspect the moving parts. I then take it to the range and shoot at least a few hundred rounds through it if it's a smaller caliber pistol or rifle. Or I test a few dozen if it's a larger caliber with readily available ammunition.
It is only after this that I make an assessment of the firearm. Dry fire can only tell you so much. Live fire will test your true abilities. Revealing how well you grip the gun, how smoothly you work the action to eject a spent cartridge and chamber a fresh one, and how you handle the recoil. I always give guns an honest review as I know what it's like to invest in a firearm based on a review or recommendation and end up not enjoying it as much as I had hoped I would.
Hunting Considerations
I grew up hunting with my father, grandfather, and younger brother. They spent a lot of time with my brother and I, teaching us from a very early age how to shoot larger caliber rifles, revolvers, and 20 gauge shotguns to start out with. We worked ourselves up to 12 gauge and eventually larger pistol calibers, and beyond. The Remington 700 SPS Tactical model is a great budget-friendly hunting rifle that is also enjoyable to use in the field. I trust the level of accuracy of this rifle to make a clean kill, which is the most important aspect of a hunting rifle.
Price VS Value
The MSRP for the rifle is around $800. There are plenty of better deals out there if you find a used one. Sure, there are similar rifles, from competitors, but it's hard to make an argument against a rifle that set the standard for the industry. The modular configuration of the rifle makes it a versatile option for gun owners with varied interests. If you're looking for a basic hunting rifle, a recreational use .308 Win, or a simple bolt action to learn on, it's a great value for the price.
Remington 700 SPS Tactical: Still A Great Buy?
In a word, yes. The Remington Model 700 SPS Tactical rifle is a workhorse. It's a dependable rifle for big game hunters, new shooters wanting to learn on a bolt-action rifle, and recreational target shooters. This budget-friendly centerfire bolt action rifle is accurate, simple in design, easy to clean, and makes a great gun to pass down for generations. If you have an accurate rifle, always put a good quality scope on it. Even if the scope costs more than the rifle, the rifle can't outperform the optic, so invest wisely. Remember to budget not only for the gun you want but for the optics, accessories, and quality ammo as well.