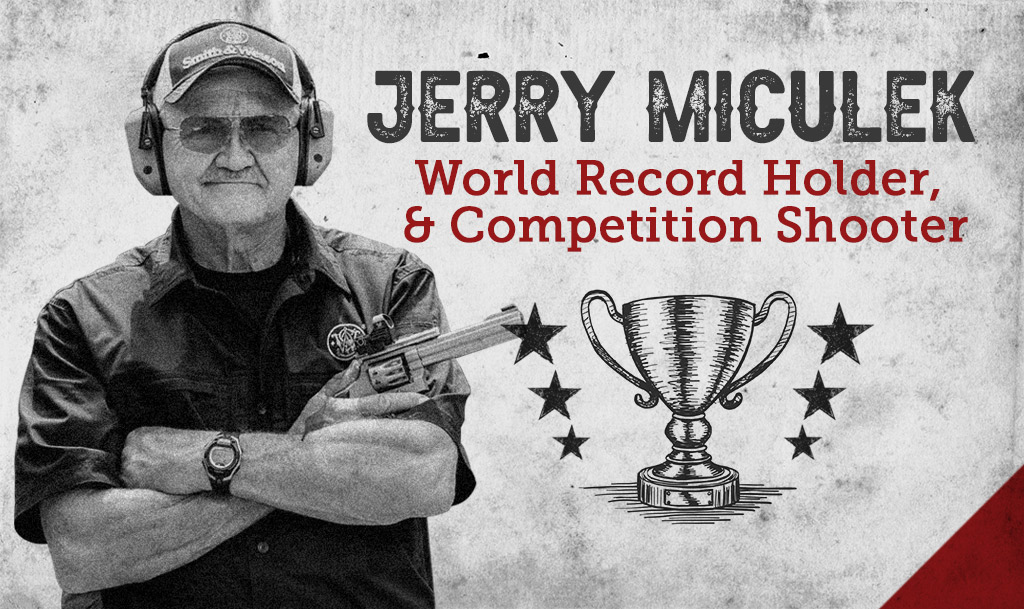 While he might not be a household name outside of the shooting community, within it, Jerry Miculek is renowned as the fastest and best all-around shooter on the planet. Who is Jerry? He is the undisputed worldwide champion of revolver competition, holding five world records in revolver speed shooting. And he has an impressive list of awards and titles in various types of professional shooting.
So who is this man so revered in shooting circles? Let him tell you: "I am Jerry Miculek, firearms expert, special forces trainer, professional shooter, 90-time world and national shooting champion, holder of five world records, TV personality, host of a popular YouTube Channel, and arguably, one of the best shooters in the world."
Ain't Bragging If It's True
Jerry's accomplishments during his thirty-plus years of shooting include fifty-two national titles and forty-five world titles. He impressively won the International Revolver Championship more than twenty times! Jerry is also one of the world's top multi-gun competitors, displaying expertise with pistols, rifles, and shotguns, giving him claim to the unofficial title of "Best All-Around Shooter on the Planet."
A sampling of the five officially sanctioned, and fifteen unsanctioned world records Jerry holds:
January 16, 2017: Miculek fired ten shots into three targets in 1.59 seconds using a Smith and Wesson M&P15 rifle from 15 feet. (Breaking his own previous record of 1.76 seconds)

June 27, 2014: He fired forty rounds of 5.56×45mm NATO in 6.48 seconds from an Israeli IWI Tavor TAR-21 assault rifle 

May 13, 2013: Put 23 shots on one target in 3.73 seconds using a Mossberg 930 12-gauge shotgun

August 31, 2013: Fired six .50 caliber shots in .98 seconds with a Barrett M107 rifle

September 27, 2003: Fired six shots from each of ten different .38-caliber S&W Model 64 revolvers in 17.12 seconds
If you've seen any of Jerry's record-breaking videos, you've likely also seen his Smith & Wesson Model 627 V-Comp revolver. It's a revolver chambered in .357 Magnum, largely beloved by those who own one and coveted by those who don't. Jerry's Performance Center model features custom grips, adjustable rear sight, a barrel compensator, and holds eight rounds. 
Once asked which of his many records meant the most to him, Miculek replied: "Well, the record that I am most proud of is eight shots in one second out of a Smith & Wesson Model 627 revolver. It was always my goal to have a revolver speed shooting record, and when Smith made the new Model 627 in eight shots, it was just natural to go for that." He established that record on September 11, 1999.
The Adventures Of Young Jerry Miculek
Jerry Miculek was born in Texas in 1954 but grew up in southern Louisiana. The son of two Texas farmers, Miculek credits his parents for instilling his work ethic. As the middle child of five boys, all of whom loved the outdoors, Jerry spent his formative years hunting and fishing with them in the bayous and swamps, setting him up for a life-long interest in shooting.
Other early influences came from the local revolver-carrying law enforcement officers and the exploits of legendary shooters like Ed McGivern and Bill Jordan, a lawman credited with drawing, firing, and hitting a target in .27 seconds with his favorite double-action revolver.
Training Days
The young Miculek spent a lot of time developing his shooting skills in the town dump. In those years, he gravitated toward shotguns and handguns like the .32 ACP CZ 27, a souvenir his father brought back from World War II.  
In 1974, Miculek graduated from a trade school, first working as a machinist and later as a mechanic in a chemical plant. Although he enjoyed the work, his passion was for the shooting competitions he attended on weekends. As his skills grew, his desire to shoot in more competitions led him to a fateful decision: he would quit his full-time job and pursue a high-speed shooting career, which he did in 1989.
All In The Family
Jerry met his future wife Kay Clark while she was working in her family's gun shop. He had been shooting competitively with her brother, James Clark Jr. 
Kay and James Jr. were the offspring of the famous gunsmith, James Clark Sr. As Miculek struck up a conversation with the young woman, he discovered she was also an accomplished competitive shooter. Kay earned gold medals in the ISPC US Handgun Championship in 1993 and 1996.
A few years later, they married, and in 1995. The couple had a daughter, Lena, who was soon traveling to shooting competitions as a small child. Today, Lena is still involved in competition shooting sports after beginning when she was eight years old. 
It's A Long Way To The Top
Early in his career, Miculek was often at a disadvantage in competitions. Many of the other competitors used the faster semi-automatic handguns, giving them a decided advantage over the speed of a typical revolver. Jerry used this disadvantage as motivation to train harder and be faster than ever.
The extra effort paid off as Miculek accumulated hundreds of titles in various shooting disciplines. His abilities have resulted in sponsorships that allowed him to engage in shooting as a full-time career. One of his first sponsors was Smith & Wesson, a company that noticed him for beating his competitors with a revolver. Other significant industry sponsors would follow including Mossberg, Vortex, Hornady, Hi-Viz, Magpul, and Fiocchi.
Making Each Shot Count
Jerry Miculek tends to be humble about his massive competitive shooting accomplishments. He prefers to forget about his world title wins in competitions. He explains: "I don't want to bring it with me to a match because then you have an expectation, and when you have an expectation of a performance, that's a huge anchor you have to pull to every stage." 
Those fortunate enough to meet Jerry, at an event, or trade show, know it's not all just an act. Jerry selflessly spends hours at meet-n-greets with fans, taking photos and telling stories. It's not uncommon to see him walking trade show floors and shaking hands. Or taking time out of his busy schedule to give advice to young shooters. He's proven to be a great ambassador for the world of shooting sports and beyond.
Jerry Miculek: Legacy Of Speed & Accuracy
Even in his sixties, Miculek is driven to compete and practice shooting every day (what's your excuse?). He is an experienced gunsmith, adjusting and fine-tuning his firearms for optimum performance while creating new and original content for his popular YouTube channel with over one million subscribers.
Jerry is a spokesman and team member for several shooting brands, and he also sells signature shooting gear on his website. It's fair to call Jerry an entrepreneur, but he's just as much a passionate educator. Jerry credits his parents for a strong work ethic that allows him to have all those irons in the fire.
There is no doubt that Jerry Miculek has completely anchored his status in the annals of competitive shooting. Not the retiring type, it's likely Jerry will keep adding to an already impressive list of titles and records for many years.