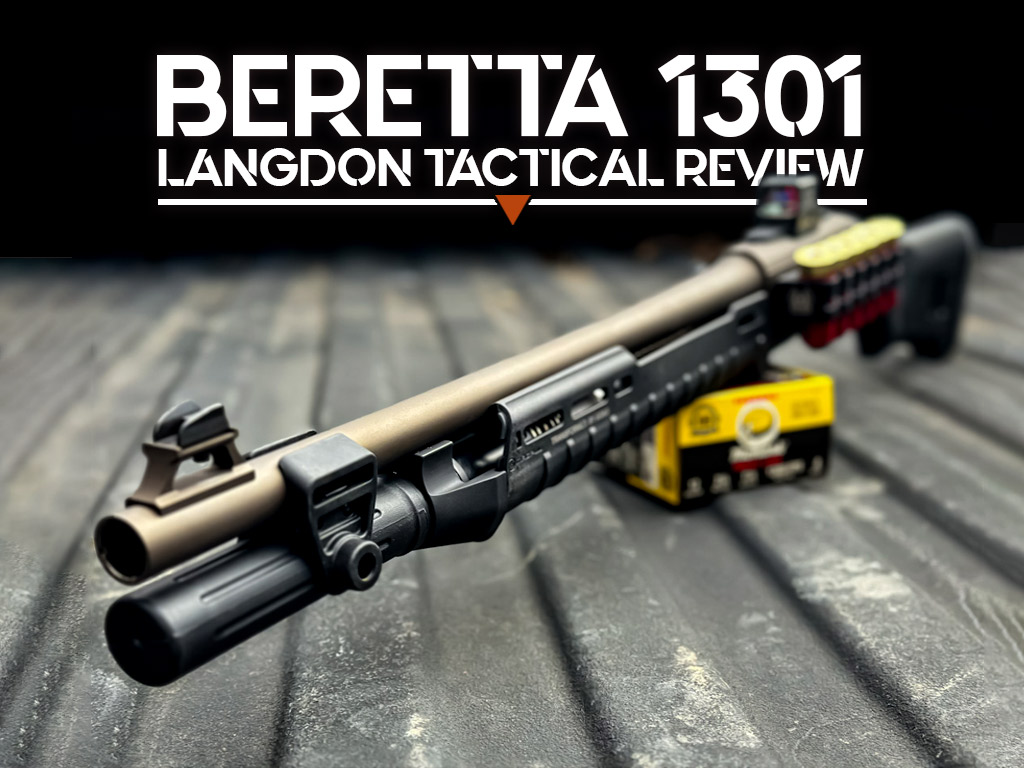 The Beretta 1301 Tactical is a direct descendant of the 1201. Beretta first announced it to the US in late 2013 and began production in 2014. It's not their first attempt to bring a gas-operated shotgun to the market, but it may be their best. They've cycled through a few iterations of these semi-automatic shotguns since the late 1980s and early 1990s, pushing this platform to the top of its class. So let's dive in and get into the meat and potatoes. 
In this review, I'll be taking a look at one of the best 12-gauge semi-automatic shotguns from Beretta's outstanding law enforcement and home defense lineup – one that Langdon Tactical has fully customized. I'll get into my recommendations if you're going in that direction below. 
There are quite a few platforms to choose from with shotguns, depending on what application you want it for and what style tickles your fancy. The 1301 is for everything from hunting to clay games (trap, skeet, or sporting), 3-gun competition, tactical use, and self-defense. In addition, the ultra-reliability and sleek design make this modernized tactical shotgun highly sought after. 
Meet Pietro Beretta
Beretta's been around for a long time. In fact, it's one of the oldest active firearms manufacturers in the world. Even better, the company's ownership has been in the same family for almost 500 years. Indeed, Beretta's inaugural products in 1526 were arquebus barrels, later called muskets. In the years following, Beretta supplied weapons for every major European war since 1650.
While operating in several countries, their firearms are used worldwide for various civilian, law enforcement, and military purposes. Their reach spans from Europe to the states, including a manufacturing plant in Tennessee. However, sporting arms only account for three-quarters of sales, which is surprising considering their wide selection of platforms. 
Beretta 1301 Tactical
If you're planning on buying the Beretta off the shelf, you're already getting a complete semi-auto shotgun. The standard Tactical model runs off of Beretta's BLINK gas-operated system. The cross-tube gas piston setup offers a smooth shooting experience no matter which size shells you're running. Recoil is very manageable, making it a great option for new, or experienced shooters. Pulling the oversized charging handle back is a breeze and the textured bolt release is easy to operate as well. The shorter barrel of the Beretta 1301 Tactical makes it a great option as a home defense weapon. There are several companies that offer mounts for adding both flashlights and lasers to the gun to suit your needs. 
Keep in mind, if you're planning on buying a used Beretta 1301 Tactical, the Gen 1 version had a few issues. Most notably, when pressing the cartridge latch it liked to eject multiple shells onto the carrier causing the gun to malfunction. There's an official Beretta fix, and a third-party one as well if you need a solution. Something else to consider is that some crimp-style shells can affect the gun's capacity. Shells with a roll crimp are slightly longer than shells with a star-style crimp. Owners have noted that only 4-5 rounds of longer crimp-style shells can be loaded in the standard tube without making modifications to it.
| Tactical Model | Specs | Options |
| --- | --- | --- |
| Gauge | 12-Gauge | N/A |
| Barrel Length | 18.7″ | Varies Per Model |
| Overall Length | 37.8″ | Varies Per Model |
| Weight | 6.4 Lbs | N/A |
| Chamber | 3″ | N/A |
| Choke | OCHP | N/A |
| Magazine Tube | 6+1 (3″) | 7+1 (2.75″) |
| Sights | Ghost Ring | Interchangeable Front |
Current Beretta 1301 Line Up:
The Beretta 1301 Tactical has improved over the years and spawned three generations. These improvements include a threaded barrel for chokes, shrouded bolt release, and aluminum top rail. Consequently, these three different 1301 models vary in purpose, depending on the shooter's specific needs. Take a look at the current options below:
| | | | | | | |
| --- | --- | --- | --- | --- | --- | --- |
| Beretta 1301 | Barrel Length | Overall Length | Gauge | Choke | Sights | MSRP |
| LTT 1301 Tactical | 18.5" | 37.25" | 12 Gauge | Optima-Choke High Performance (OCHP) | Ghost Ring Sights/ Optic Mount | $1,629 – $2,129 |
| 1301 Tactical | 28.5" | 37.8" | 12 Gauge | Optima-Choke High Performance (OCHP) | Ghost Ring Sights/ Picatinny Rail | $1,720 – $1,760 |
| 1301 Comp | 21" or 24 " | 44" – 47" | 12 Gauge | Optima-Choke High Performance (OCHP) | 10×8 Stepped Rib with Mid-Bead and Front Fiber Optic Sight | $1,449 |
| 1301 Comp Pro | 21" or 24" | 44" – 47" | 12 Gauge | Optima-Choke High Performance (OCHP) | 10×8 Stepped Rib with Mid-Bead and Front Fiber Optic Sight | $1,729 |
 Langdon Tactical Technology
So why did I choose to invest in the Beretta x LTT 1301 Tactical version of the gun? For starters, they have a great reputation. Langdon Tactical does more than custom firearms and selling aftermarket parts – it's also a lifestyle company. By striving for excellence in firearms training and education, they want every one of their students to be well-versed in their craft.
The LTT stands for Langdon Tactical Technologies. They've been putting their spin on a variety of Beretta gun models for a while. Their custom work isn't about making the weapon look cool (it does), but rather, improving the overall experience. Creating impeccable custom firearms, explicitly tailored to the shooter, puts them at the top of the list as a part of the Second Amendment community. 
Ernest and Aimee Langdon founded Langdon Tactical in 2014 and are based in Arizona. Ernest teaches pistol courses around the country when he isn't busy innovating new products. The rest of their incredible team helps run the show – Bill, Shelby, the gunsmiths, and everybody else at LTT headquarters. Together, they do what it takes to bring you custom without compromise. 
Langdon Tactical 1301 Shotgun Overview
If you've ever handled a Beretta firearm, you already know the quality is second to none, but once LTT gets ahold of it, it becomes truly extraordinary. They start by upgrading the furniture to a Magpul Stock and Magpul Zhukov Handguard, and housing modifications by LTT and GG&G, including a six-shot side saddle option. The modified handguard also allows you to mount any MLOK accessories you like. Underneath, you also get a Nordic Components magazine extension & mag follower for improved feeding and a whopping 7+1 shell capacity. 
Moving on to the top of the shotgun, Langdon Tactical gives you a choice of running an Aimpoint mount compatible with the T1/ T2/ H1/ H2 series optics or a Trijicon RMR mount compatible with the RMR & SRO and Holosun 407c/ 507c/ 508t. Of course, most other third-party optics fitting the Aimpoint T1/ T2/ H1/ H2 series or RMR footprint will also fit their respective mounts. They also recently added the Holosun 509t, Steiner MPS, and Aimpoint Acro to their mounting capabilities. 
Getting into the internals, while a Beretta 1301 already has a great trigger out of the box, LTT makes it even better. Their polish and stone work adds a noticeable improvement in the weight and smoothness of the trigger pull. Then, at the business end of the shotgun, all LTT 1301s are threaded for chokes that use the Optima HP choke system. The 1301 safety is also reversible to accommodate left- and right-handed shooters so anyone can tailor the firearm to their specific needs.
Shotgun Compatibility
Knowing the ins and outs of any firearm is essential. For shotguns, paying attention to the type of gauge or length of the shell becomes more critical. The Beretta LTT 1301 Tactical takes 2.75" – 3" 12-gauge shells while accepting buckshot, birdshot, and slugs. When getting into custom guns such as this one, you sometimes run into pickiness regarding ammo. I've tested everything from cheap shotgun shells to exotic rounds like dragons breath or what some people call "kitchen sink" rounds, and I didn't run into any issues. 
Like any other platform, there are endless options when customizing the firearm. With the Langdon Tactical 1301 Tactical shotgun, you're at the pinnacle of customization straight out of the box. Just grab your chosen optic, head to the range, and send it. You can also use the MLOK handguard to slap on a light or fore grip to cater more toward a tactical application. Just don't forget about the ability to suppress it with the included Optima-Choke High Performance (OCHP). Because who doesn't want to shoot a suppressed shotgun?
Beretta 1301 Tactical: Range Test
While there are cheaper and more expensive options when looking at other shotguns, you get a huge bang for your buck with the LTT 1301 Tactical. Everything about this shotgun is well-considered, providing a very positive shooting experience. Compared to its competitor, the Benelli M4, some say the stock Beretta 1301 Tactical has a little more recoil. Of course, that's due to the 2lb weight difference in the Beretta – but that's where the specially-designed recoil system from GG&G shines the most in the LTT. 
With or without gloves, operating the charging handle, reversible safety, and highly textured bolt release is easy due to their oversized features. The six-shot side saddle also lets you keep more ammo on deck, enabling quicker reloads with some practice. To top things off, the red dot mount sits low enough to co-witness with the ghost ring sights, making it easier to zero the optic or use it as a backup in case your optic goes down. Beretta delivers an excellent, reliable platform, and the Langdon Tactical team makes it even better with their special sauce.
Civilian Experience
I've dabbled in competition shooting, though nothing to justify saying I'm a competitive shooter. I also take various shooting classes throughout the year with highly-accredited instructors to improve my craft. I also put in countless hours on the range every other week to keep up with my shooting skills. The reason behind so much training is that if you carry a firearm with you every day, you should be proficient and comfortable with any functions and malfunctions that may arise. 
The classes allow me to run my firearms hard and put them to the test while in a stressful environment, which reveals any flaws in my gear or training. Then it's back to the drawing board to figure out why things happen the way they did and ensure they don't happen again. You don't want to be in a dynamic situation, not knowing how to react. People say that in stressful situations, you resort to your level of training, not to what you know how to do. 
Pros & Cons To Consider
If you're used to shooting longer barrel shotguns, the 18.7″ barrel length may take some getting used to. The gun's natural point of aim is dead-on at standard distances, and its accuracy is excellent. Speaking of operation, the gun has a very short length of pull. The factory 1301 stock does come with spacers if you'd like to adjust the length to your specifications. If you have the Magpul stock installed with an adapter, you can adjust it up or down as needed.
As mentioned, reloads are quick, and become easy with a little practice. If you just shoot the gun like any normal person, the bolt locks open when it's empty. You then load a shell in the chamber, load the magazine tube, and keep shooting it like any other gun.
However, if you close the bolt on an empty gun, you won't be able to chamber a round with the gun cocked. You'll need to decock it by pulling the trigger with the chamber empty, or by pressing the tab on the bottom of the carrier. Once the round drops onto the carrier, you can cycle the bolt and chamber a round. You can also safely eject shells by manually cycling the gun's bolt, then repeating the process to reload it. Once you get familiar with the operation, you'll find it much easier to do quick reloads on the fly.
This gun is seriously fast to shoot. You're going to go through a lot more ammo with it than with a standard pump action. To give you an idea, I burned through 250-rounds of Federal Top Gun 12-Gauge #8 in less than an hour at the range. Make sure you're including a budget for ammo if you pick up this gun.
Pros: 
Weighs considerably less than similar competitor shotguns
Fast and smooth operation
Very good recoil management
Well-thought-out controls and design
Diverse ammo compatibility
Optic and accessory-ready
Expandable capacity
Cons: 
1st Gen models have carrier issues
Capacity can be affected by shell roll/crimp type
Gas-operated shotguns generally require more maintenance
Worth Its Weight in Gold
Knowing Beretta's reputation from its history with military contracts and law enforcement, the quality is there and worth the price. For the average gun owner or elite competition shooter, it's a worthwhile investment. So, why send your 1301 for the LTT treatment or buy a complete build from Langdon Tactical? 
Coming in at just over $2,000 for a top-tier build, it's far from a cheap shotgun. But all things considered, while your wallet may hurt a smidgen, you'll be far from disappointed. You'll be grinning ear to ear at the range as you fire shot after shot. Just imagine the looks other shooters will give you, jaws dropped, seeing a red dot mounted atop your shotgun assisting with flawless accuracy. Then you can look forward to the years of memorable moments you'll forge from spur-of-the-moment range days with friends and family.
Aside from LTT's top-notch customer service, their work is upper echelon, and their attention to detail is through the roof. So rest assured that your hard-earned money will be well spent. As I noted above, when you choose Langdon Tactical, you're not just choosing a place to send your firearms – you're also becoming a part of a family.