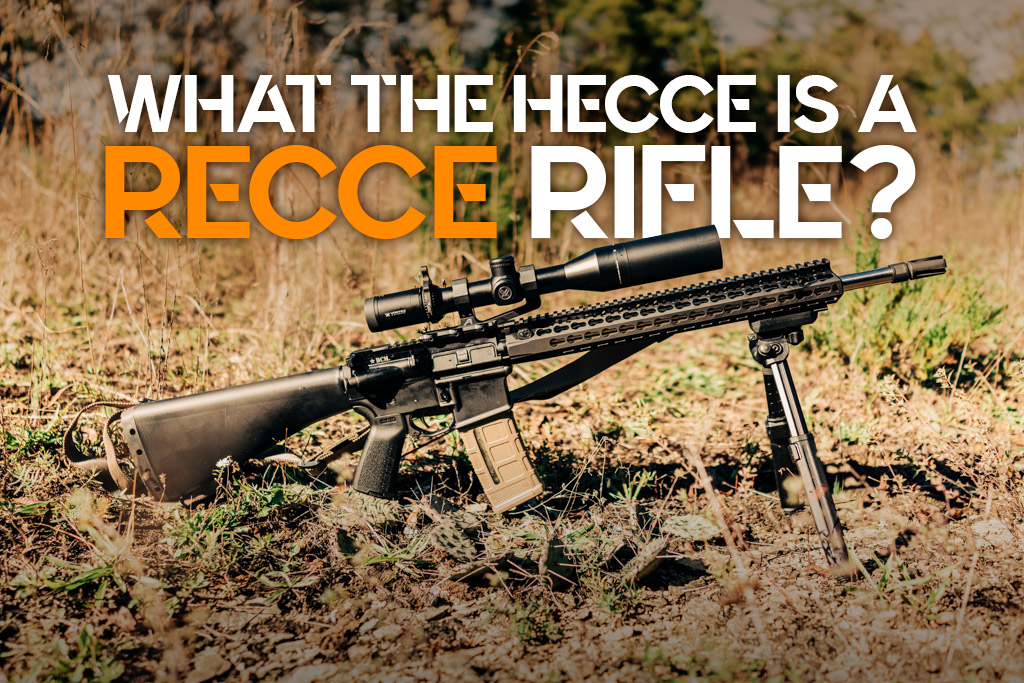 In recent years, all things SEAL-related have become extremely popular. For decades, members of the United States Navy's Sea, Air, and Land Teams maintained a stance of being "quiet professionals."
Aside from a few ridiculous 80s action flicks, very little was known about the community and "teams' guys." However, the American public remained intrigued with various military special operations groups and the weapons they carry.  One such weapon, known as the Recce Rifle, has garnered an especially high amount of interest.
Below, we discuss what finally pushed the SEAL community into the limelight. We also take a closer look at the history of the Recce Rifle.
Navy Seal Connection
The relative obscurity surrounding the SEAL community finally began to fade in the 21st century. The release of the book and movie "American Sniper" brought a huge amount of attention to the SEAL community. The movie chronicles the life of Chris Kyle, who is the deadliest sniper in American military history with 160 confirmed kills.
In addition to American Sniper, several SEALs gained notoriety through podcasting, entrepreneurship, and writing. Leading the charge are Jocko Willink and David Goggins, both of whom are successful authors.
While the Recce Rifle has become quite popular in its own right, the efforts of the individuals outlined above certainly fueled interest in this versatile weapons platform.
History Of The Recce Rifle
Unfortunately, the exact origins of the Recce Rifle are not known. However, the general consensus is that it was developed by the Naval Surface Wareface Center's Crane Division sometime between 1990-1992. The first confirmed deployment by SEALs occurred in Somalia in 1993.
The designation "Recce Rifle" was not an official term used by U.S. military. In fact, the phrase Recce is British slang for reconnaissance. The SEAL community instead referred to the weapon's platform as the MOD 0 SPR (Special Purpose Rifle) or the Mk12 MOD 1. The Navy developed the "SEAL modified M4" in order to provide snipers with a lightweight carbine that was more lethal than the standard M4.
The Recce Rifle offers a great mix of performance and maneuverability. It fills the void between the standard M4 carbine and the somewhat cumbersome MK14 rifle. The SEAL modified M4 has also become one of the most purchased AR-15 variants on the market today.
Recce VS M4 VS MK 14
| | Barrel Length | Caliber | Weight Specifications | Gas System | Optic |
| --- | --- | --- | --- | --- | --- |
| Recce Rifle | 16″-18″ | 5.56 NATO | Under 9 Lbs With Optic | Mid-Length | Variable Zoom |
| M4 Rifle | 14.5″ | 5.56 NATO | Under 8 Lbs With Optic | Mid-Length | Fixed Optic |
| MK14 Rifle | 18″-22″ | 7.62x51mm | Under 12 Lbs With Optic | Long-Stroke | Fixed, Variable Zoom |
Depending on user preference, the Recce Rifle has a barrel length of 16"-18", whereas the standard M4 carbine has a 14.5" barrel. By upgrading to a slightly longer barrel and mid-length gas system, designers improved upon the range of the M4 and created the Recce Rifle.
The Recce Rifle was under 9lbs, including the optic. For comparison, the MK14 rifle weighs over 11lbs and had a barrel length of up to 22". The recon rifle is chambered in .223 and the MK14 is chambered in the 7.62x51mm NATO cartridge. The reduced weight, smaller caliber, and shorter barrel length made the Recce Rifle substantially more maneuverable than the MK14.
Core Recce Rifle Features
Since its original development roughly three decades ago, the Recce Rifle has changed a great deal. The recon rifle is not an actual weapon's platform, but rather a configuration concept. As a result, there is no exact definition of a Recce Rifle.
With that said, a true recon rifle must have a few core components to perform as intended by its original designers. These components include:
Variable Zoom Optic
Remember, the recon rifle was designed for SEAL snipers. As such, it included a variable zoom optic. While you can certainly choose the optic that best suits your needs, these rifles typically include an optic with a 1-6x or 1-8x magnification system.
Mid-Length Gas System
Mid-length gas systems are generally around 9.5 inches. The Recce Rifle uses this gas system because of its compatibility with 16-18 inch barrels.
Good Sling
Members of the SEAL teams are loaded down with mission-critical gear. In order to use this gear, they will sometimes need to free up their hands while also maintaining easy access to the Recce Rifle. Accomplishing this goal requires a quality sling.
Standard or Lightweight Barrel
The Recce Rifle was not designed with a heavy volume of fire in mind. It was created to be lightweight and versatile while also providing a high level of lethality. As such, the SEAL modified M4 incorporates either a standard (government) or lightweight profile barrel. Heavy profile barrels add unnecessary weight to the weapon without providing any measurable benefits to its intended users.
Modular Handguard
The Recce Rifle also includes a full-length top rail and a modular handguard. Some variants also incorporate a quad-rail handguard in lieu of the modular version. Personally, I prefer the quad-rail because it gives you the freedom to set up the rifle as you see fit.
Recce Rifle Build
Yes, you can build your own Recce Rifle. You can also buy an assembled recon rifle (optics and sling rarely included). There are several companies including BCM who offer complete rifles with Recce specs. Deciding which route to follow all comes down to personal preference.
For this build, I decided to create a classic Recce rifle with a modern twist. I selected an 18″ BCM upper with a 1/8 twist stainless barrel. For optics, I mounted a Vortex 2.5x10X scope is on an Aero Precision ultralight mount. Since we aren't planning on going suppressed, we added a Smith Enterprises G6-A2 flash hider instead of a traditional OPS Inc style brake. To finish it off, we added Magpul accessories and an A2 buttstock with a recoil pad.
How did I do? The build rifle came in exactly at 10.5 Lbs. About a pound-and-a-half more than the goal weight of 9 Lbs. In retrospect, a lighter lower receiver, bipod, and sling would have brought the build closer to the goal weight.
Performance
The Recce rifle makes a lot of sense out in the field. For a platoon or company without a sniper, it fills in a much-needed gap. The ability to acquire and identify targets at long-range (300-400 yards) distances is an added safety buffer. Especially if you can see your targets before they can see you. It's easy to see how the rifle can be an effective tool in evading or engaging enemy targets on a battlefield.
Our build rifle performed well out of the box. After zeroing it in at around 50-yards, we were able to ring steel 7/10 times at 300-yards. The hold-overs needed were minimal, and the .223 55gr M193 ammo performed well.
If you are a fan of instant gratification, purchasing a finished Recce Rifle, sling, and optic all in one shot is a great option. Many reputable firearms manufacturers offer a Recce variant in their AR-15 lineup. These rifles will range in price from roughly $1200 to upwards of $2500.
Unless you plan on doing competition shooting or just have money to burn, a mid-tier option will perform quite well in most applications. Pair the rifle with a quality optic and you will be ready to hit the range.
Custom Build Considerations
If you have a bit more patience and want to have a truly unique gun, then I recommend going the build route. Assembling your own recon-style rifle is much easier than you might expect. Besides, it is a great way to immerse yourself into the firearms industry and learn about the various manufacturers.
When planning your build, start by making a parts list. Follow the guidelines I outlined above regarding barrel profile, gas system length, and other parameters. You can order all of the components online. Depending on which state you live in, most of them can be shipped straight to your door, except for the lower receiver.
The lower receiver is serialized and must be shipped to an FFL. You can reach out to your local gun store or a commercial outdoor outfitter. These entities will receive your lower, for a small fee of course. Once everything has arrived, you will be ready to assemble your Recce Rifle.
Regardless of which route you choose; the Recce Rifle is an excellent all-around weapon's platform. It is a good fit for shooters of all skill and experience levels. Whether you are looking for your first AR-style rifle or just want to expand your collection, the Recce Rifle will be a great investment.