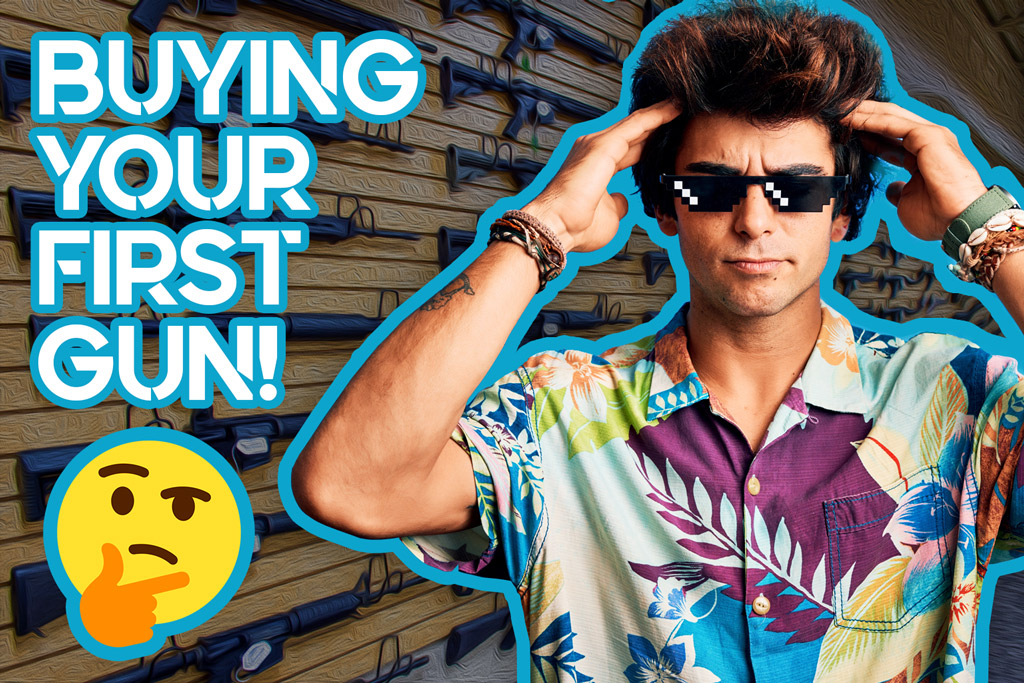 Guest Writer: Kenzie Fitzpatrick
Now that you've decided to buy your first gun, you've got to choose what gun to get. While it helps to ask others their opinions, you're going to get all sorts of recommendations on what your first gun should be. It's great to get feedback about certain firearms, but when going to buy your first gun, ask yourself the following questions. They'll guide you through how to choose a gun that'll be a good fit for your needs.
What's The Purpose Of The Gun?
This is the first question you have to ask yourself before you buy your first gun. It's the foundational question to know what kind of gun you are looking for. For example, the purpose of a small, concealable handgun is very different from the purpose of a bolt action rifle chambered in 6.5 Creedmoor. Below are some examples of categories of guns that fill a specific purpose.
Popular Gun Categories
Concealed Carry – Small, compact, concealed pistols that are known to run reliably

Home Defense – Lightweight, pump-action 20 gauge shotguns, Short Barrel Rifles (300 Blackout or 5.56), Full-size pistols with night sights, flashlight or laser

Competition – Fits the division requirements in the competition, easy to reload, highly accurate

Collecting – Antique revolvers, world war era rifles, low serial numbered firearm

Hunting – Rifle or shotgun chambered in the proper caliber to instantly kill the animal you are hunting for

Plinking/Fun – Rimfire .22 rifles or pistols, pistol caliber carbines
What About Ammo?
Specifically, is ammunition for the gun available or hard to find? Depending on the purpose of the firearm, at the minimum, two types of ammunition should be available for it; hollow points and full metal jackets. You'll want to use hollow points when hunting or concealed carrying. However, if you plan to shoot a lot at the range, full metal jacket ammunition is much cheaper for practicing.
The cost of ammunition may also be a factor when choosing what gun to buy. Even if the ammo is available, it's important that you can afford to buy large quantities to practice with. Hollow points are more expensive than target ammunition, but it's just as important to shoot hollow points through your gun as well to feel the difference and ensure the ammo pairs reliably with your gun.
If the purpose of your firearm is for collecting and it is chambered in a rare round, this question may not be as important. However, expect the ammo to be hard to find. In some cases, you may look to purchase reloading supplies to hand-load rounds that are specific to your new gun.
Is The Gun Comfortable To Handle?
This question should be for rifles, pistols, and shotguns alike. You never know until you try, so always try before you buy. One size gun does not fit all and without picking up the gun itself, it's hard to know whether or not it fits you and your hands. If you have small hands, read our blog post, "Best Handgun for Small Hands". 
If you live near a range that rents firearms to try before you buy your first gun, definitely take advantage of the opportunity to shoot as many as possible to see what guns fit your grip, shoulder, and more. A fully loaded gun weighs a lot more than an unloaded gun. If you aren't able to try before you buy, at least visit your local gun store to pick up and feel the guns you are interested in purchasing.
How to Choose A Gun
How Well Do You Manage The Recoil?
You may be able to grip the gun, but can you manage the recoil when the gun is fired? One of the most shocking differences to new shooters is how close the 9mm and .380 rounds are. While they're almost the exact same size, these two loads are not the same and pack a different punch. Without firing the gun in this situation, you won't know how well you can manage the recoil.
The biggest tip I can give is to always say yes to shooting a gun if it's offered to you. Ask friends and family members that own firearms if they are willing to go to the range with you and shoot guns they have. If a firearm dealer or manufacturer sets up a demo day at your local range or gun store, go to the event and learn as much as you can about the guns they have.
There may be local or even regional instructors near you, sign up for classes and ask the instructor what guns they will be providing or allow you to shoot during the class. If you're interested in demoing something specific, see if the instructor has that firearm. It never hurts to ask when it comes to trying out guns you don't typically get to shoot.
The worst gun you can buy is a gun you can't manage and don't feel comfortable shooting. You should look forward to the fun of shooting your new gun!
Buy Your First Gun: New Or Used?
Many first-time gun buyers are on a budget and are looking for market value deals instead of retail pricing. There's nothing wrong with buying a used gun, however, they are a few things to look out for. Do you know and trust the seller? Even if you do, it's not a bad idea to meet up at a gun range and test the weapon out before you buy it. Gunsmithing repairs can be expensive and time-consuming. Buying a broken gun could mean months of waiting to get it repaired. 
Beware of buying a dirty gun. If the previous owner didn't take the time to clean the gun before selling it to you, there's a good chance they never did any maintenance on it while they owned it. The gun could have a variety of issues due to improper care and storage, be on the lookout for rust or other signs of corrosion. Don't spend your hard-earned money to buy someone else's problem. 
The upsides of buying new? You may be paying a bit more, but you know exactly what you are getting for your money. Almost all new firearms come with a manufacturer's warranty and guarantee against defects. Also, when you buy a new gun, you're getting a firearm that's never been registered to another owner. From a legal standpoint, buying new is a safe bet, you're guaranteed a weapon that's never been stolen or used in a crime.
Is There A Manufacturer's Warranty?
Over time, things will break and unless you are a gunsmith/armorer or know one, you may need to send the gun to someone who can fix it. Before you buy your first gun, you need to know everything there is about the manufacturer and their warranty. Look up how long the manufacturer has been making firearms, how long the firearm you're interested in purchasing has been produced, if there are any recalls on their firearms, and most importantly, what their warranty policy is as well as how long it is for.
The first thing to look for in a warranty policy is if the policy is only good if you bought a brand new pistol or if it also covers used guns that have been transferred to multiple owners. If it's only good for the original owner of the firearm, you may think twice before purchasing a used gun. The second thing to look for is if the warranty is good for a certain term. Some companies may offer a 1-year warranty while others may include a lifetime guarantee. The last thing is to find the policy section that covers what they will not be responsible for so there are no expectations if you make a mistake when using your firearm or for blemishes created by you.
Are Aftermarket Parts And Gear Available For The Gun?
If we go back to the purpose of the gun, the gun may not be as important as the aftermarket parts available for the gun. For example, If you're looking at concealed carry handguns, make sure there are holsters designed for it. It may also be important to know if the holster can accommodate night sights, laser attachments, and even spare magazines.
Before deciding to buy your first gun, begin with the end in mind of what you want your complete gun set up to look like. This will help determine if the gun you're looking at purchasing will be able to offer everything you want. There's nothing worse than buying a gun, only to find out that you can't use it the way you need for it to work!
Another example is if you're interested in mounting an optic like a red dot on the firearm you purchased. It's important to know if you can mount it onto your new rifle, pistol, or shotgun. Pistols without tac rails won't be able to mount flashlights and some lasers onto them. Rifles that come with iron sights built into the upper won't be able to swap out iron sights without machining them off. 
When you make your first gun purchase, always budget for additional accessories. You need at least two spare magazines and a holster (if it's a pistol). Also, consider aftermarket sights if the gun comes with sights that are not easy for you to see or align. Adding an optic, whether it's a red dot or a rifle scope, can be a wise decision as well. Your new gun budget may be a set price, but when you think about your end set up, there may be other costs that you'll need to include.
Opinions On Buying Your First Gun
Going to buy your first gun is not a decision to make overnight. It's also not a decision others can make for you. While doing your research on firearms, if you ask people for opinions, recognize them as opinions only. Listen and take away knowledge that will help influence the right decision. Don't feel any pressure to buy something just because someone else likes it.
Someone may tell you the recoil management on a gun is easy, and it may be for them. However, it may not be true for you. Their opinion is not necessarily a true fact, but rather an observation based on their experience. Find resources that are trusted and do your own research until you feel comfortable making a purchasing decision.  
Opinions can be helpful in the decision-making process. If someone provides you with a list of accessories or aftermarket parts available for a gun you are interested in, that may make your decision easier. Maybe you want to know if a specific ammo type runs well in a gun you want to buy? Talking to other owners about their experiences is a great idea. Be confident in your first gun purchase and be sure to practice shooting it at least once a month.