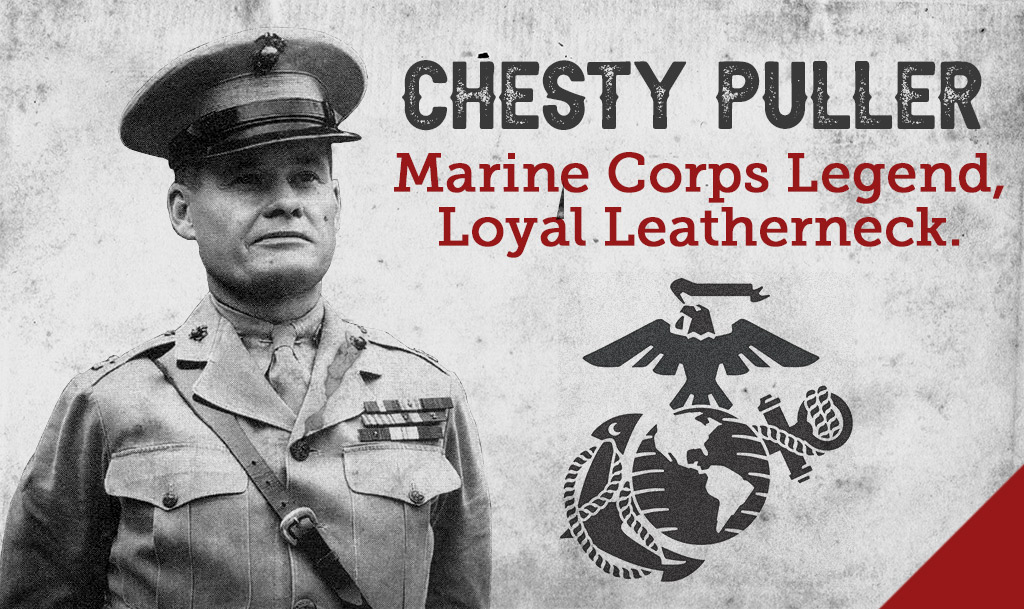 With an iconic phrase, Gen. Chesty Puller once responded to a young Marine who asked permission to be married. His answer was typical of the man everyone called a Marine's Marine, and this authentic hard-ass never minced words or hid the total loyalty he gave to his beloved Corps.
"Son, when the Marine Corps wants you to have a wife, you will be issued one."

                                              

                 —Lt. Gen. Lewis "Chesty" Puller 
Whoever coined, "They just don't make 'em like that anymore," must have had Lewis "Chesty" Puller in mind. Puller led a life few could hope to duplicate. That's because he's the most decorated Marine in history and the only one to receive five Navy Crosses. 
His exploits are legendary. Marines still repeated his volumes of quotes (called "Pullerisms") over fifty years after his passing in 1971. 
Here's the story of Chesty Puller, a man with a single-mindedness that drove him toward military greatness. 
Growing up on Tales of the Civil War 
Lewis Puller was born in West Point, Virginia, in 1898, to a grocer father who died when the boy was just ten years old. Aging veterans of the South filled Puller's early years with tales of northern aggression from the bloody Civil War. As a result, Confederate General Thomas "Stonewall" Jackson became the boy's hero. These stories probably helped influence his career choice. 
The Call of the Marine Corps 
Puller turned 17 as World War I got going and accepted an appointment at Virginia Military Institute. An average student at best, he went to the Reserve Officer Training Corps camp in New York. While there, Puller heard reports of the Battle of Belleau Wood in June of 1918. These stories of US Marines defeating the Germans in fierce fighting inspired Puller. 
Afterward, Lewis left VMI to enlist in the U.S. Marine Corps. He finished basic training at Parris Island, South Carolina. Then he received an appointment to officer candidate school, where the Marines commissioned him as a second lieutenant in 1919. Unfortunately, higher-ups moved Lt. Puller to inactive status and the rank of corporal. This demotion was simply part of a postwar reduction in the number of Marines. 
Chesty Puller: Back to the Marines  
However, Lewis Puller was not about to turn his back on a military career. He rejoined the Marines on June 30, 1919, with the rank of corporal. The Marines sent him to Haiti and assigned him to the Gendarmerie d'Haiti as a lieutenant. There, he helped quell the Cacos rebellion. 
While serving in Haiti, Puller worked on regaining his commission, serving as an adjutant to Major Alexander Vandegrift. When he returned to the U.S. in 1924, he again obtained a commission as a second lieutenant. 
The First Two Navy Crosses
Puller moved through various assignments over the next four years. Near the end of 1928, he joined a detachment of the Nicaraguan National Guard. While there, he fought against armed bandits and received his first Navy Cross. 
The young lieutenant returned to the U.S. in 1931. After completing his required Company Officers Courses, he returned to Nicaragua. He soon earned his second Navy Cross for his performance fighting insurgents.
Chesty Puller: World War II
Puller's service in Nicaragua ended in 1932. Puller joined the Marine Detachment at the American Legation in Beijing, China. While sailing aboard the USS Augusta, he met Captain Chester W. Nimitz, who would later become Commander in Chief of the US Pacific Fleet and Pacific Ocean Areas. 
Between wars, Lewis Puller married Virginia Evans on November 13, 1937. By that time, he'd known her for ten years. Together, they had a daughter in 1938 and twins (a boy and a girl) six years later.
War Begins in the Pacific
Now a Major, Lewis Puller left China in August 1941. He took command of the 1st Battalion, 7th Marines at Camp Lejeune. Then the Pearl Harbor attack on December 7, 1941, instigated America's participation in World War II. 
After the Pearl Harbor attack, Puller trained his men for battle. Soon after, the Battalion left the U.S. to defend Samoa, remaining in the islands until going to Guadalcanal in September 1942. 
Puller's battalion experienced relentless Japanese attacks but managed to hold off the enemy. Puller won a Bronze Star and his third Navy Cross. One of his men, Staff Sergeant John Basilone, also earned the Medal of Honor. Puller received severe arm and leg wounds requiring surgery on November 8, 1942, but recovered. 
The deadly Battle of Guadalcanal, an Allied victory, signaled the start of offensive operations in the Pacific theater. After leaving Guadalcanal, Puller became executive officer of the 7th Marine Regiment. During this time, he participated in the Battle of Cape Gloucester in late 1943 and early 1944.
Promotions and a Fourth Navy Cross
Early in the Cape Gloucester campaign, Puller won his fourth Navy Cross for directing Marine units in several attacks against the Japanese. Puller gained the rank of colonel, then eventually took command of the 1st Marine Regiment. 
After Cape Gloucester, Puller and his Marines moved to the Russell Islands in April to prepare for the Battle of Peleliu. It was one of the bloodiest battles in Marine history, as the Japanese fought tenaciously. Puller's Marines overcame the enemy's defense, and he received the first of his two Legion of Merit awards.
Korea, the "Last Waltz" for Chesty
Puller again became commander of the 1st Marine Regiment when war broke out in Korea. He participated in the landing at Inchon in September 1950, for which he received the Silver Star Medal. Lewis Puller received a second Legion of Merit for his leadership from September 15 through November 2. He later received the Distinguished Service Cross for heroism in action from November 29 to December 4. He got his fifth Navy Cross for heroism during December 5–10, 1950, at the Battle of Chosin Reservoir. 
Promotion to brigadier general followed in January 1951. Puller then undertook duty as assistant division commander (ADC) of the 1st Marine Division. When his tour of duty as assistant commander ended, he left for the U.S. on May 20, 1951. There, he took command of the 3rd Marine Division at Camp Pendleton, California, until January 1952. 
Puller remained assistant commander of the division until June 1952. Later, he took over the Troop Training Unit Pacific at Coronado, California. Then, in September 1953, he gained promotion to major general.
Why the Name "Chesty Puller"?
Even General Puller was unsure how he got the nickname "Chesty." It likely referred to his big chest holding all those medals. Still, in Marine jargon, "chesty" means "cocky." And no one ever accused Chesty Puller of being a shrinking violet.
During the Battle of Chosin Reservoir, Puller reportedly announced the enemy's position to his troops:
"All right. They're on our left, they're on our right, they're in front of us, they're behind us…they can't get away this time! Great! Now we can shoot those bastards from every direction!"

                                              

                 —Lt. Gen. Lewis "Chesty" Puller 
That's not being cocky, just supremely confident, an essential trait for a genuine leader. Is it any wonder his troops loved and continue to honor Chesty Puller after all those years? Chesty reported for duty at the pearly gates in 1971 at age 73 and is buried in the historic Christ Church cemetery in Virginia. Good night Chesty, wherever you are.
Interested in the weapons carried by WWII icons? Check out our historical article by clicking on this link.