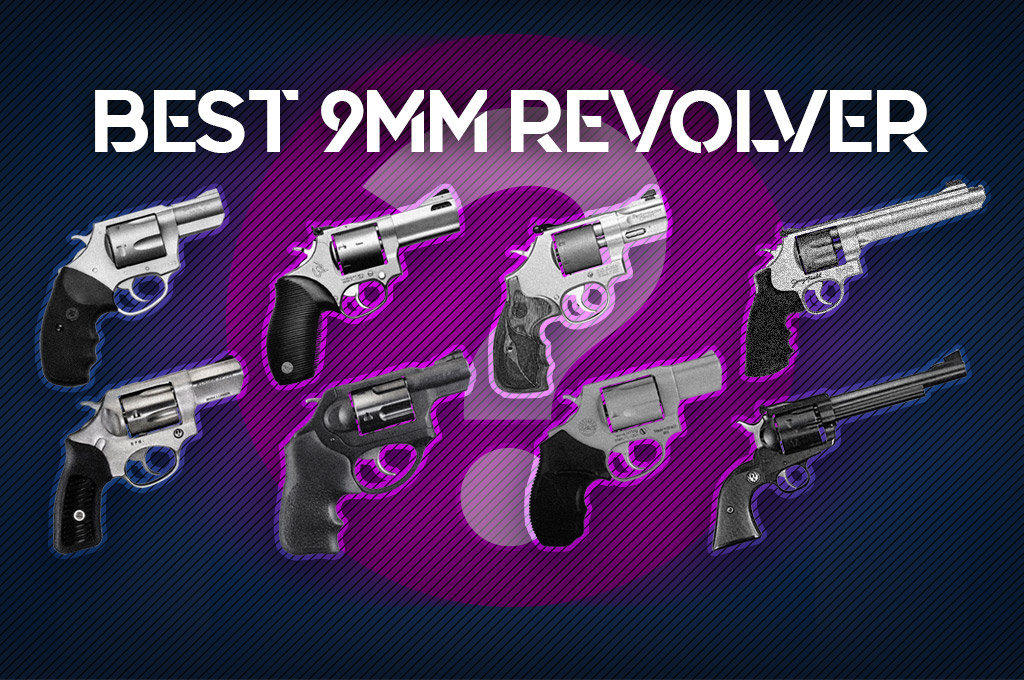 9mm revolvers are popular due to their fast loading and wide compatibility. Add in the fact the ammunition is affordable and readily available, and you've got a handgun that appeals to the masses. If you're looking for the best 9mm revolver, you've come to the right place. Our handy guide will go over some of the best 9mm revolvers and discuss the selling points of each. 
As most of you know, 9mm ammo is the most prevalent round in the world. We all know how popular this round is in semi-automatic pistols, with the Glock and Sig 9mm handguns being some of the most prevalent. But what about a 9mm revolver? 
Historically, 9mm revolvers aren't super common. Still, modern innovation has made them more available and practical. Let's talk about the top 9mm revolvers and why people want them. 
Why Buy A 9mm Revolver? 
There are two main reasons to buy a 9mm revolver. The first is the ability to shoot 9mm rounds from a revolver. As we mentioned, 9mm is widely popular, and most people already own it. This gives them total compatibility between semi-automatic pistols and this kind of revolver.
The second reason is that 9mm revolvers require a moon clip to hold the rounds together. Why? 
Well, the 9mm cartridge doesn't have a true rim, so a traditional revolver ejector doesn't work. If you shoot the revolver without the moon clip, you will need to pull the casings out one by one – a potential downside. (If you have any confusion about clips and magazines, see this guide on parts of a gun magazine)
While the need for a moon clip might seem like a bad thing, the upside is that the clip acts like a speed loader. Therefore, this feature allows you to load and unload the firearm quickly. 
Let's look at our revolver contestants with those two things out of the way. 
Here are some of the best 9mm revolvers: 
Ruger SP-101

Smith & Wesson 929 

Ruger Blackhawk 

Taurus 692

Ruger LCRx

Taurus 905 

Charter Arms Pitbull 

Smith & Wesson Performance Center 986 
Now, let's explore some features of each model. (Note: all prices listed are simply averages online at the time we published this article. If you're a deal hunter, you could likely find better used prices for some models.)
Ruger SP-101
If you're looking for something handsome, look no further than the stainless steel Ruger SP-101 in 9mm. This gun is made for concealed carry and combines a commanding aesthetic with modern functionality. 
The muscular appearance of this firearm does not come at the expense of functionality. This gun definitely didn't skip leg day. The triple-locking cylinder is a high-end feature on a reasonably priced gun. Plus, the subtle hammer and sight ensure you won't have issues with snagging. 
The 2.25-inch barrel makes this a good option for concealed carry, and the gun comes with three moon clips, making the Ruger Sp-101 even more practical for everyday carry.  
Plus, a new Ruger 101-SP will probably only cost around $700.
Best Use: Competition and target practice.
Smith & Wesson 929
The Smith & Wesson 929 is a bigger 9mm revolver with high capacity (8) and built to a performance standard. The 929 is a signature model of the renowned shooter Jerry Miculek, and S&W built it to his specifications. 
At around a 6.5-inch barrel, this gun is a little too long for concealed carry. Still, it has some appeal for those looking for an open-carry revolver, a home defense weapon, or a competition shooter.
Like the Ruger SP101, S&W built this gun for function and style, making it a great addition to a collection. Also, this gun comes with moon clips for fast shooting, a titanium-alloy cylinder for speed and strength, and adjustable rear sights. 
The 929 has a higher price point, at around $1500 when brand new. But for the price, it also offers some higher-end features. 
Best Use: Competition, target practice, and home defense.
Ruger Blackhawk – Interchangeable 9mm Revolver 
The Ruger New Model Blackhawk delivers for those who like a classic revolver look. Its classic design doesn't prevent this gun from having strong features, such as an interchangeable cylinder, allowing you to shoot .357 or 9mm. Even better, you can also buy the weapon in two different sizes, one with a 4.6-inch barrel and one with a longer, 6-inch barrel. 
The conversion between .357 and 9mm is very easy, requiring no tools. The gun is made of alloy steel, and the rear sight is adjustable. 
This is a single-action revolver, and it's loaded through a loading port rather than a retractable cylinder. For this reason, this gun is most suited for those who want to slow down at the range and have an accurate firearm. Of course, for those who love a classic western style and are willing to train, this firearm is reliable enough for any task. 
Though you'll find some fluctuation in price based on age, style, and size, the Ruger Blackhawk is around $700 new. 
Best Use: Target practice.
Taurus 692
The Taurus Tracker 692 is an overbuilt convertible revolver that can fire both .357 Magnum and 9 mm. Where the Ruger Blackhawk offers more of a novelty, western classic, interchangeable firearm, the Taurus 692 is all about functionality. 
With a three-inch barrel, it's easily concealed. The gun weighs 35 ounces unloaded, so it will eat up some recoil. Further, this gun comes with moon clips, allowing for fast loading in a seven-round cylinder. 
The gun has adjustable rear sights, and if you spend a little extra cash, you can buy the model with a ported barrel. It also has the option for black coating, giving a more discreet look. 
For revolver lovers, the 7-round capability and the single action/double action certainly make this an option for concealed carry or home defense.
Though Taurus 692 costs about $600 new, you'll pay a little more for a ported barrel.  
Best Use: Concealed carry.
Ruger LCR/X
Often when looking at revolvers, you'll find there is often a combination of style and function. By their nature, revolvers have nostalgia and lore to them. However, as any revolver enthusiast will tell you, revolvers have a lot of functional features working in their favor. 
That's what the Ruger LCRx is – a revolver built for those who like the functionality of a classic design. This revolver is small enough to fit in a large pocket and has a smooth trigger pull. 
It's built with a subdued hammer profile and smooth top, reducing potential snagging and ensuring you can grab it quickly when needed.  
Moreover, the Ruger LCRx costs about $700 brand new. 
Best Use: Concealed carry.
Taurus 905 – The Budget-Friendly 9mm Revolver
The Taurus 905 9mm is another working revolver made for the person who intends to use it. It's not as flashy as some models on this list, but the price is right. It comes in two models, one hammerless, and has a slightly longer barrel. 
This gun comes with a black cerakote if you want it, and it also comes in a stainless-steel version. This firearm is for those who want something that works and don't want to break the bank to get it. 
With five rounds and a 3-inch barrel, it offers a robust platform for the 9mm cartridge. It does come with a front night sight, providing good contrast. The hammerless version is double action only and offers a sleek look with virtually no snag points. 
The hammered version has a shorter barrel, and at 2 inches, we're entering snub nose territory. With that short barrel, you'll find it's rather snappy and made for close-quarters shooting. The overall unloaded weight is 21 ounces for the 2-inch barrel version, so not a ton of weight to eat that recoil. 
The price of the Taurus 905 brand new is around $400.00. 
Best Use: Concealed carry, or home defense (depending on the model).
Charter Arms Pitbull
Remember what we said at the start about most 9mm revolvers requiring moon clips? Well, the Charter Arms Pitbull 9mm is a revolver that shoots 9mm and does not require moon clips. This gun essentially works like any other firearm. 
The genius fix to the moon clip "problem" is the small ridges inside the cylinder that engage the indents on the 9mm cartridge. This allows the rounds to be ejected fast, even without a moon clip, in a way similar to your average revolver. 
The Charter Arms 9mm is a snub-nosed revolver that will be a nice addition as a backup gun or a primary concealed carry revolver. It's stainless steel and runs with single-action or double-action. 
The Charter Arms 9mm is a handsome revolver and is priced around $550 brand new. 
Best Use: Concealed carry.
Smith & Wesson Performance Center 986
If you're interested in top-of-the-line weapons, the Smith & Wesson 986 in 9mm luger is a powerful gun with strong features. This handgun has a performance barrel that provides outstanding accuracy. It also comes with a titanium cylinder, giving it a lighter and smoother trigger pull. 
The wooden stock grips on the revolver are a beautiful addition, and the trigger provides a smooth double action or an accurate, crisp single action. In addition, the 7-round capacity makes it functional, and the unloaded weight of 31.4 ounces means that it won't be too snappy. 
The Smith & Wesson 986 will make you wince when you buy it but smile when you shoot it. It comes in around $1500 brand new. 
Best Use: Concealed carry.
Conclusion: Best 9mm Revolvers 
It's plain to see that 9mm revolvers have a lot going for them, offering great compatibility and versatility. The addition of moon clips allows you to load and unload them rapidly. And for those who want to load and unload their revolver traditionally, options like the Charter Arms 9mm revolver are perfect. 
If you'd like to learn about the best 9mm ammo available for your revolver, see our guide to the best 9mm ammo.