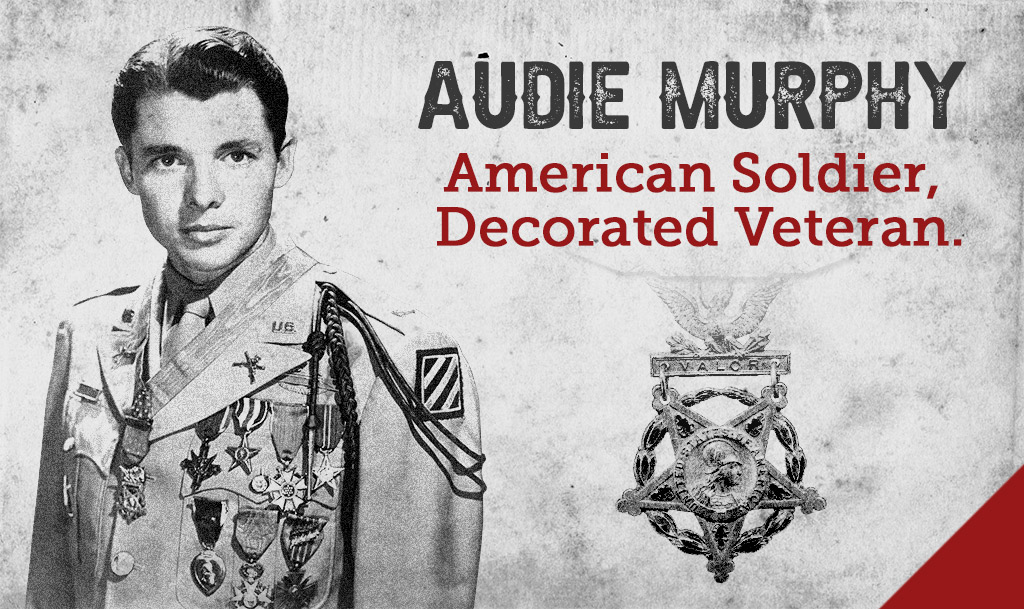 For boys growing up during the years right after World War II, no name spoke of heroism more than Audie Murphy. It didn't matter that most kids didn't know much about him or precisely what he did. We just knew he was our country's greatest war hero, and we wanted to be like him.
"You Do the Prayin' and I'll Do the Shootin' " – Audie Murphy
That's because Audie didn't come home, leave the war behind, and return to a "normal" life like most others. With his boyish good looks and extraordinary accomplishments, he took up his destiny in the spotlight.
Don't Judge A Hero By His Size
Hollywood typically creates heroes in the image of John Wayne and Clint Eastwood. Both of these men were 6 ft. 4 in. with the rugged features of a lumberjack and a no-nonsense demeanor. But real-life heroes come in all sizes and might be softspoken and unassuming.
The paratroopers and Marines rejected Audie Murphy before the U.S. Army accepted him. He was too short at 5'5″ and too light at 110 lbs. Despite those shortcomings, he would become one of the most decorated soldiers in American history.
Humility: An Early Life Lesson
Audie Leon Murphy was born on a North Texas sharecropper's farm on June 20, 1924. By the fifth grade, he dropped out of school to chop cotton for a dollar a day. When his father deserted his wife and twelve children, young Audie honed his rifle skills and hunted small game to help feed his family.
After his mother died in 1941, Audie watched as his siblings went to orphanages and relatives. He worked a few odd jobs but was desperate to leave his harsh life. At age 17, he falsified his birth certificate to show he was 18 and enlisted in the Army. It was 1942, and the country's involvement in the war was heating up. He didn't know it then, but Audie Murphy was about to leave an indelible mark on history.
Audie Murphy At War In 1943
Audie went through basic training at Camp Wolters in Mineral Wells, Texas, and advanced infantry training at Fort Meade, Maryland. Afterward, the Army sent Murphy to North Africa. There, he saw his first action and displayed his skills as a soldier during the invasion of Sicily. He would later land in Salerno, Italy, and went on to Anzio, where he joined the Allied forces capturing Rome in June 1944.
After Rome, the Army withdrew Murphy's unit to train them for the invasion of southern France on August 15, 1944. Murphy's division suffered 4,500 casualties during seven weeks of fighting, and he became the most highly decorated man in his company. Although he proved his mettle during the successful campaign, Murphy's biggest challenge was still ahead of him.
Unparalleled Bravery And The Medal of Honor
Having received several field promotions, 2nd Lieutenant Audie Murphy commanded Company B of the 15th Infantry Regiment. They had a position west of the Rhine River near the French village of Holtzwihr. On January 26, 1945, six German tanks and several hundred infantrymen attacked the company, so they fell back into a nearby wooded area. 
The Germans scored a direct hit on an M10 tank destroyer, setting it afire and forcing crew members to abandon it. Murphy climbed onto the burning tank destroyer, operated the .50 caliber machine gun, and used it to repel advancing enemy infantry and tanks. He received a hit in the leg but stopped firing only after he ran out of ammo.
Murphy rejoined his men, ignoring his wound, and led them back to continue repelling the Germans. Both the young lieutenant and his sense of humor survived the attack. While fighting off the enemy, his superiors asked over the field telephone whether the Germans were close. "Just hold the phone," Audie reportedly replied, "and I'll let you talk to one of the bastards."
In April 1945, Audie Murphy received the Medal of Honor for his extraordinary acts of heroism at Holtzwihr. He was only 19 years old, yet this was not the first time he had distinguished himself. Murphy previously earned over 20 awards, including the Distinguished Service Cross, two Silver Star medals, two Bronze Star medals for valor, and Purple Hearts for each of of three wounds.
A Change Of Careers
Audie Murphy Movies
The Army discharged Audie Murphy with the rank of first lieutenant in September 1945 and transferred him to the Officers' Reserve Corps. His extraordinary story caught the attention of actor James Cagney, who invited him to Hollywood and paid for acting and dancing lessons. Unfortunately, his acting talents did not match his abilities as a soldier, and he languished in Hollywood for several years. 
Murphy got his first lead role in 1949's Bad Boy and starred in the 1951 version of The Red Badge of Courage. He would go on to make forty-four films, most of them westerns. Murphy became a favorite for millions of moviegoers willing to overlook his mundane acting abilities for his status as America's favorite war hero.
In 1955, Murphy overcame his reluctance to portray himself in To Hell and Back, a film adaptation of his 1949 memoir of the same name. It became the biggest hit in the history of Universal Studios at the time and maintained that position for twenty years.
Turbulent Post-War Life
Audie Murphy successfully raised thoroughbred horses and wrote hit songs. Still, trouble plagued his postwar life. He suffered from battle fatigue (today called Post-Traumatic Stress Disorder, or PTSD) and often woke up screaming. He slept with a loaded M1911 .45 semi-automatic pistol nearby, and his short temper got him into trouble more than once.
Murphy had a short, trouble-filled marriage to actress Wanda Hendrix from February 8, 1949, to April 14, 1950. In the 1960s, his bouts of insomnia and depression led to his addiction to a powerful sleeping pill. Poor financial decisions and IRS problems left him bankrupt by 1968, while a gambling habit further drained his bank account.
The Death Of Audie Murphy
On May 18, 1971, Murphy was aboard a private plane heading to a business meeting. The aircraft encountered thick fog near Roanoke, Virginia, crashing into the side of a mountain. He and five others lost their lives, and Murphy was buried with full military honors in Arlington National Cemetery. According to cemetery records, President John F. Kennedy's gravesite is the only one with more visitors than Audie Murphy's.
Audie Murphy's Legacy
Audie Murphy received every medal the United States can give, plus some from France and Belgium. His film career and personal life aside, he represented everything good in our country. Considering his dirt-poor Texas farm boy roots, he is an extraordinary success story and one that should never fade from memory.
"No soldier ever really survives a war." – Audie Murphy
However, the sad truth is that despite what he did in defense of freedom, our country's most decorated soldier is nearly forgotten. Audie Murphy has become a victim of a culture that believes "war hero" is an oxymoron and Veterans Day is just a day off from work or school. We can only hope that changes – but it starts with each of us.