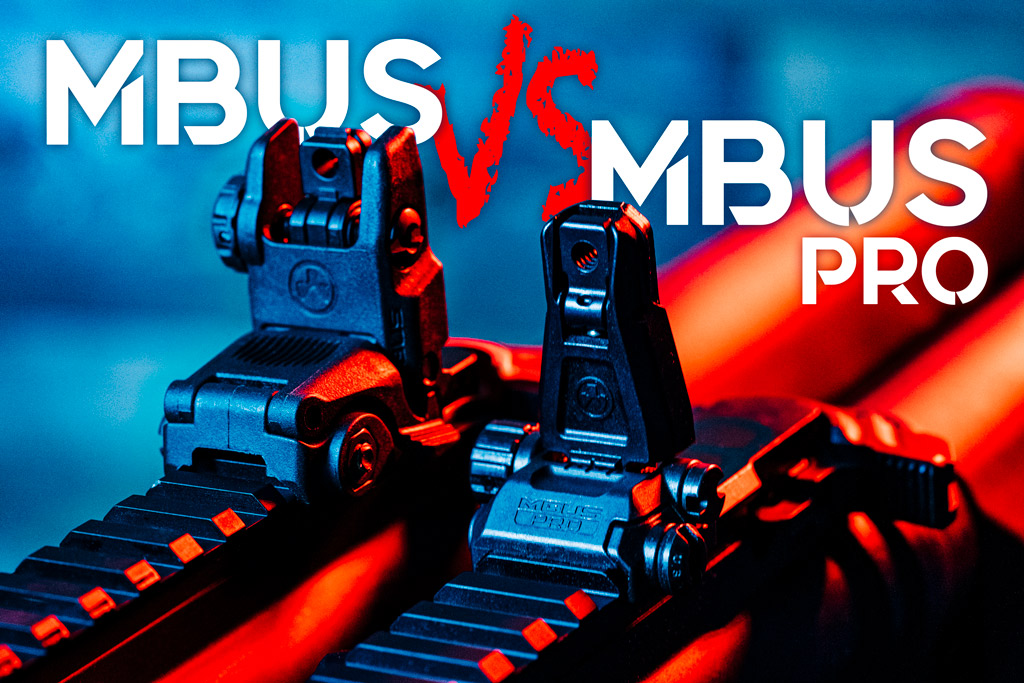 If you're on the hunt for popup sights to supplement your electronic optic, you will undoubtedly encounter the Magpul MBUS sighting system. You will quickly find that Magpul offers two variants of this system: the Magpul MBUS VS MBUS Pro. 
What's the difference? The standard MBUS sights are made from injection-molded polymer, while the MBUS Pro sights are made from steel. Both options are rugged, made in the USA, and are a great backup option to your optical sights. If you just want a set of backup sights, you can't go wrong with the standard MBUS option. You can purchase the front and rear standard MBUS sights for less than $100.
The two options are very similar, but they also feature some other distinct differences. This can make deciding between the two a bit of a challenge. That is why we decided to compare them head to head. By the end of this matchup, you will be able to choose the right backup sighting system for your rifle. 
MBUS Origins
The name Magpul is synonymous with quality and durability. I own several of their products, including MBUS and MBUS Pro sights. I have put all of my gear through the wringer and (knock on wood) have never had a Magpul product fail when it counts. 
Should you ever have an issue with a Magpul product, all you need to do is reach out to their world-class customer service department. They are helpful in diagnosing issues and always make things right. But I digress. Let's dive into the origin of the MBUS.
The original Magpul MBUS sighting system hit stores in 2009. MBUS stands for Magpul Back-Up Sight. Magpul went with this name because the sights are made of polymer, not iron. The first generation of these sights was not without their issues, so Magpul went back to the drawing board.
In 2011, Magpul debuted their Gen2 MBUS sights. They improved the manufacturing process to reduce the risk of melting the front sight post with sustained fire. However, polymer still has limitations. That is why Magpul took things up another notch and released the MBUS Pro in 2013. 
Why Pop-up Sights?
I recommend backup sights to every shooter I encounter. If you own an AR-platform rifle or another popular variant, then you absolutely need backup sights. Specifically, you need a pair of high-quality pop-up sights. 
Unlike fixed sights, pop-up sights can be folded down and out of the way when you are using your red dot or another optic. If you want to practice with iron sights, simply power off your optic and activate your pop-up sights. 
I know that most shooters are never going to use their pop-up sights in the field. However, it is a good idea to throw a few rounds down range with them every now and then just to keep your skills up. Personally, I like to start most range trips with around 5-10 rounds using my iron sights. 
Magpul MBUS VS MBUS Pro
As noted above, every Magpul product that I have ever used has performed above expectations. Magpul is great about tailoring its products for a particular purpose and the MBUS sighting systems are no different. Below, we take a look at key attributes like durability, materials, size, weight, and cost. This information will help you find the right backup sights for your goals as a shooter.
Materials
The standard Magpul MBUS sighting system is made from polymer whereas the Pro is made from steel. As you might have guessed, the steel variant is more expensive to produce. However, steel definitely improves the durability of the sights, but more on that in our next section. 
The polymer MBUS sights are no slouch though. They are made from tough thermoplastic that can withstand the elements. At the end of the day, you just can't beat good old American steel. In terms of materials, the Pro gets an easy win. 
Durability
Over the last few decades, high-quality polymer parts have become extremely popular in the firearms industry. 
While the standard Magpul MBUS sights can last for years under normal conditions, they cannot hold up to incredibly high fire rates. This makes them the lesser choice for law enforcement and military applications. However, the average shooter that likes to go have a little fun at the range should not have any issues out of the Magpul MBUS sights. 
If you have a habit of being rough on your guns or like to fire high volume, then I would strongly recommend the MBUS Pro. The steel can take the heat and will not falter, no matter how many rounds you fire.
Size & Weight
The two optics split this category right down the middle. The MBUS Pros have a smaller footprint and actually free up an additional Picatinny slot on your rail. However, they are also a bit heavier than the standard MBUS sights.
Since the MBUS sights are made from polymer, Magpul had to use a thicker, wider design. The plastic cannot be forged as thinly as steel without sacrificing strength and durability. The MBUS sights will take up a bit more space on your rail, but you will still have plenty of room to mount an optic. 
Cost
You can purchase both the MBUS and Pro front and rear sights separately. However, the front aperture is useless without the rear viewing window and vice versa, so you might as well just purchase both parts at the same time. 
A pair of Magpul MBUS sights will run you about $100, give or take. For comparison, the Magpul MBUS Pro will cost about twice that. For many shooters, the cost is the biggest determining factor when they are choosing a backup sighting system. 
Choosing Your MBUS
Weapon optics technology continues to improve year after year. As they do, the use of iron sights is becoming a lost art. With that said, it is important to keep in mind that any optic has the propensity to fail. That is why every modern sporting rifle should be equipped with a pair of backup iron sights.
When asked for product advice, I always recommend that a shooter take time to consider how they plan on using their weapon. For instance, the requirements of an avid hunter are different than that of someone who just likes to hit the range every month or two. Once they answer this question, most shooters have no problem figuring out which product is right for them.
| Magpul MBUS | Material | Weight/Size | Color Options | MSRP |
| --- | --- | --- | --- | --- |
| MBUS (II) (Spring Assisted Deployment) | Injection Molded Polymer | Front (1.2oz) (2.6″ Stowed), Rear (1.3oz) (2.6″ Stowed) | Black, FDE, Gray, ODG | Front ($39.95), Rear ($57.95) |
| MBUS Pro (Manual Deployment) | Steel | Front (1.5oz) (1.6″ Stowed), Rear (1.8oz) (2.1″ Stowed) | Black | Front ($84.95), Rear ($104.95) |
When it comes to comparing Magpul MBUS VS MBUS Pro, I would personally opt for the Pro. However, if you are on a tight budget or do not typically engage in high-volume firing, then the standard MBUS sights are a great choice. Magpul stands behind its products and will be sure to treat you right if an issue should arise. 
No matter which set you choose, be sure to practice with them at the range. While modern optics can drastically upgrade your shooting experience, there is no substitute for a good grasp on the fundamentals.