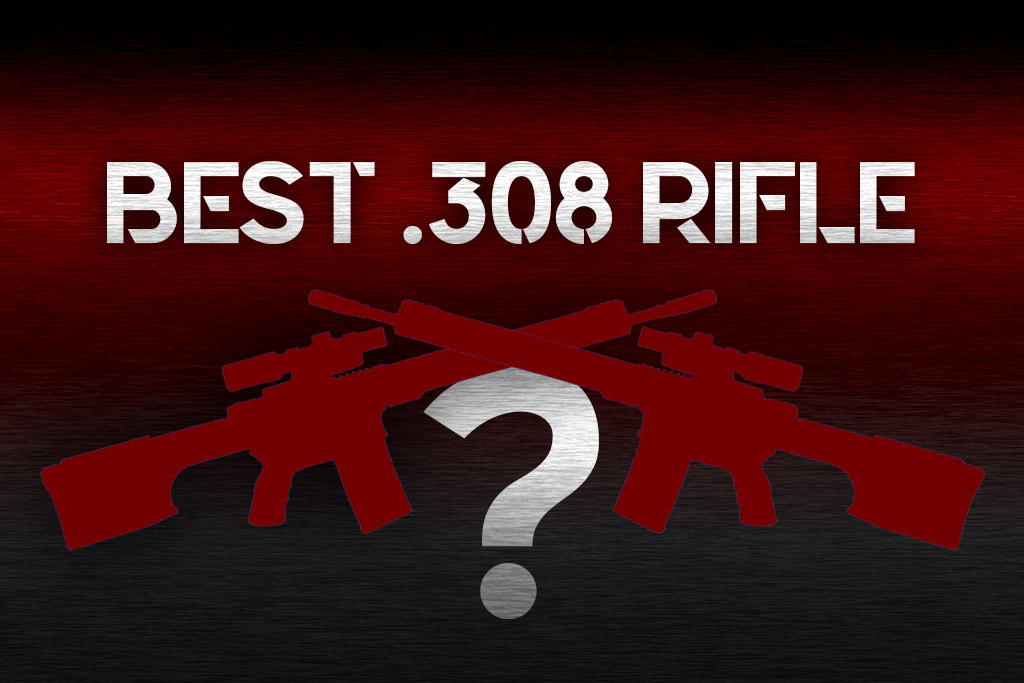 When someone creates a "best" list, they typically generate a certain amount of controversy with it. That's understandable since it's almost impossible to determine any product's top types and brands, and that's especially true with firearms. Shooters are an extremely knowledgeable and passionate group, and to present them with a subjective list of the "Best 308 Rifle" is sure to ruffle a few feathers.
However, we have divided our picks into four categories: hunting, competition, long-range, and home defense. Even if you disagree that these are the "pick of the litter," you have to admit they are among the finest on the market. Since our recommendations contain bolt-action and semi-automatic rifles, we'll discuss both platforms and their intended uses.
Bolt-Action VS Semi-Automatic Rifles
Fewer moving parts make the bolt-action rifle reliable and straightforward. Being accurate at long distances makes it the choice of most hunters. The bolt-action is used for anything from rabbits to deer to Cape buffalo, delivering a single kill shot from a safe distance. Does that make it the best 308 rifle option? For some, but others may need the speed of a semi-auto rifle. 
For example, competitive shooters tend to like the semi-auto. Although some see reliability and accuracy as the assets that have them siding with the bolt action. However, the rate of fire and ability to carry more ammo in the gun favor the semi-automatic when used in home defense and by police and military sharpshooters.
Best 308 Rifle
Hunting Rifles
Winchester Model 70
Beautiful and accurate are just two adjectives hunters use to describe the Winchester 70 bolt-action .308-caliber rifle. At 6 lbs. 12 oz. and a 22″ barrel, this lightweight, short-action hunting rifle is ready for an all-day hunt for deer, antelope, or varmints. The controlled round feed with claw extractor controls .308 Winchester ammo reliably from the magazine to the chamber to ejection. A Decelerator recoil pad protects the shooter against feeling excessive recoil.
Remington 700 5R
At 8.5 pounds, the Remington 700 5R bolt-action rifle is not in the "lightweight" category. It has all the attributes of a serious hunting rifle, and accuracy is right at the top of those qualities. The Model 700 action encloses the cartridge head in its famous three rings of steel. The recessed bolt face, the chamber end of the barrel, and the front receiver ring. Its unique design gives it strength and holds the cartridge in perfect alignment with the bore for exceptional accuracy. 
Competition Rifles
Armalite AR-10
Explicitly designed for 3-Gun Competition and practical shooting, the Armalite AR-10 semi-automatic competition rifle features an 18″ polished stainless steel barrel designed for exceptional accuracy. The well-respected Timney four-pound competition single-stage trigger and Ergo wide grip are included. The AR-10 is customizable, with a tunable muzzle brake and an adjustable gas block for less recoil from the .308 rounds. The rifle is the right choice for those looking for a .30 caliber, semi-automatic rifle for competition or hunting medium-to-big game.
DoubleStar Star 10-B
Created with the competitor in mind, the DoubleStar 10-B is built for accuracy and reliability with quality parts and advanced features such as fully machined upper and lower 7075-T6 aluminum receivers. Other highlights include an 18-inch Wilson air-gauged stainless-steel barrel, a Bullseye Muzzle Brake to mitigate recoil, a single-stage CMC flat trigger, and an Ergo grip with an oversized trigger guard to provide control. 
Best 308 Rifle: Long-Range Rifles
Bergara MG Lite
The Bergara MG Lite is an ultralight (6.8 oz.) bolt-action rifle featuring the CURE Carbon Barrel available in 22″ and 24″ lengths. The barrel ensures long-range accuracy with its patented technology that maintains barrel temperatures an average of 50 degrees cooler. Their popular PREMIER action features a spring-loaded sliding plate extractor. As well as a nonrotating gas shield, and coned bolt nose for smoother feeding of the cartridge. TriggerTech's Frictionless Release Technology trigger assembly is yet another popular feature. 
Remington PCR
The Model 700 PCR (Precision Chassis Rifle) bolt-action raises the standard for long-range accuracy with its 24″ carbon steel barrel with a threaded muzzle. It combines a powerful action—the Model 700—with an aircraft-grade aluminum chassis. This creates rigidity and atmospheric immunity for a stable and consistent platform for long-distance shots. A configurable Magpul PRS Gen 3 stock provides comfort from any shooting position, and every other feature of the Remington 700 PCR focuses on long-range precision. 
Home Defense Rifles
FN Scar 17S
The FN Scar 17S semi-auto rifle firing the hard-hitting .308 Winchester cartridge offers the ultimate in-home defense. The gas-operated, short-stroke piston system minimizes fouling for increased reliability and features a user-interchangeable free-floating, cold-hammer-forged MIL-SPEC barrel with a hard-chromed bore. Fully-ambidextrous operating controls immediately adapt the rifle to any user or shooting position. And the receiver-integrated MIL-STD-1913 Picatinny optical rail with three accessory rails enables the mounting of various scopes, electronic sights, tactical lights, and lasers. 
Springfield M1A
Sometimes called "the civilian version of the M14," the Springfield M1A gives shooters a similar feel to the M14 and the M1 Garand. One of the eight M1A models, the SOCOM 16, offers .30-caliber power in a weapon designed for home defense. The SOCOM is a compact semi-auto rifle. It has a tritium-enhanced front sight and a ghost ring rear sight. Making it easy to sight targets quickly, even in poor lighting. A custom-designed 16.25″ carbon-steel barrel with a highly efficient muzzle brake gives the SOCOM 16 toughness and exceptional maneuverability.
History Of  The .308 Winchester Cartridge
The .308 Winchester is a rimless, bottlenecked cartridge introduced in 1952 to the commercial sporting market after being developed for the military. Two years later, militaries christened it as the 7.62×51 NATO round. Winchester's Models 70 and 88 rifles were the first to chamber the .308 cartridge. 
Since its inception, the .308 Winchester has turned into the most popular short-action, big-game hunting cartridge globally. Its other uses include civilian target shooting, military sniping, and police sharpshooting. 
Although it's similar to the military's 7.62×51mm NATO round, the .308 cartridge is not identical.
.308 Winchester VS 7.62×51 NATO: What's The Difference?
The .308 and 7.62 are nearly identical. In fact, the rounds are similar enough that the Sporting Arms and Ammunition Manufacturers' Institute (SAAMI) considers it safe to fire the commercial .308 round in firearms chambered for the NATO round.
However, there is a difference in pressure and tolerances. Manufacturers typically load civilian .308 cartridges to higher pressures and manufacture .308 to tighter tolerances than military ammo. As a result, some 7.62 military ammo may not quite fit a .308 chamber and will need to be run through a resizing die.
Looking for the best .308 ammo? Take a look at our helpful guide listed here.